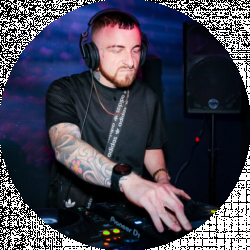 Latest posts by Jesse Alexander
(see all)
Intro
Fallout has been engaging gamers and creating legendary memories since its first mainline entry hit the gaming scene in 1997. Inspired by the Wasteland games that came before it, Fallout is a series of role-playing games that have evolved with the times, shifting from an isometric view to an up-close and personal first-person style since Bethesda and Zenimax took over with the release of Fallout 3.
Fallout has pioneered a unique aesthetic and design from the jump, taking people to a world ravaged by nuclear war and pitting them with and against friends and foes, all trying to survive. Combining elements of Choose Your Own Adventure novels, teeth-grinding action, strategic allocation of experience points, and flat-out survival games, Fallout has enough gameplay diversity that more than likely, there is a title or two in the franchise that can speak to just about every kind of gamer.
Welcome to a Cool Fallout Posters Guide.
Bottom Line Up Front
In Fallout, your choices matter, and when it comes to showing love to the franchise through Fallout merchandise, your choices also matter. We have compiled a list of awesome Fallout posters, and NONE come from Amazon.
We primarily looked to smaller and more independent sellers so that the merchandise could reflect the heart and soul that goes into creating these incredible games. Still, we did dip into the pot of officially licensed merchandise to make a best of both worlds approach.
As they say in every entry: "War, war never changes," and neither do the qualities that go into making top-notch posters and collectibles. With that said, let's talk a little more about the qualities we recommend one looks for in a poster, where to buy them, and then we'll go over our list of five badass posters that would look great in your room!
Our Picks At A Glance
What Makes A Great Fallout Poster?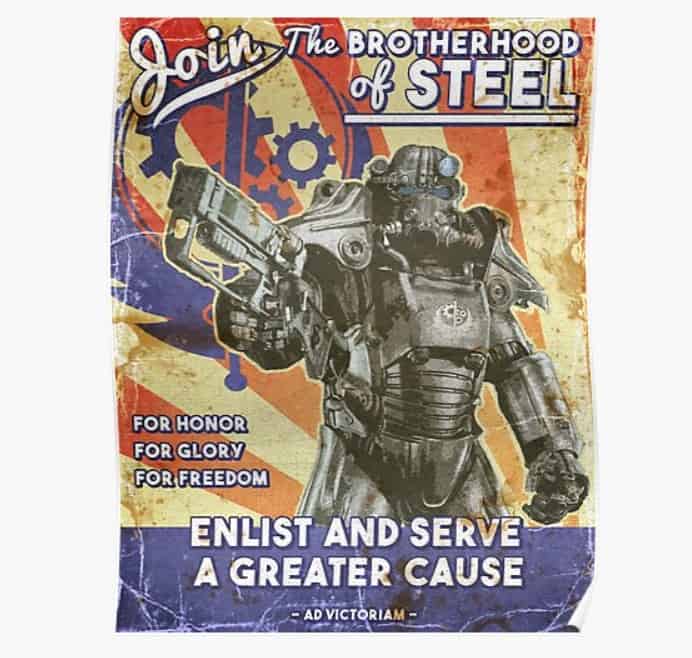 Nowadays, it's easy to slap a graphic onto photoshop, print in a large size, and call it a day. But by doing so, one removes the entire soul from the product. A poster should not only reflect the pride and craftsmanship that went into creating the franchise the merchandise is based, but it should also provide harmony to the artist who designed it.
We sought to find posters that met in the middle for our picks. Some are literal representations of the source material, and others are creative interpretations.
There's room for both tastes at the table, and we wanted to welcome everyone to it. Millions of people have enjoyed Fallout, and we sought to find posters that most of the fanbase could appreciate. Ultimately, a great poster should connect with you.
It should be able to take you back to a moment in time or a feeling you felt while experiencing whatever franchise you're purchasing merchandise for. It should convey a sense of pride to anyone that views it. But where does find an incredible poster that can achieve these things and more?
Where To Buy An Awesome Poster?
When it comes to collecting high-quality merch, the world is your oyster. If you happen to live within the vicinity of an annual or one-off convention (E3, Microsoft and Bethesdas June 2022 Games Showcase, CES, etc.), that should be ground zero.
Conventions always have merch halls, and don't let the name fool you: Comic-Con is a great place to look! If crowded conventions aren't your thing, you have other options within the brick-and-mortar space to investigate. Gamestop always comes to mind, but big-box stores like Target or Wal-Mart could also have what you're seeking.
Of course, for many of us, online shopping is the go-to method; thankfully, you have many options at your disposal. We recommend avoiding the big dogs like Amazon or eBay and going for smaller sources. Some of our favorites include Etsy, RedBubble, and GB posters.
When in doubt, it never hurts to check the official website for the franchise (or the publisher) you're looking for. Going straight to the source is an efficient way to ensure you get high-quality products. Alternatively, checking the websites of some of the stores we listed prior such as Gamestop or Target, is another solid option, especially if you can cut the shipping cost by doing a local pickup.
Now Presenting: Awesome Fallout Posters!
#1+2: BottledSquidPrints New Vegas and Fallout4 Posters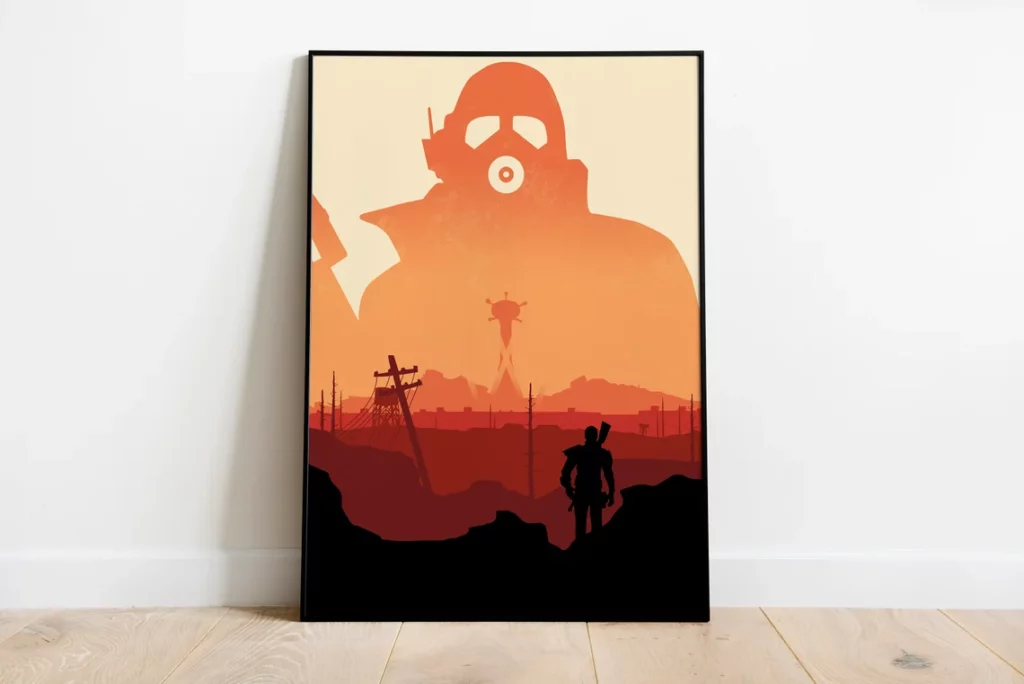 Marching right out the gate, we have a treat for you. I'm not going to lie. New Vegas is undoubtedly my favorite entry in the series, and an opportunity to showcase some love for Obsidian's rushed gem is worth it in my book.
This print flawlessly captures the heat of the post-nuclear plains of Southern Nevada and the mix of loneliness and surveillance that plagues The Courrier throughout their long, hot, and challenging journey throughout the Mojave Wasteland.
Viewing the print, I'm instantly taken back to when I first booted up New Vegas on my Xbox 360. These posters are handmade with vivid color palettes that can fit any room's color or lighting scheme.
While the defacto print is based on New Vegas, fans of the following entry, Fallout 4, are not out of luck. Pulling a double whammy, we have to give the #2 spot to BottledSquidPrints as well.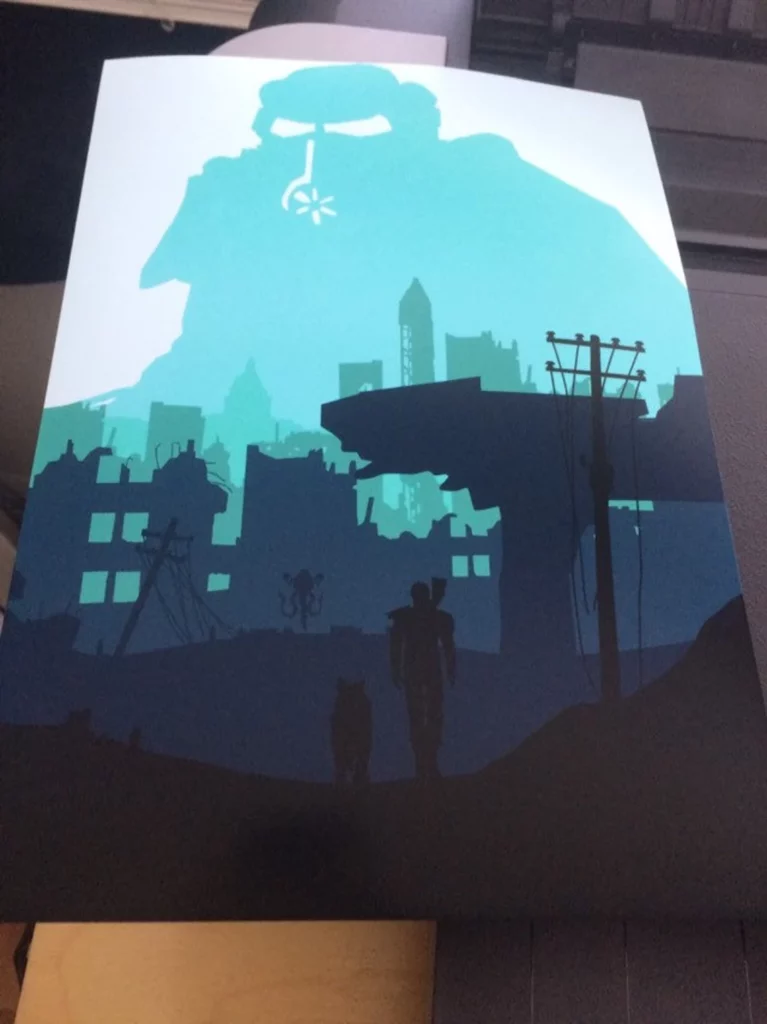 I highly recommend picking up any or all of these prints for New Vegas and Fallout 4 fans! Available in vivid green and a dreary blue, their Fallout4 prints instantly make me feel that I am a stranger in a foreign land and my buddy Dogmeat is my only friend.
The ominous enemies overlooking the player in all of their prints are just chef's kiss to the source material. Attractive colors, moody design, and solid quality make these an excellent choice. Mystique, intrigue and the weight of your choices will emanate from this print.
#3: Vintage-Travler "Nuka Cola Zap That Thirst"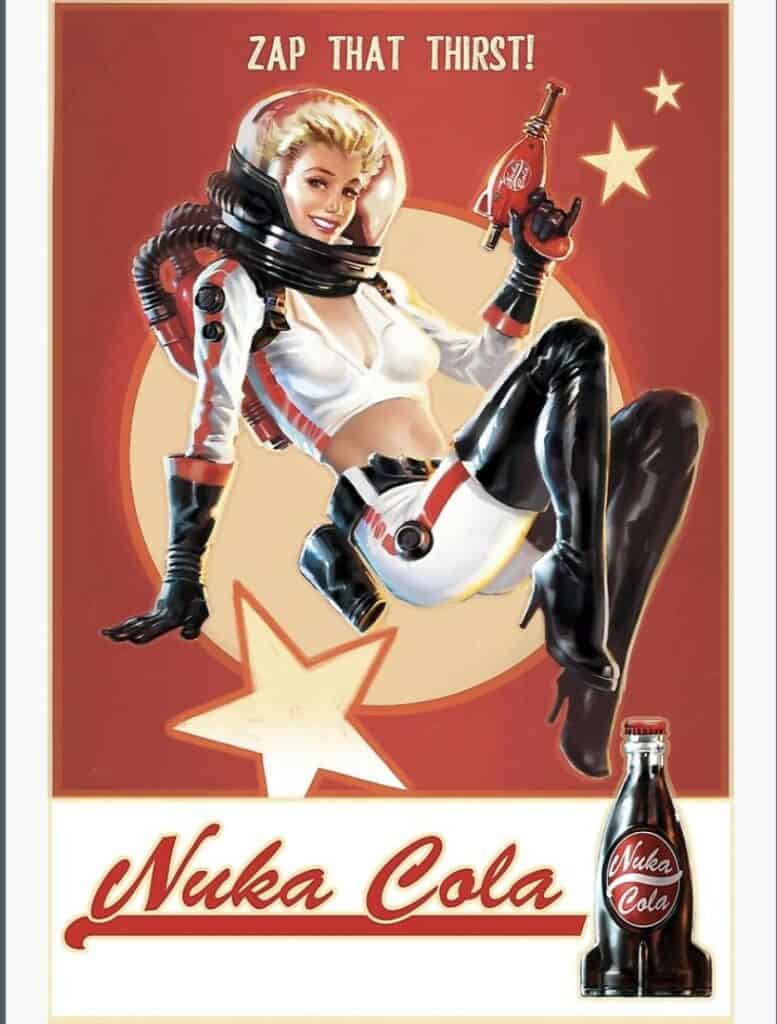 Nuka-Cola is synonymous with the Fallout franchise and lore. With the brand's strategic design taking cues from real-world soda companies, this is the type of poster that even a person who is entirely foreign to the source material could be drawn to. In modern entries, the bottle caps of this 120% DV of sugar soda are the de facto currency in the new world.
Still, thankfully if you're low on caps, the prints are affordable and support a smaller institution than the Nuka-Cola Corporation. Part of what makes this franchise so special is how it satirizes legit corporatism and its influence on America and the world.
This classic ad would look great in every room of a home and makes a loud but articulate statement about one's taste. Enjoy the taste of delicious Nuka Cola and the stares of envy from your friends with this top-notch print.
#4: Fallout4 "Garage" Framed Collector Print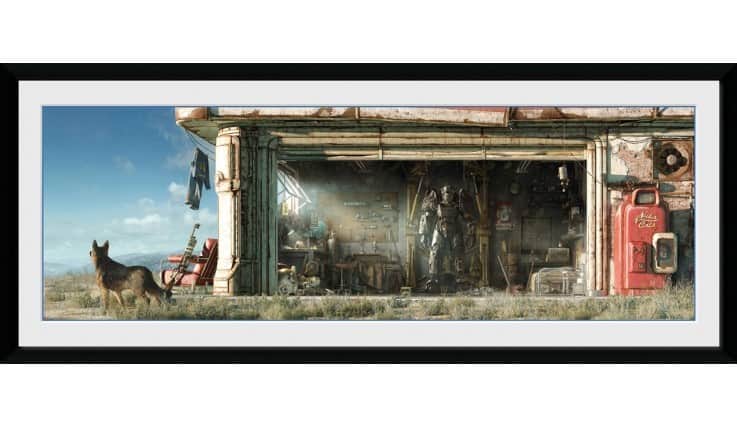 Often the best part about posters and videogame merchandise is when the artists take a creative approach to the source material. However, it can often be most effective to draw from it directly. This stunning print instantly takes me to that place in time when Fallout4 was first revealed and left no detail untouched. From the faded feel of the Nuka-Cola machine and tools in the backdrop to Dogmeat looking off into the horizon with the power armor suit front and center.
This excellent (and pre-framed!) print from GB Poster is a top-notch way to show some love to the series's fourth entry. For PC players, this would look stunning above one's gaming desk, or for console players, it could be an excellent fit above your TV.
The price is also right and relatively affordable considering how expensive a frame can be on its own, let alone adding in a poster. I highly recommend this to anyone who loved The Lone Wanderer's journey throughout The Commonwealth.
#5 Displate Fallout 3 Collection: "The White House"

Displate takes a unique spin on the poster idea and creates metallic plates that magnets can hold up instead of nails, tape, or thumbtacks. These plates look stunning on their own but even better when arranged with the complete collection! You can even buy frames from the site that are the perfect size for your plate.
New Vegas may be my favorite entry, but Fallout3 was the first I ever played and will always hold a special place in my heart. Spending hot summer days and cool summer nights huddled in front of my Xbox360 exploring The Capital Wasteland.
There was nothing quite like it at the time I had ever experienced. The plates aren't as big as some of the posters we've highlighted but are still large enough to capture all the details, and Displate claims the plates are officially licensed, for what it's worth. We love merchandise that looks good in every room, and Displate has that nailed to a T.
These could be great additions to the restroom as moisture from a shower or bath won't damage the prints the same way it could an unframed paper print. If Fallout3 isn't your preferred entry, you're still in luck, as Displate has collections from other entries and advertisements within the franchises universe. If you're looking to show some love to Fallout or seeking the perfect gift for a vault-dweller in your life, Displate is an excellent place to look.
#6: Limited Edition "Deathclaw Lithograph"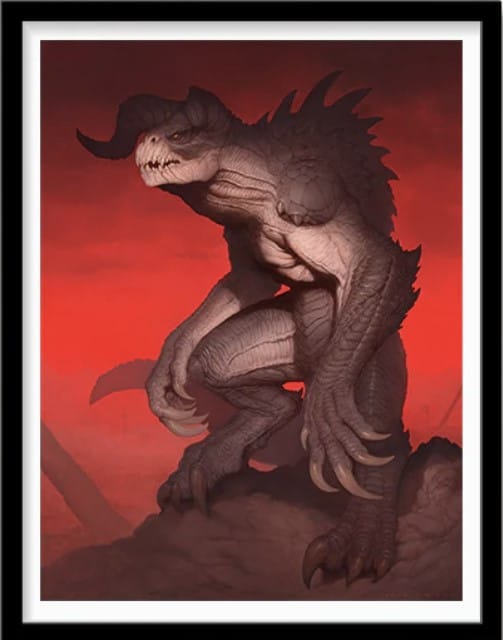 Now for the holy grail of officially licensed merchandise, straight from Bethesda, you can catch one of the 500 limited editions Deathclaw Lithographs for under $20! While the fame isn't included, the lithograph is stunning.
Illustrated by John Tedrick, his style may be recognizable to some, and for others, the moodiness of the print is an instant eye-catcher and sets the tone effectively. Excellent use of color heightens the fear and tension the Deathclaw brings every time it appears in-game.
These baddies are not easy to kill, and much like how you should be proud of yourself for defeating one, you can display this excellent print as your trophy. While it might not read as "Fallout-y" as other entries on this list, that doesn't mean it's not one worth considering. Each lithograph is numbered, and between the price, quality, and official blessing from Bethesda would make an excellent gift for a friend or yourself.
Honorary Mention: Fallout New Vegas NCR Ranger Poster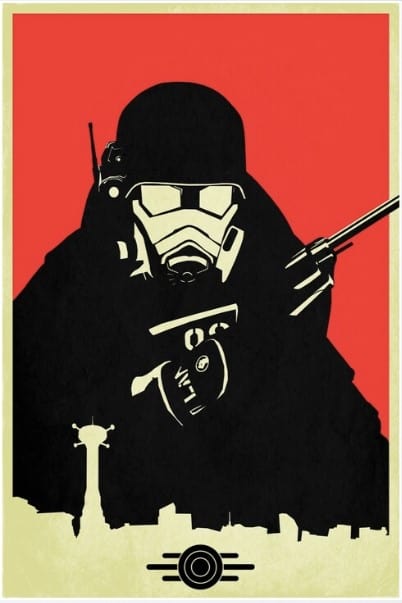 There's no way around it: This poster is cool as hell. The bold and brilliant color contrast and the minimal palette are eye-catching and vivid, and it's a poster about my favorite game in the series: Fallout New Vegas! If I had to pick a single poster from this list, it would be this one. The thing about Fallout that helps it connect to so many people is the way it blends real-life aesthetics into something unique to itself.
So much of the art design is lifted from the 1950s, and this NCR ranger poster has more than its fair share of similarities to actual military propaganda. It feels like a direct and tangible link into the universe, just like something you'd see at an NCR Rangers headquarters.
This poster comes from Redbubble comes in small, medium, and large sizes. While a frame is not included, they include the measurements, and the minimal white border on the poster makes it easy to frame and display. This poster is the perfect addition to any New Vegas fan's home.
FAQ:
Question: Why are there no listings from Amazon or eBay on here?
Answer: While it's perfectly fine to search those sites for merchandise, we purposely wanted a more intentional and personal selection for this article. Overall, picking officially licensed and unlicensed wares from smaller/independent designers felt more ethical. Sometimes on those platforms, the merchandise may look somewhat different upon receiving it in person. We must do our due diligence and pick from consistent and reputable sources if we're to advise folks on what to buy and where to get it.
Question: Do you think that I should frame each poster?
Answer: Ultimately, that's up to you! It's your home and your poster, and you're given freedom in how you want to present and preserve it. It's a way to show your love for the series and your place in life. To ensure longevity, I always recommend a frame, and as a flip side, it helps give the posters a more mature and modern feel. A few years ago, I used to rent a room in a house, and since I was younger and living paycheck to paycheck, I couldn't afford frames for my posters.
As I grew older, I felt that it gave my room more of a dormitory feel than the feeling of a man in his mid-late twenties. To make matters worse, when it came time to move, I found that my posters had gotten damaged throughout the years, and I could not store and transport them to my new living situation properly. Framing them would have kept them in tip-top shape and given me a safer way to store them so I could display them in a new home.
Question: I'm more of a fan of the original Fallout games than I am the modern ones, is there still merchandise for me?
Answer: Of course! This list is more of a surface scratcher than a definitive compilation. Every day new posters are made and go up online, and even on some of the sites we listed, I saw some posters about the first two entries. Fallout is an institution, and there's something for everyone out there. For example, our link to the Displate Fallout 3 collection was just one of the series they offer; they have many options to choose from within the Fallout universe!
Conclusion
The best part of gaming is you. It's about how you explored, interacted, and forged a connection to the material. With this handy list, we've compiled some great posters that can speak to a broad audience, but did it speak to you? Did you enjoy our list, or do you have some treasures we should have given the spotlight?
Let us know your favorites from the list or in your collection. We'd love to hear about your first foray into the Fallout universe and how the game spoke and connected to you.