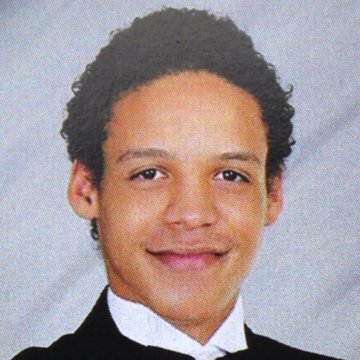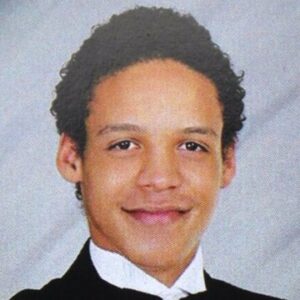 Latest posts by Xavier Geitz
(see all)
Intro
Fallout 3 is the crossroads of the Fallout franchise. For the older generation gamers, it marks a departure from the Black Isle Studios era of Fallout and what the series once was. It was the beginning of the Bethesda era of Fallout. And for the younger generation gamers like me, it was an introduction to one of the greatest gaming franchises of all time.
It is arguably one of the most divisive video games in history. The old guard deems Bethesda's way inferior in every way and a wrong path to take the franchise down. Many modern gamers find Bethesda's game design choice to have been a solid middle road for modernizing the franchise without entirely abandoning Fallout's roots. 
Over the span of a year after the base game's release, Bethesda released five DLC add-ons for Fallout 3. And despite how mixed the reception of the base game is, opinions on the DLC add-ons generally tend to be a lot more universal (For the most part). 
That's not to say that Bethesda created all Fallout 3 DLC equally because they certainly didn't. Let's deep dive into all five and see how they stack up. Welcome to a Fallout 3 DLC Guide.
Operation: Anchorage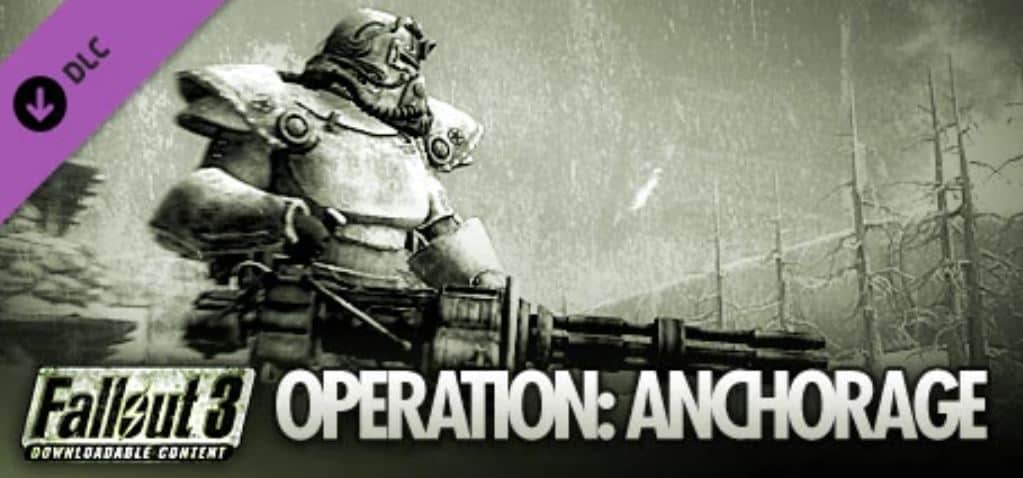 Synopsis
Operation: Anchorage is the first DLC add-on for Fallout 3, released for PC and Xbox 360 on January 27th, 2009, and October 1st, 2009, for PlayStation 3. 
For those interested in Fallout lore, you'll immediately recognize Anchorage. It's the Alaskan town taken over by Chinese forces and subsequently liberated by the American army a decade later in the Battle of Anchorage. 
The faction at the forefront of this DLC is none other than the Brotherhood of Steel Outcasts. Or, as those who have played the first two Fallout games like to call them, the true Brotherhood of Steel. Even if you love Lyon's Brotherhood of Steel, they do not operate according to the Brotherhood of Steel's founding protocols and are technically the real Outcasts of their order. 
Listen to the Outcast Distress Signal and head for the VSS outpost near the Red Race Factory and Bailey's Crossroads Metro. Upon arrival, you'll run into Outcast Defenders squaring off against some Super Mutants. After the dust settles, speak with Defender Morril, who will take note of your Pip-Boy. He'll tell you that the Outcasts have been looking for someone like you and direct you to speak with Protector McGraw inside their base. 
Defender Sibley will greet you as you enter their base. And by that, I mean he speaks to you with thinly-veiled hostility. Not exactly the brightest idea since his faction needs your help, but this is the true Brotherhood we're dealing with here. These guys won't ask you to go to a radiation-soaked crater on a suicide mission, but they're still jerkoffs for the most part to any outsider. 
Speaking with Protector McGraw in the command center will reveal their mission objective here at the VSS outpost. Records indicate the installation is home to some high-tech technology, but there's a problem. It sits behind a blast door that the Outcasts can't breach. The only way to access that room is by completing the base's on-sight simulation program. And to do that, they need a specific computer interface that can sync with the base's systems. Your Pip-Boy matches the profile. McGraw wants you to enter and complete the simulation and promises you a share of the spoils upon your success. 
But there's another problem, and this one's for you: the simulation is a training program of the military campaign that liberated Anchorage. If you've completed a particular main quest also pertaining to military simulations, you already know the drill. If you haven't, here's the deal: You die in the simulation, then you die for real. Speak with Specialist Olin to get up to speed on the op details, then jump into a simulation pod. 
Upon entering the simulation, you will complete several missions throughout several stages of the Anchorage liberation campaign. As it's a simulation, you will lose access to all your real-world weapons, armor, and items. You cannot loot anyone in the simulation. You choose your equipment loadout at the American Field H.Q. and even get to select a customized strike force of allies to assist you. 
You replenish HP and ammo via health and ammo dispensers scattered throughout the simulation. Weapons and armor do not degrade in the simulation. You can find briefcases of intel hidden during every mission, and if you collect them all, you will get a special perk. 
After completing the simulation, you can unlock the VSS armory via the secure access terminal, and the spoils will be yours for the taking. 
Notable Characters
Defender Morrill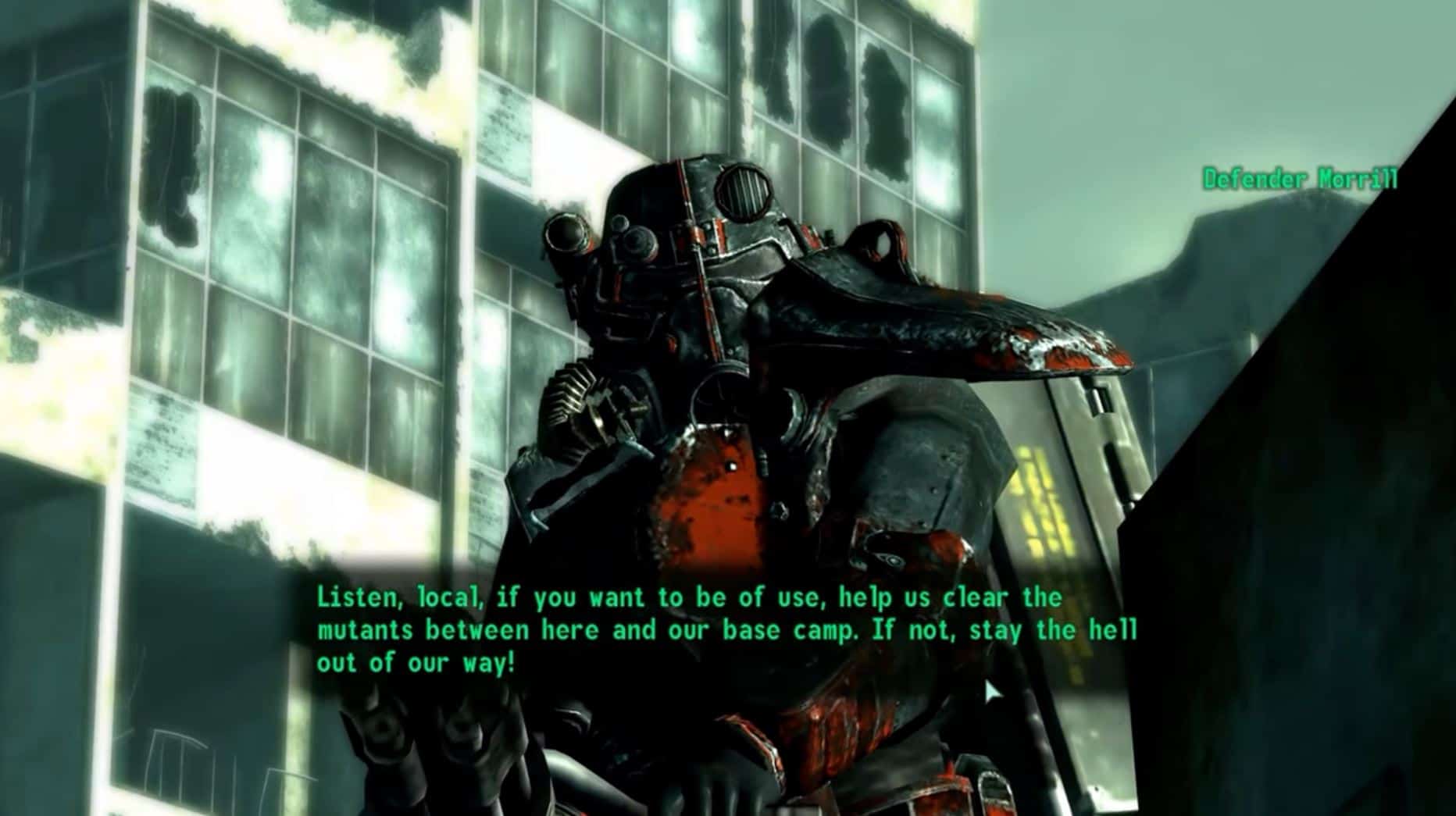 Morrill is the voice on the Outcast Distress Signal and the head Brotherhood Outcast during the skirmish with the Super Mutants. He's the one who directs you inside to speak with Protector McGraw.
Defender Sibley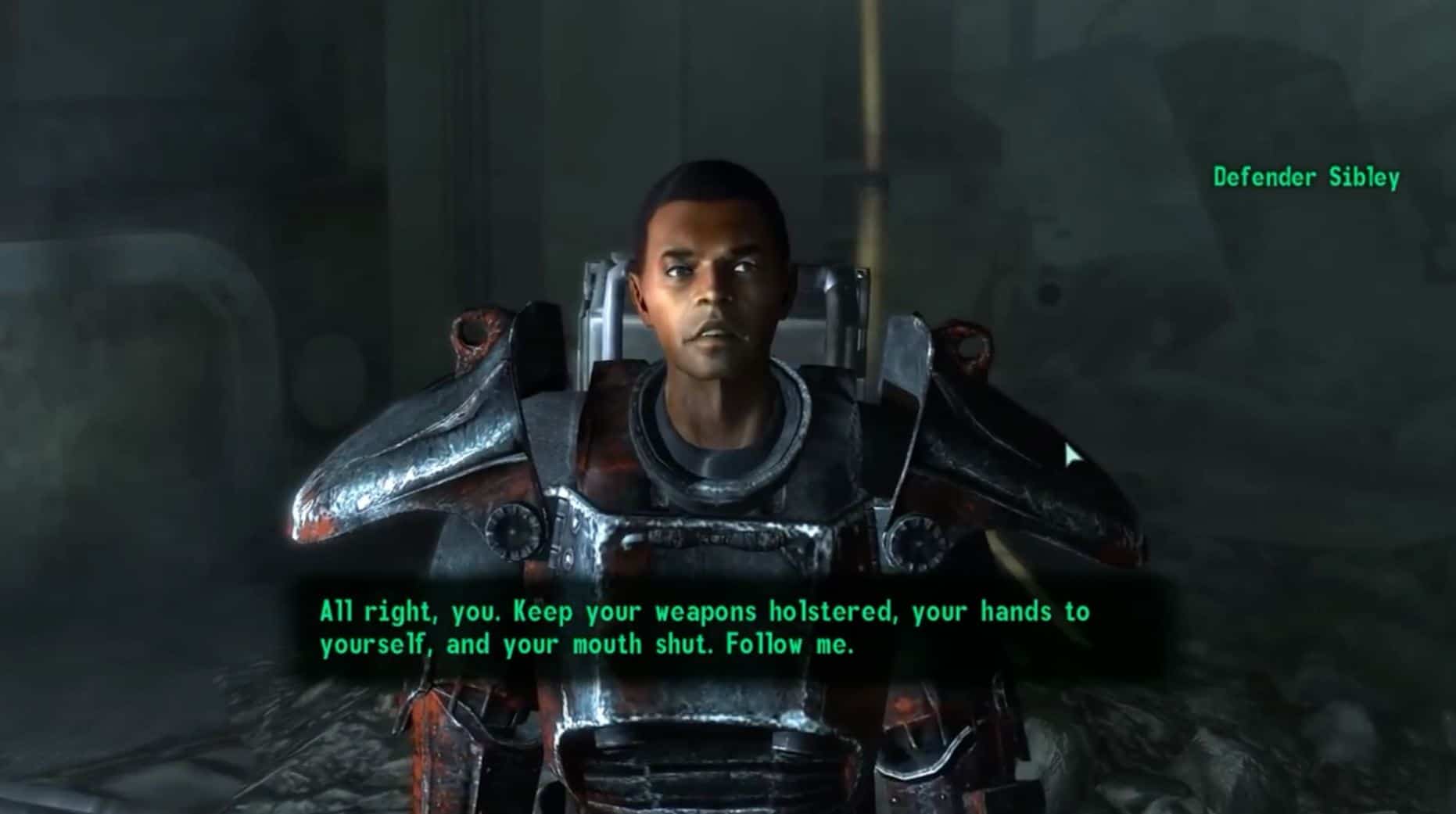 Sibley is your atypical classic Brotherhood of Steel member. Dedicated to their original mission and not fond of outsiders, Sibley leads you to both Protector McGraw and the simulation pod. 
Protector McGraw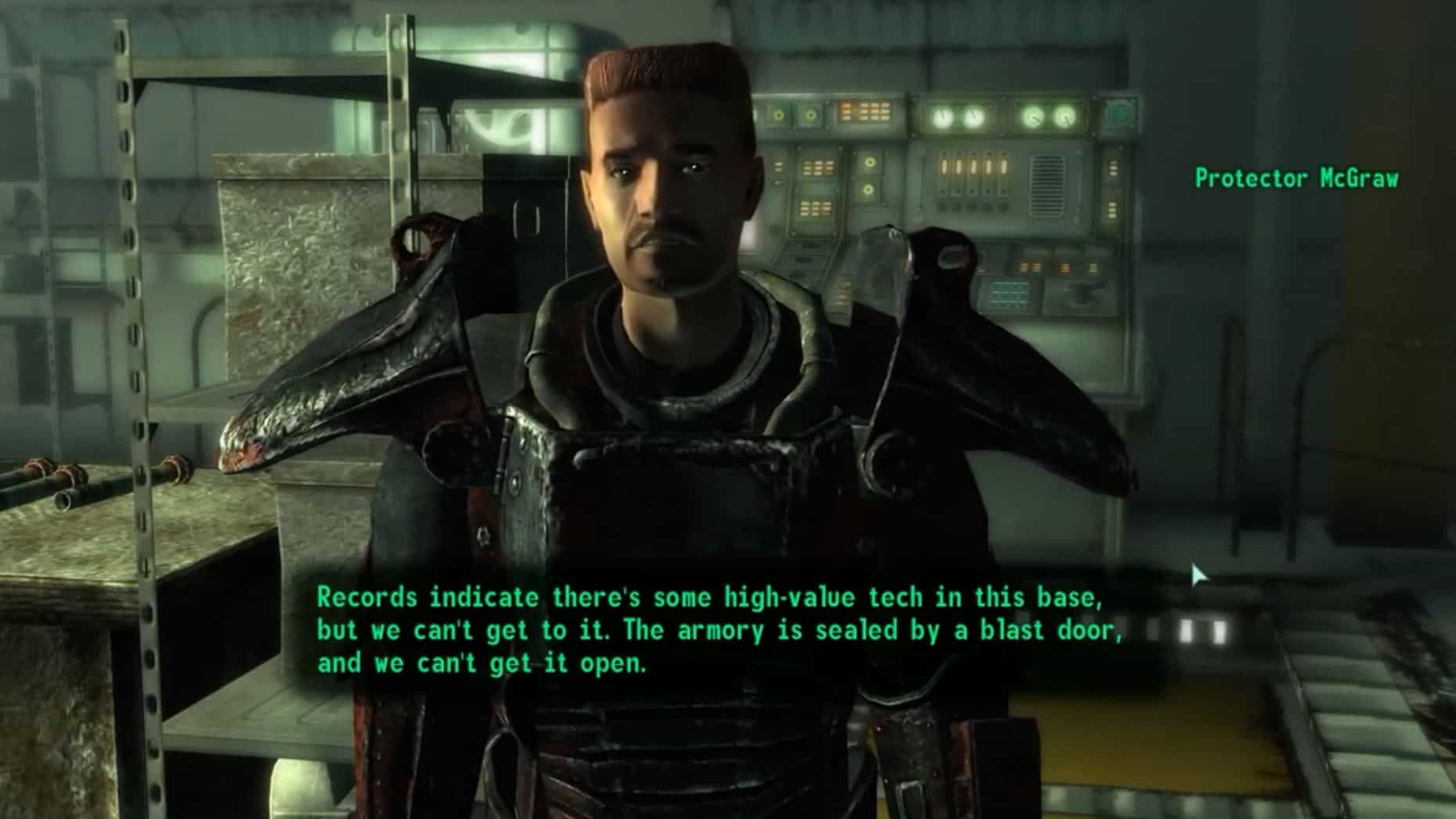 Protector McGraw is the leader of the Outcast detachment at the VSS outpost. He's to the point but far more civil with the Lone Wanderer than most other Brotherhood Outcasts. He's a standup leader that gives you the choice of aiding the Outcasts or leaving and keeps his word about giving you a share of the spoils after you complete the simulation. 
Specialist Olin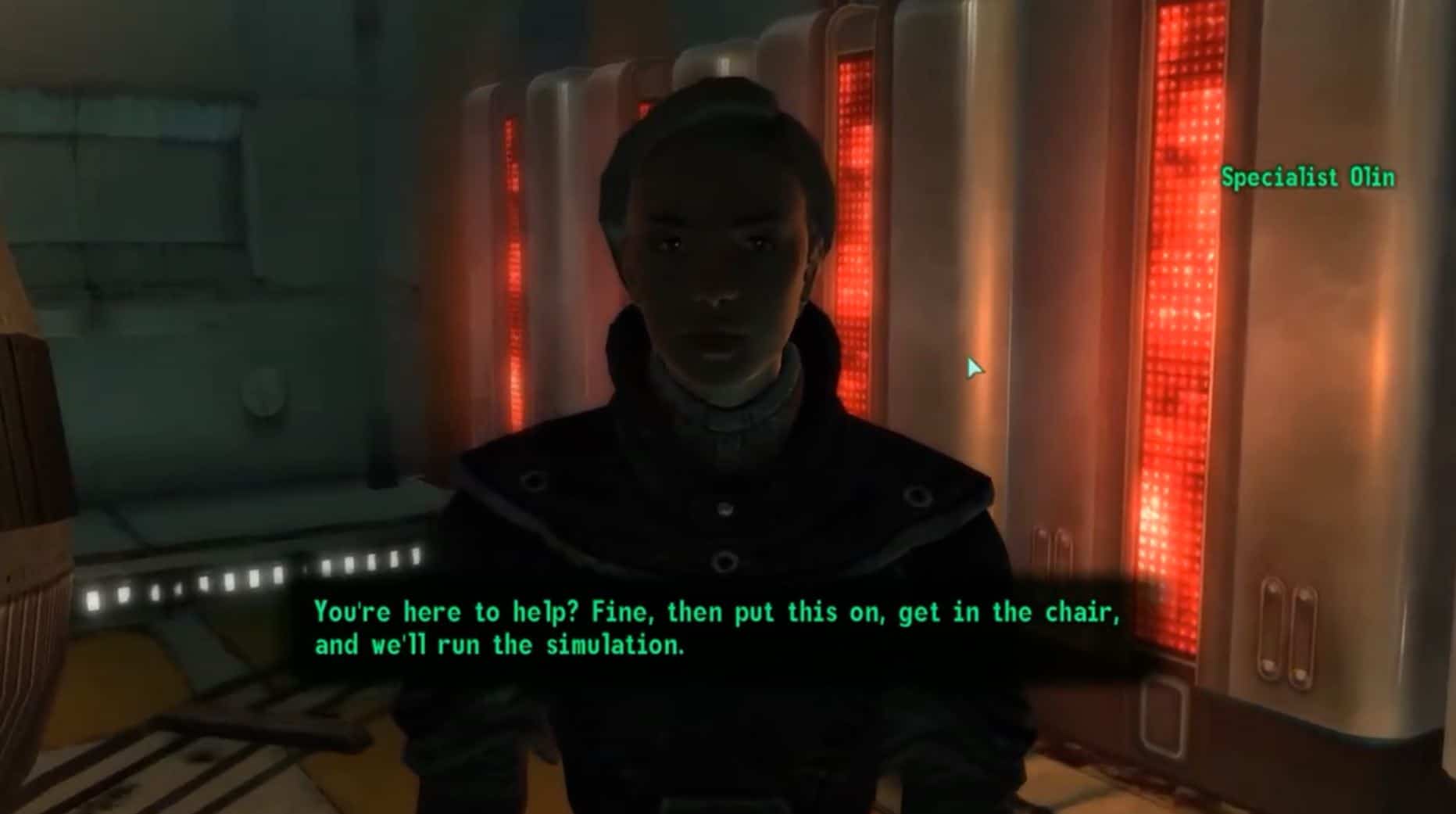 Olin is the tech specialist of this Outcast detachment. She's in charge of keeping things running in the VSS outpost and analyzing the simulation. 
After finishing the DLC, Olin becomes a repair NPC who can repair your equipment up to 50%. 
General Constantine Chase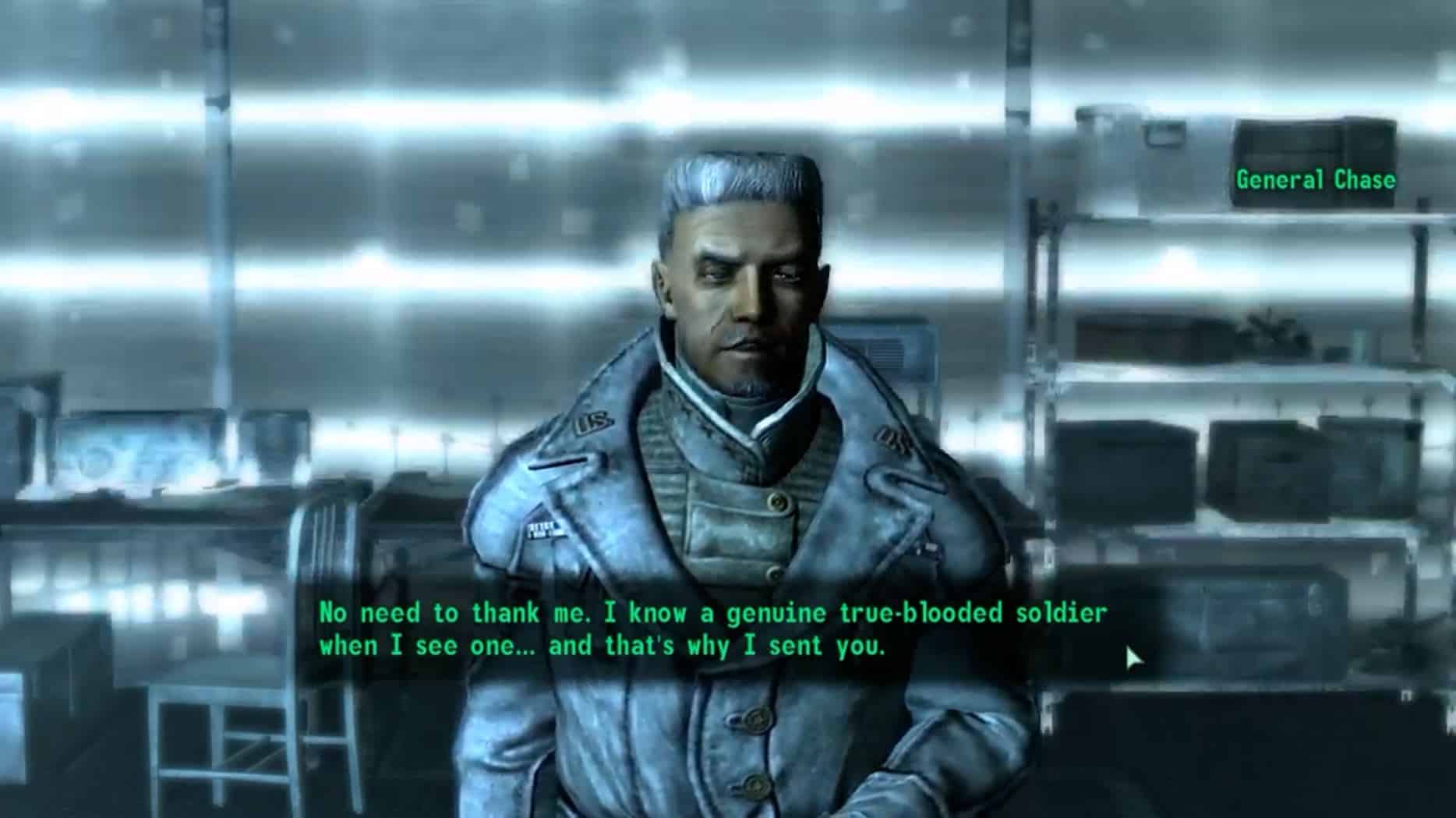 Gruff and charismatic, General Chase was the commanding officer on the ground during the liberation of Anchorage. He will give you your orders during the simulation. 
He would become an important figure in the pre-War era, having a hand in the Liberty Prime project and the creation of Psycho. Chase also authorized Stanislaus Braun's use of the Chinese military invasion training simulation program in Vault 112.
Gary 23
The Brotherhood Outcasts attempted to use Gary 23 to access and complete the simulation so they could enter the VSS armory. Naturally, that plan failed since Gary 23, like the rest of Vault 108's residents, is insane and incapable of functioning like an actual human. The Outcasts cut off Gary 23's arm in a failed attempt to use his Pip-Boy. 
Gary 23 is arguably the most useful corpse in video game history. Through Gary 23, it is possible to take items from the simulation into the real world by quicking storing them in his corpse.
Notable Locations
Bailey's Crossroads Metro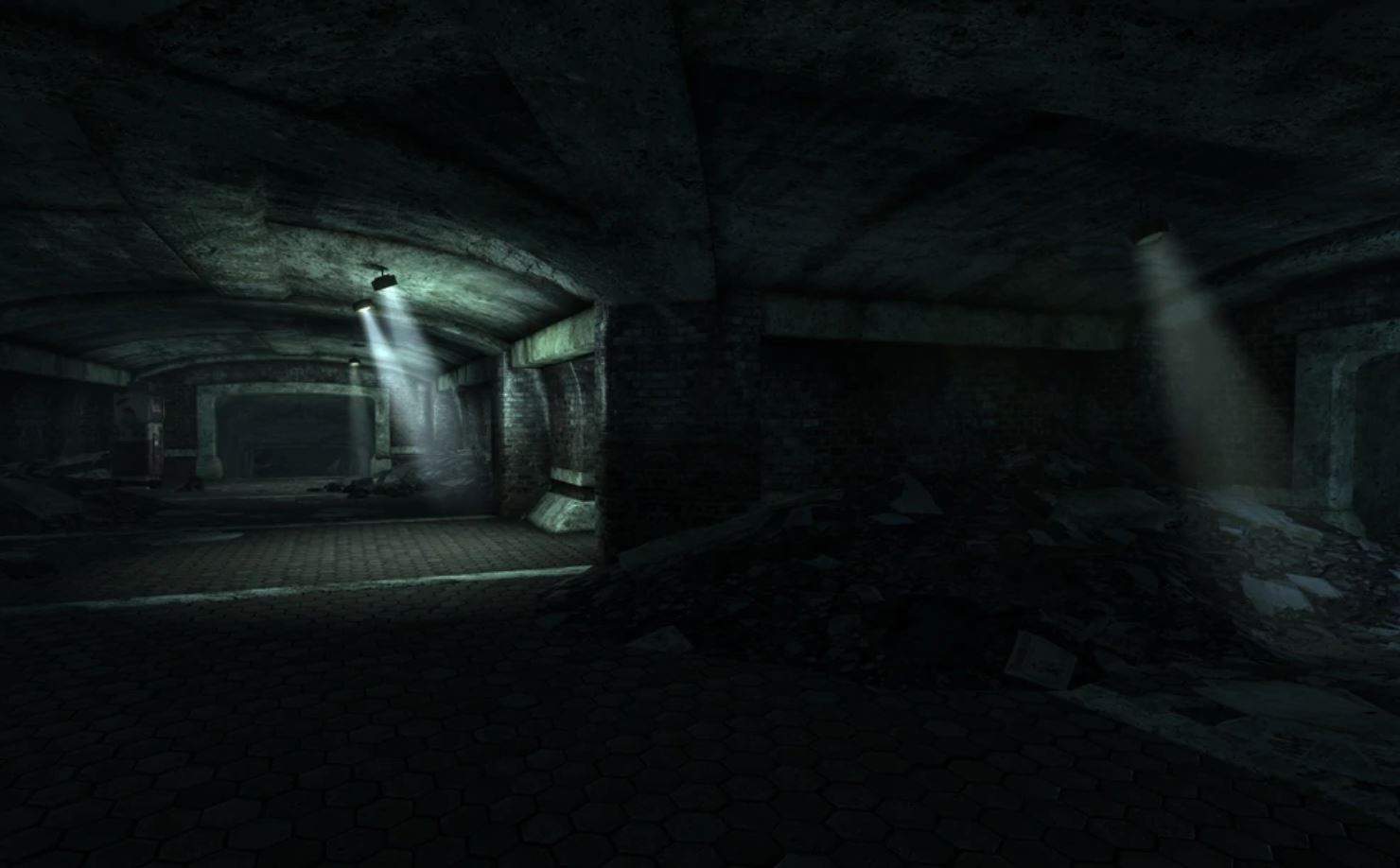 Bailey's Crossroads Metro is a small metro station that leads to Bailey's Crossroads district. You'll have to deal with a few feral ghouls down here. 
Bailey's Crossroads
Bailey's Crossroads is a small district reachable via Bailey's Crossroads Metro and where Operation: Anchorage takes place. After the initial skirmish with Super Mutants, the Outcast outpost is the only place of action left. 
Outcast Outpost
The Outcast outpost is home to a small detachment of Brotherhood Outcasts seeking to acquire technology from the VSS base. After completing the simulation, you are free to take everything inside the armory. 
Notable Loot
Winterized T-51b power armor 

Chinese stealth armor

Jingwei's shocksword

Gauss rifle

Trench knife

Neural interface suit

Outcast Scribe robe

General Chase's overcoat*

General Jingwei's uniform*

Winterized Chinese jumpsuit*

Winterized Chinese commando hat*

Army mechanic jumpsuit*

Winterized combat armor*

Winterized combat helmet*

Smoke grenades*

pre-War weaponry like fat man, flamer, Chinese assault rifle, etc*

Covert Ops perk 

Power Armor Training perk 
*Only obtainable by glitches, exploits, or console commands
Recommendations
My biggest recommendation regarding Operation: Anchorage? Show some restraint. 
Fallout 3's first released DLC is a sensible choice for the first DLC to tackle. Since 99% of it takes place in a simulation, you do not need to worry if you lack sufficient stimpaks or strong enough weapons. This DLC will only take you around 2 hours to complete (At most). The rewards are also arguably the best of all the DLC. 
And that's the problem; they're too good. The Chinese stealth armor is broken and turns sneaking into child's play. The winterized T-51b power armor has high Damage Resistance, doesn't degrade, and you can wear it immediately. Jingwei's shocksword and the Gauss rifle are some of the best weapons in their respective weapons categories. 
And those are just the official weapons. If you use any glitches or exploits to bring simulation equipment into the Capital Wasteland, that's more infinite HP weapons, armor, or limitless ammo for limitless caps. It's not hard to all but break Fallout 3 by exploiting Operation: Anchorage. 
You are free to play however you wish, but I don't recommend going overboard here. The game will become extremely easy, and I find that ruins part of the fun. I personally clear this DLC but stick the rewards inside a locker and let them sit for a while before touching them.
The Pitt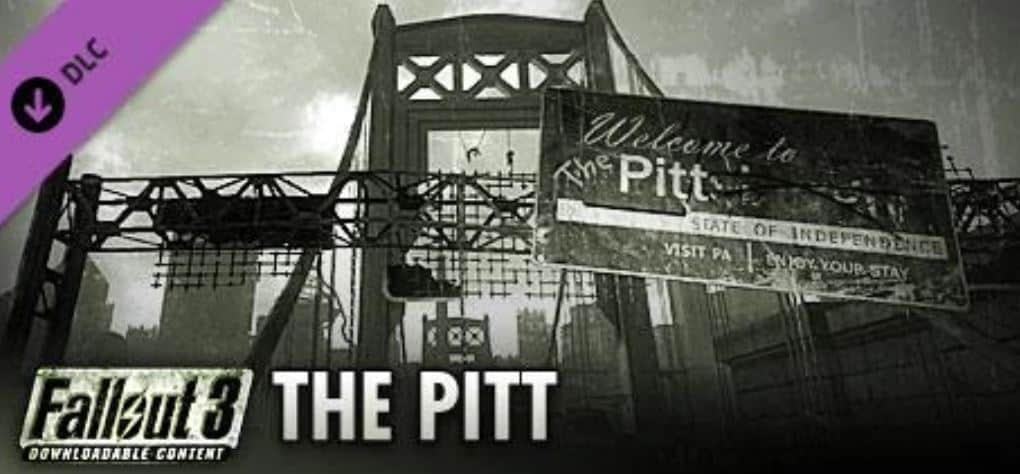 Synopsis
Released on March 24th, 2009, for PC and Xbox 360 and October 1st, 2009, for PlayStation 3, The Pitt is the second add-on for Fallout 3.
To begin The Pitt, listen to Wernher's distress signal asking for someone to help him free his people. Then start a very long trek to the map marker in the northernmost part of the map.  
After reaching the map marker (A radio tower), you'll find Wernher fending off some Pitt Raiders. Speak with him after dealing with the Raiders, and he will tell you his story. He's from The Pitt to the northwest and needs some help freeing his people: the slaves. Poor work conditions, air pollution, and disease make The Pitt a hellhole for the slaves, but something has come up.
The Raiders have discovered a cure for the disease plaguing The Pitt. If the Raiders fully realize and develop this cure, their stranglehold over the slaves will be in place forever. Wernher wants your help securing this cure so he can use it as a bargaining chip to free the slaves from the Raiders. 
Wernher suggests getting a slave disguise so you'll slip into The Pitt without drawing suspicion. Head west from the radio tower to the train tunnel to get one. Wernher will be waiting for you. Interact with the hand cart to travel to The Pitt. 
Upon arrival at the trainyard, Wernher's attempts to talk his way past some Pitt Raiders fail, and you're in for a firefight. After the fight, Wernher will fill you in on some final mission details. He tells you to find a woman named Midea, as she's the leader of the slaves and his co-conspirator. After that, he sends you through a gate leading to The Pitt, and you're on your own. As Wernher warned (Said that five times fast), the Pitt Raiders take everything you have except your holdout weapon and dump you into Downtown. You're just another slave now. 
Seek out Midea, and she will tell you what you need to do. Until an opportunity to obtain the cure arises, you'll need to continue playing the part of the slave. That means doing hard labor and venturing into the steelyard to retrieve steel ingots for the Pitt Raider bosses. Here, you'll run into more Wildmen and trogs. 
After engaging in some slave labor, Midea will inform you that you must fight in The Hole. Slaves have a single opportunity of earning their freedom, and that's by winning fights to the death in The Hole.  Upon winning three consecutive fights, you will earn your freedom and an audience with the Pitt Raiders' leader: Ashur. 
Now is your opportunity to seize The Cure and free the slaves. But upon speaking with Ashur, you will realize this conflict isn't as black and white as Wernher initially led you to believe. You will now have a choice of siding with the slaves as planned or siding with Ashur if you believe in his vision for The Pitt. 
Notable Characters
Wernher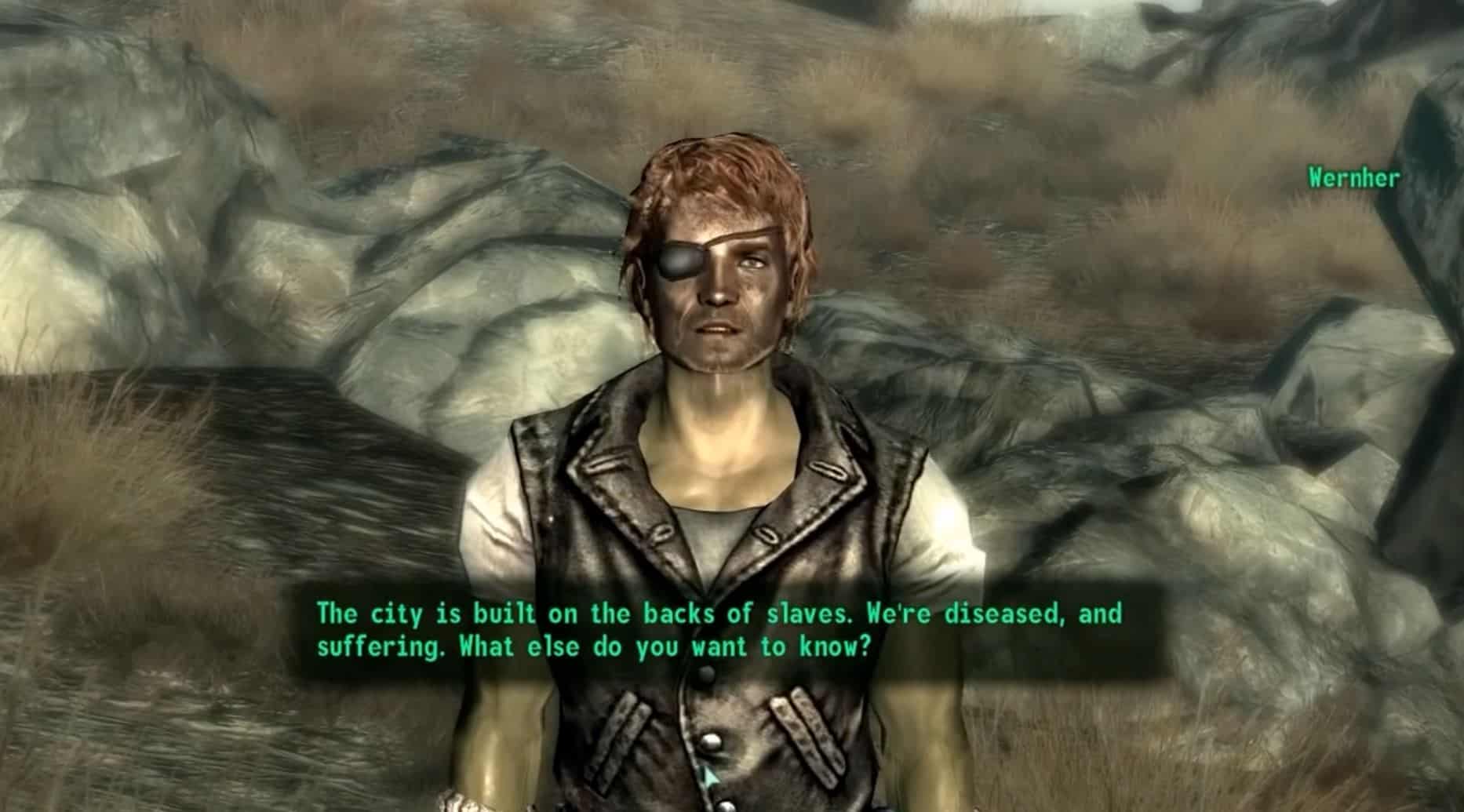 Wernher is the man who recruits the Lone Wanderer for help in freeing the slaves in The Pitt. 
While formerly a slave himself, it was all for about five seconds, as he quickly disabled his slave collar and escaped. Wernher is actually a former lieutenant of Ashur, and his failed coup is why Ashur made him a slave. 
Midea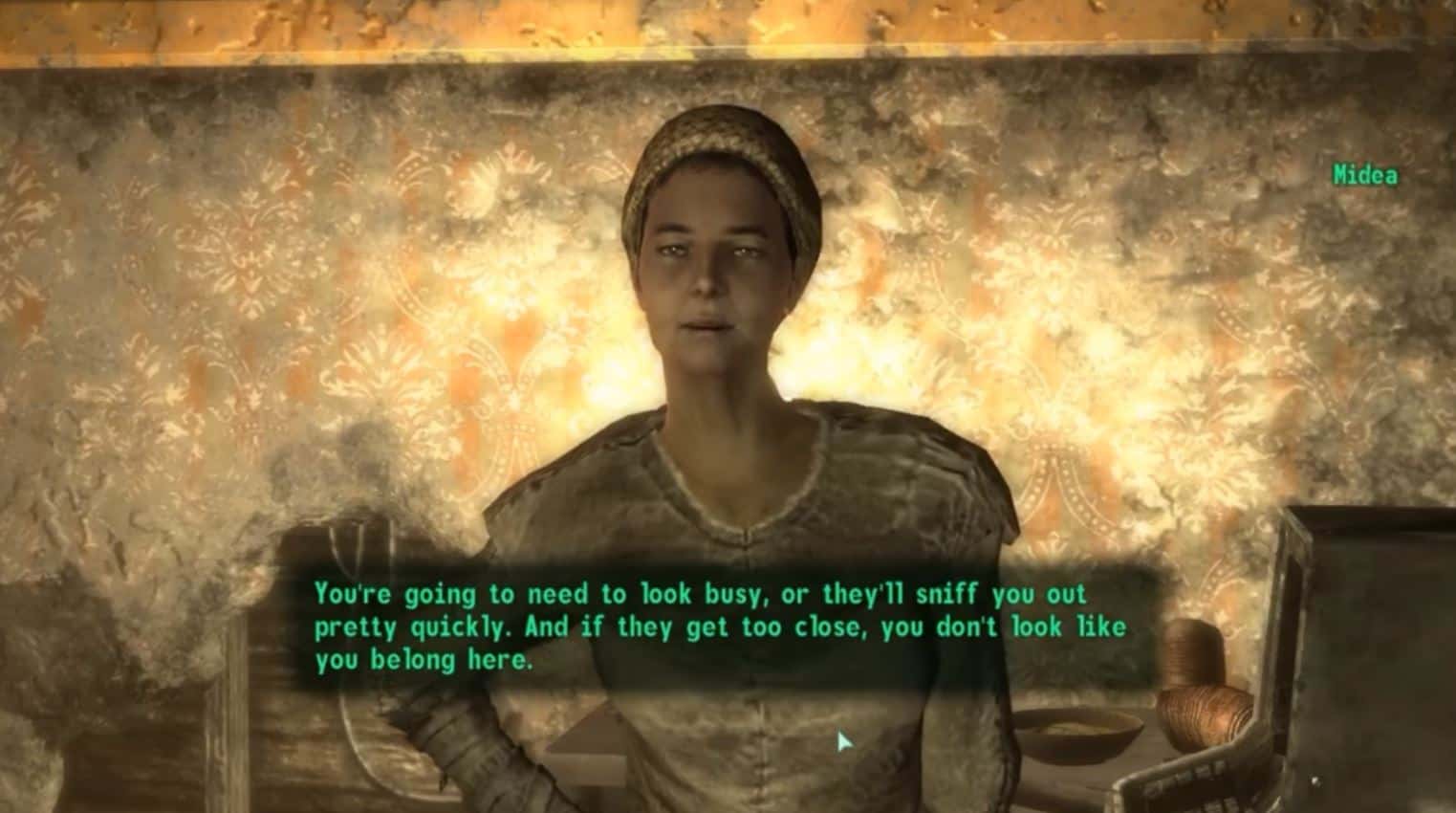 Midea is the leader of the slaves in The Pitt and your primary contact once inside. She will tell you what you need to do to blend in with the slaves and nominates you to fight in The Hole. 
If you side with the slaves, you can return to Midea after the DLC is over for a repeatable quest giving Midea teddy bears.
Ashur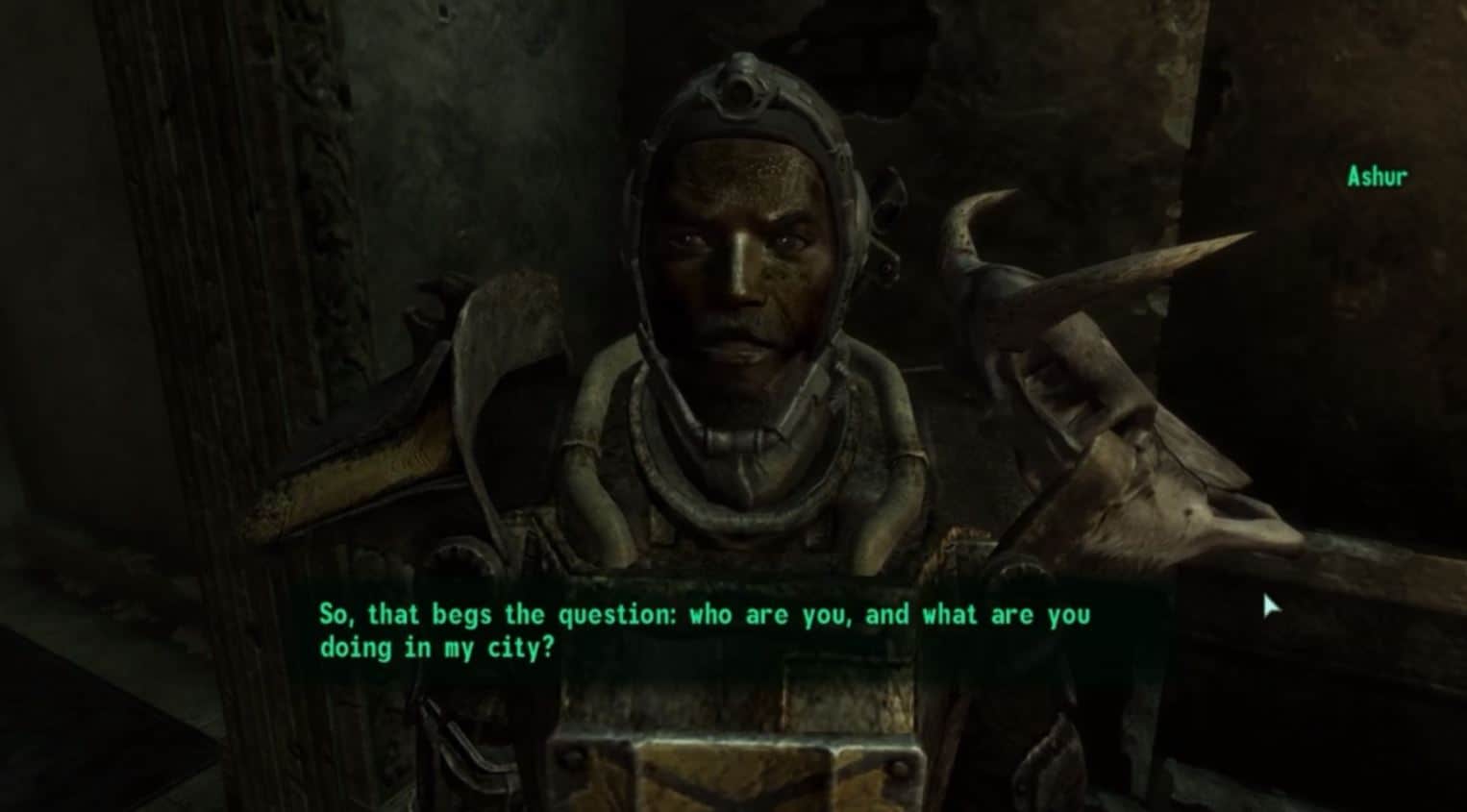 Ashur is Lord of the Pitt and a former Initiate of the Brotherhood of Steel. 
Mistakenly thought dead, the Brotherhood left Ashur behind during the Scourge. Instead of rejoining them, Ashur stuck around. He used his superior equipment and Brotherhood training to kill or recruit local raider gangs. With an operational steel mill, Ashur revitalized The Pitt and wants to turn it into a fully-realized settlement. He has resorted to using slaves to perform the labor he needs, though he doesn't like doing so. With the cure within reach, Ashur's dreams of The Pitt becoming a real settlement are a step closer to reality. 
Ashur is married to the scientist Sandra. With her, he has a daughter named Marie. 
Sandra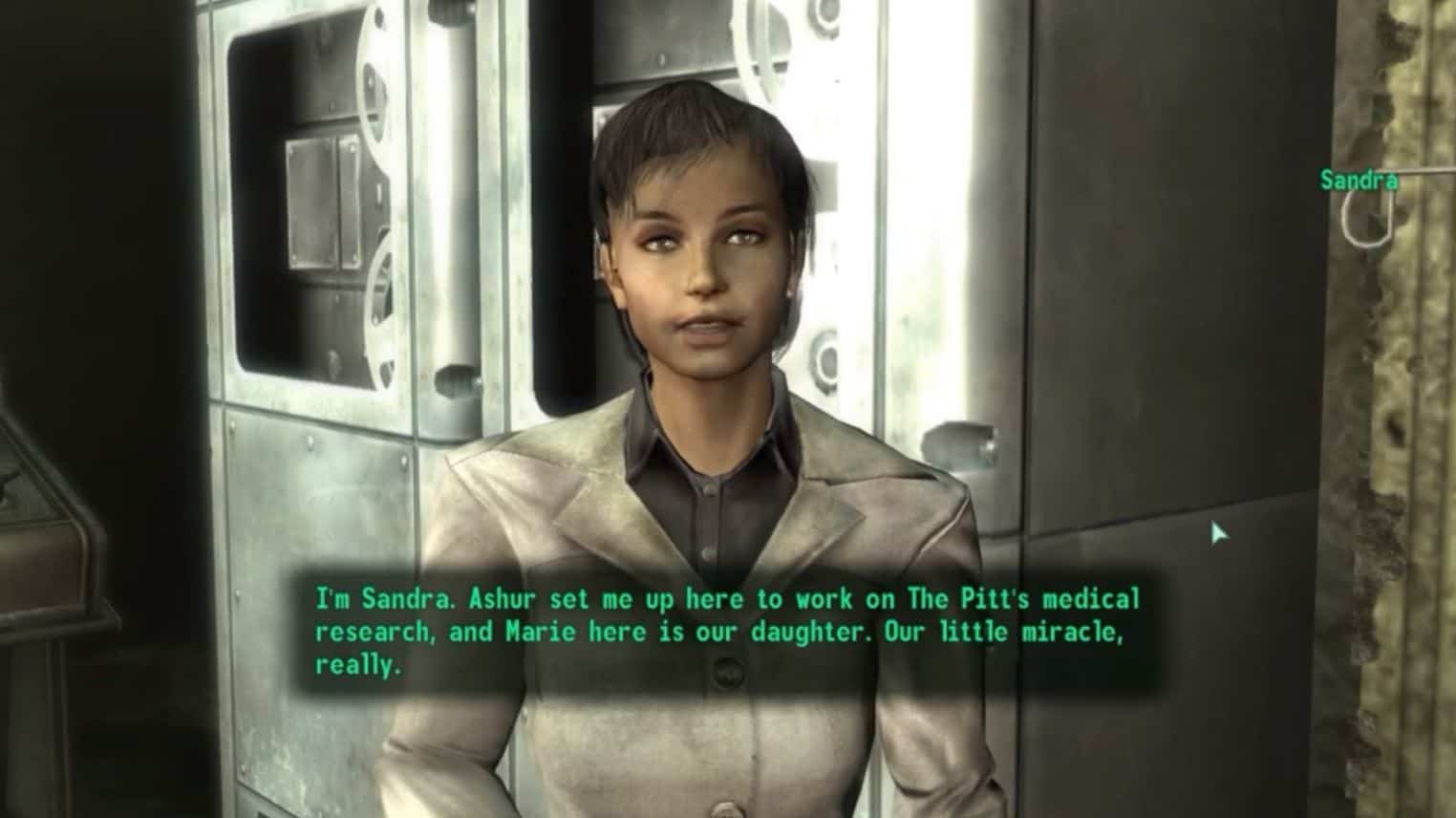 Sandra is a scientist, Ashur's wife, and the mother of Marie. She heads the research into the cure that will liberate The Pitt from disease. 
If you side with Ashur, you can return to Sandra for a repeatable side quest giving teddy bears to Marie.
Marie
Marie is the daughter of Ashur and Sandra and a very special child. She plays an important role in The Pitt's storyline and the city's future. 
Everett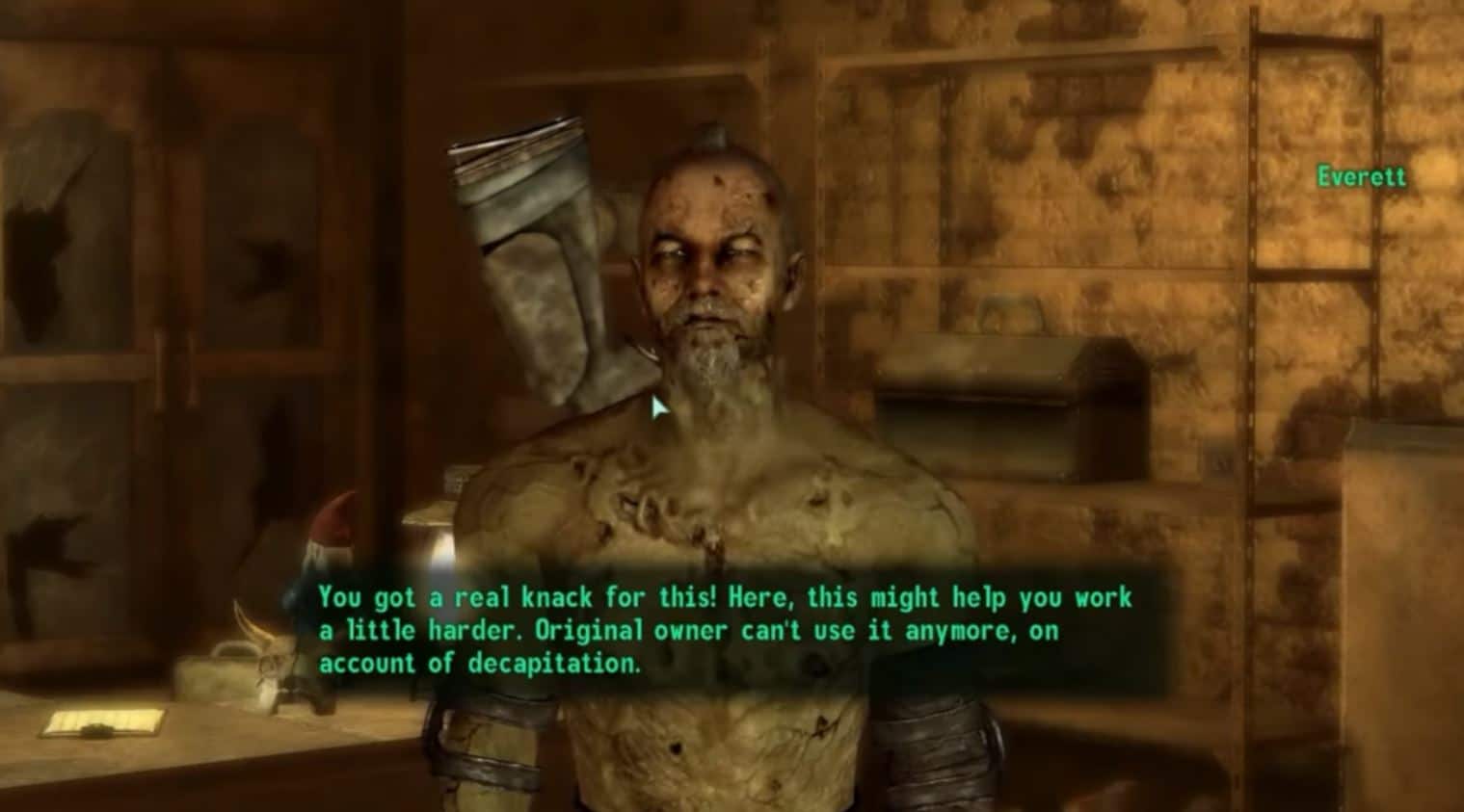 Everett is the foreman of The Mill and the man who sends you out into the steelyard to fetch steel ingots. 
Not the most pleasant man, Everett is still a reasonable guy. He will reward you with increasingly good equipment for every ten steel ingots you bring him.
Everett will stick around and run The Mill regardless of whether you side with the slaves or Ashur.
Faydra
Faydra runs The Hole. She will provide players with basic weapons and healing items before they go inside for the first time. She will also heal your radiation between rounds and provide intel on your opponents.
Friday
Friday is the chief merchant of the Pitt Raiders. You can do business with her after securing your freedom in The Hole. Friday mostly sells weapons and armor and can repair your equipment. 
If you side with the slaves in the final quest, you lose access to Friday's services. 
Harris
Harris is the Pitt Raider's bartender. He can sell the player alcohol and drugs. 
If you have Point Lookout installed, Harris can also sell punga fruit. 
Like Friday, Harris is no longer available if you side with the slaves. 
Notable Locations
Downtown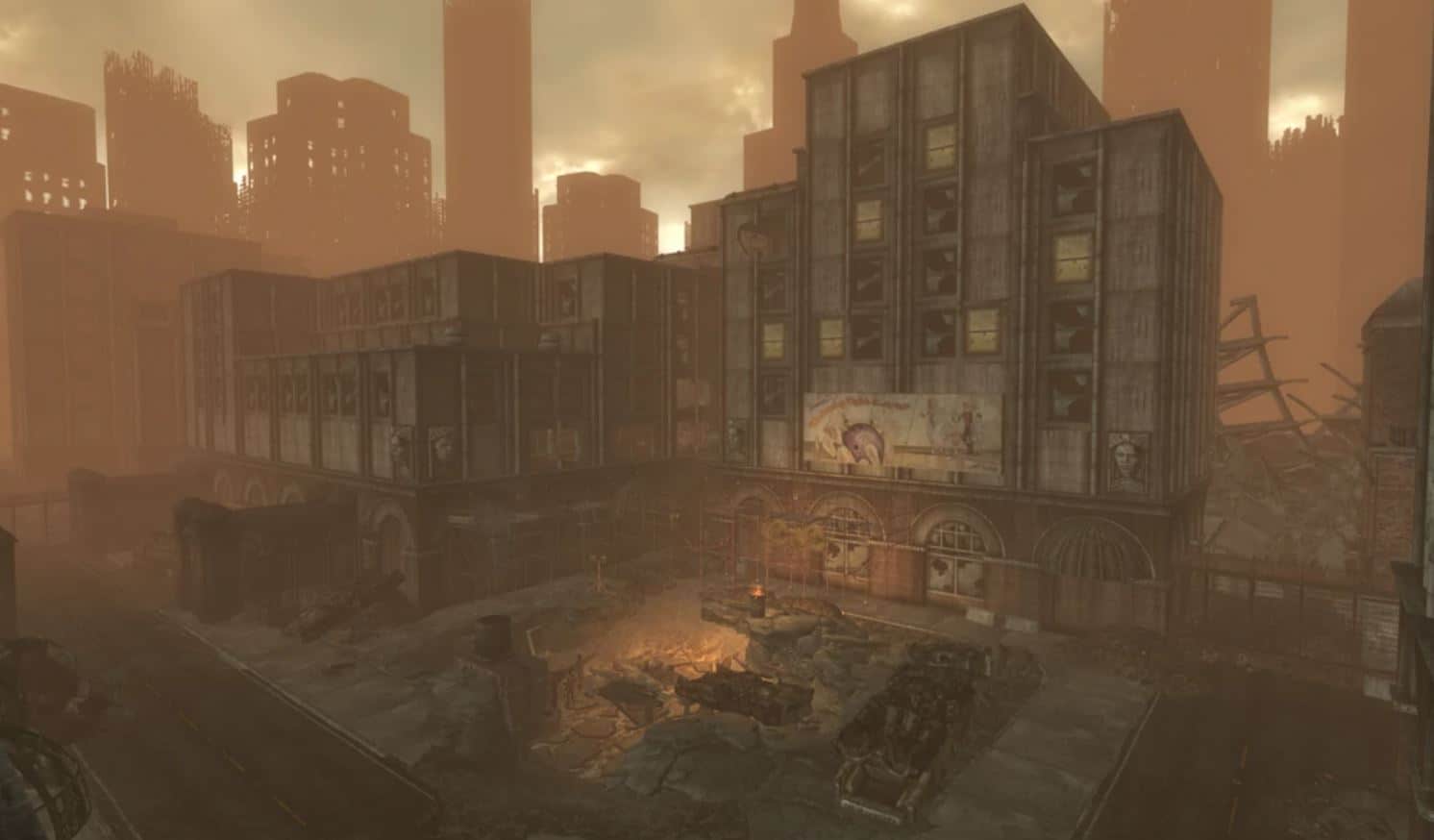 The Downtown area is the first place you'll venture through in The Pitt. It's where the slaves live and work under the watchful eyes of the Pitt Raiders. 
The upper part of Downtown is home to the Pitt Raiders and where you can find merchant Friday and bartender Harris. 
Uptown
Uptown is the upper-class section of The Pitt. Ashur, Sandra, and many Pitt Raider lieutenants reside in parts of Uptown. 
Uptown is also home to the abandoned apartments. 
Haven
Haven is the base of operations of Ashur and where he and his wife and daughter live. Numerous turrets and Pitt Raiders guard the headquarters of The Pitt's leader. 
Abandoned Apartments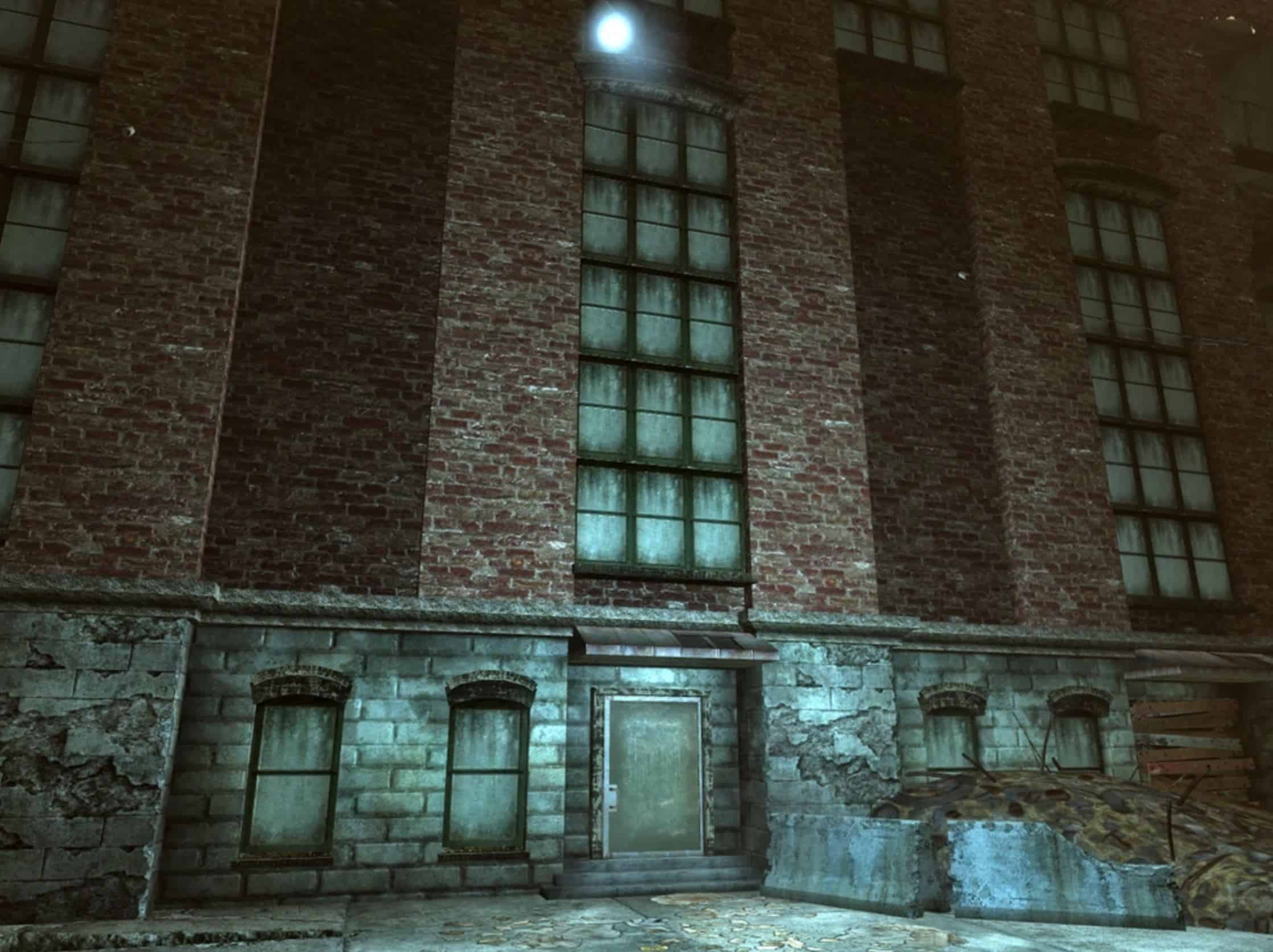 The abandoned apartments are an unmarked location in the lower part of Uptown. The abandoned apartments have plenty of trogs and contain several Nuka-Cola Quantum and the Hate of the People (A unique Chinese commando hat).
The Mill
The Mill connects to Downtown, Uptown, The Hole, and the steelyard and is a focal area in The Pitt. Most of the slave work takes place here. 
You will spend most of the DLC coming and going to The Mill for quest objectives. After the DLC has concluded, you gain access to the invaluable ammo press and are free to use it anytime.
Steelyard
The steelyard is a massive death trap. Home to countless trogs and Wildmen, the Pitt Raiders send you into the steelyard to collect steel ingots. Surviving the dangers of the steelyard and collecting these ingots will reward you with valuable equipment. 
Werhner has a secret hideout in the steelyard. 
Werhner's hideout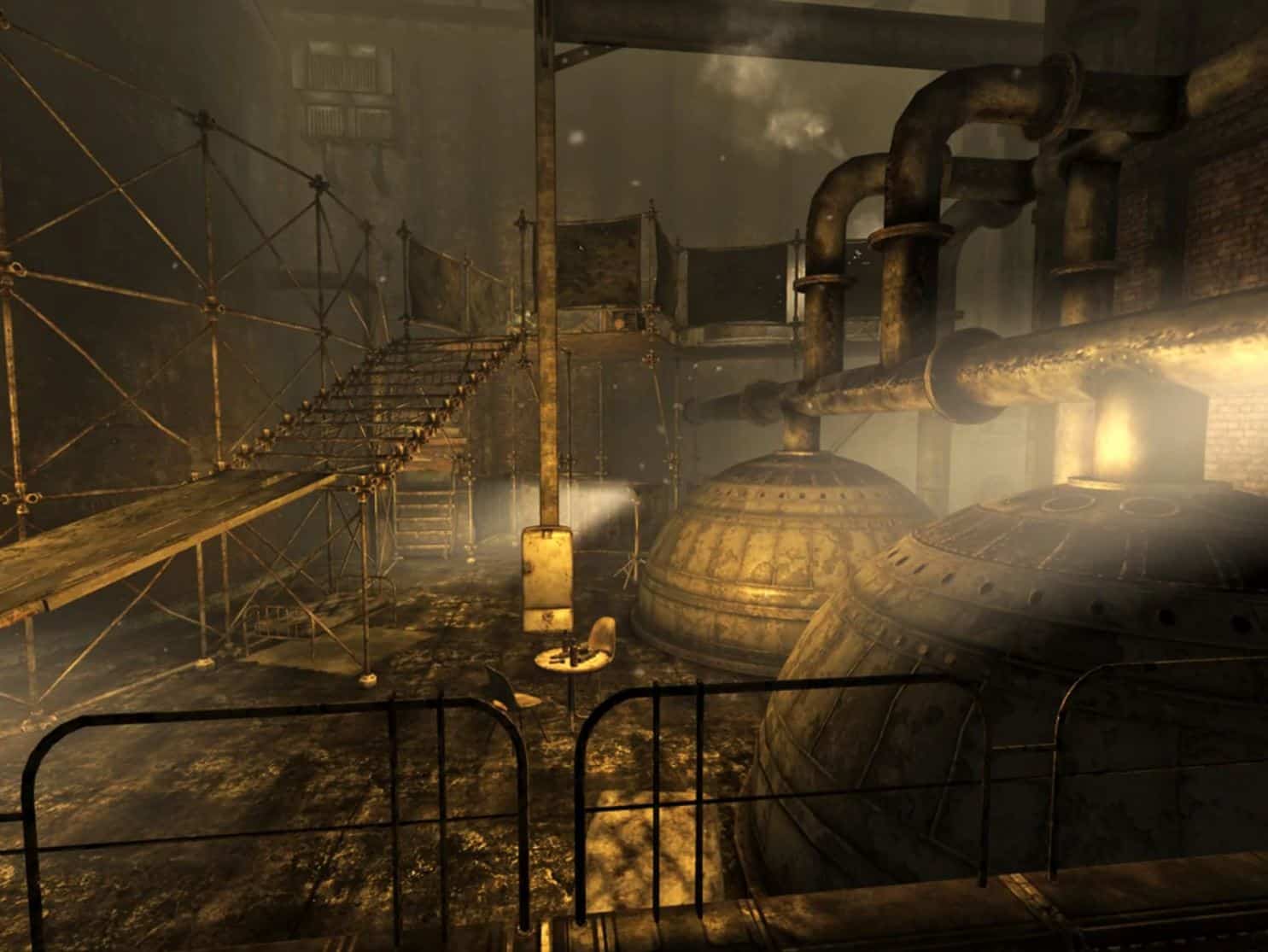 Werhner's secret base is inside the steelyard in a well-concealed location. You'll come here whether you side with the slaves or Ashur. 
If you side with the slaves, Marie will be here instead of at Haven. 
Notable Loot
Ashur's power armor

Tribal power armor

Man Opener

The Mauler

Metal Blaster

Infiltrator

The Perforator

Wild Bill's Sidearm

Steel knuckles

Auto axe

Steel saw

Hat of the People

Metal Master armor

Gamma shield armor

Leather Rebel

Bombshell armor

Filtration helmet

Supervisor helmet

Welder's mask

Laborer outfit

Worn slave outfit

Tattered slave outfit

Raider iconoclast armor

Raider commando armor

Raider throwdown armor

Raider ordinance armor

Raider paingiver armor

slop

Pitt Fighter Perk

Auto Axpert Perk

Booster Shot Perk
Recommendations
The Pitt is a bit of a tricky one. The Pitt isn't a DLC you jump straight into, but if you wait too long, you'll miss out on the value of most of the rewards. 
It isn't hard for players to set themselves up with endgame weapons and armor very early into their playthrough (See Operation: Anchorage). But here's the thing: you don't need to. 
Can you get your hands on one of the best armor sets in the game within several hours of starting Fallout 3? Yes. But what's the point? Do you need T-51b to fend off radroaches? Of course not. 
For me, part of the fun of Fallout 3 is using a bunch of different weapons and armor before the endgame forces me to use more potent equipment lest feral ghoul reavers tear me apart. The Pitt rewards you with some of the coolest weapons and armor in the game (Especially the raider stuff). But by the time you reach level 15, they will start to fall off. By level 20, most will be redundant. 
I recommend visiting The Pitt sometime between levels 5-10. That will give you plenty of time to have fun with this stuff. The Pitt will only keep you away from the Capital Wasteland for around 2 hours, but it's a fun detour. Make sure you have a fairly empty inventory too. You'll be hauling back a lot of loot. 
Broken Steel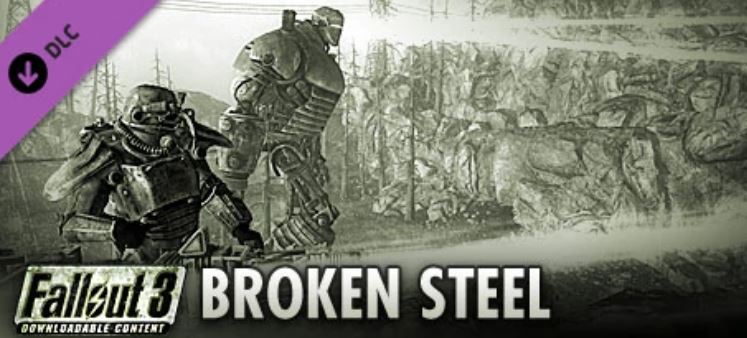 Synopsis
Released on May 5th, 2009, for PC and Xbox 360 and September 24th, 2009, for PlayStation 3, Broken Steel is the third add-on for Fallout 3. 
Regardless of whether you love, hate, or are indifferent towards Fallout 3, one thing most Fallout fans can agree on is Fallout 3's original ending is terrible. It's a hamfisted attempt to have the Lone Wanderer follow in their dad's footsteps and sacrifice themselves for others inside that purifier's apparent death chamber. 
The original Fallout 3 also ended after the finale of the main storyline, which is something many people did not like. Broken Steel attempts to solve these problems. 
Broken Steel adds a lot of content to Fallout 3, but to access its storyline, you have to play through the main game first. The story continues following the conclusion of the Waters of Life. You're at the Citadel and have been in a coma for two weeks. Elder Lyons greets you and fills you in on what's been happening. 
The purifier is online, the Tidal Basin is full of water, and the Brotherhood of Steel has been distributing it to settlements across the Capital Wasteland. Lyons also tells you the Brotherhood has been focusing efforts on exterminating the Enclave remnants. He promotes you to the rank of Knight and tells you to speak with Scribe Rothchild to help join the efforts. 
Rothchild will bring you up to speed. Despite the loss of their leadership, Enclave detachments are still operating effectively and stationed at various bases across the Capital Wasteland. Rothchild believes he has discovered the location of an Enclave military installation that handles communication with the rest of the Enclave units. Paladin Tristan is leading the charge on the front lines. Liberty Prime will create an access point into the base then Tristan and his team will neutralize the Enclave inside and sever communications. 
Meeting with Tristan at the Rockland Car Tunnel will get the ball rolling. Liberty Prime and the Brotherhood of Steel will commence an assault on an Enclave satellite relay station. But it turns out it was a trap all along. 
An orbital strike by the Enclave severely damages Liberty Prime and puts the Brotherhood's greatest weapon out of commission. The Brotherhood will battle through the remains of the satellite station and uncover some encrypted codes that may give them a clue about what happened. 
With Liberty Prime out of commission, the Brotherhood needs your help in securing technology that will help them create a new weapon to defeat the Brotherhood remnants. Once they locate the Enclave's new main base, it's time to put an end to them once and for all.
Changes to the Main Game
Besides continuing the storyline, Broken Steel adds a lot of new items, enemies, locations, and bugs to Fallout 3. Some new content will only appear after you finish the original game's main quest. After completing the main questline of the original game, new NPCs and factions will pop up in areas like Rivet City, Springvale, and Underworld.
The level cap increases from 20 to 30, and there are 14 new perks. There's new endgame armor and weapons ready to be used by the Lone Wanderer, too. 
There are also four new enemies that will be the bane of your existence when you encounter them: Super Mutant Overlords, Albino radscorpions, feral ghoul reavers, and Enclave Hellfire troopers. These enemies make deathclaws look like mole rats, and you should not underestimate them. 
With Broken Steel installed, you can play Fallout 3 forever. Finishing the main questline will not end the game. 
Notable Characters
Paladin Tristan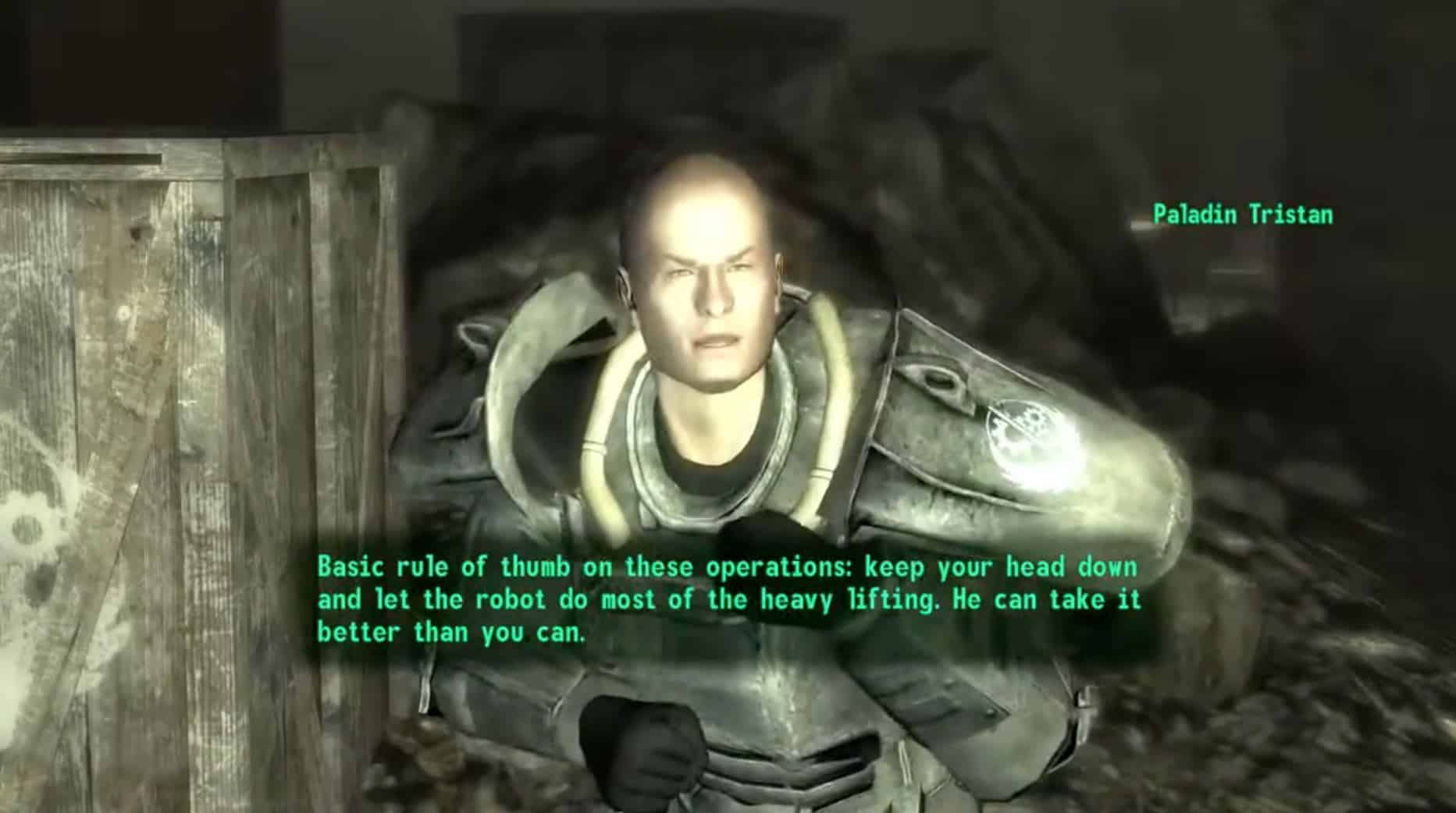 Tristan is the Brotherhood Paladin leading the extermination efforts of the Enclave remnants from the Capital Wasteland. And perhaps a descendant of the Elder Scrolls' Imperials. 
After completing Broken Steel's main questline, Tristan can give you a radiant quest to bring back Super Mutant blood samples in exchange for caps and exp.
Scribe Rothchild
The Brotherhood's head scribe plays an important role in Broken Steel's main questline. He brings you up to speed on their efforts to exterminate the Enclave. 
After the conclusion of the DLC, Rothchild can give the Lone Wanderer a radiant quest in gathering sensor modules and cameras to assist in the repairs of Liberty Prime. 
Scribe Bigsley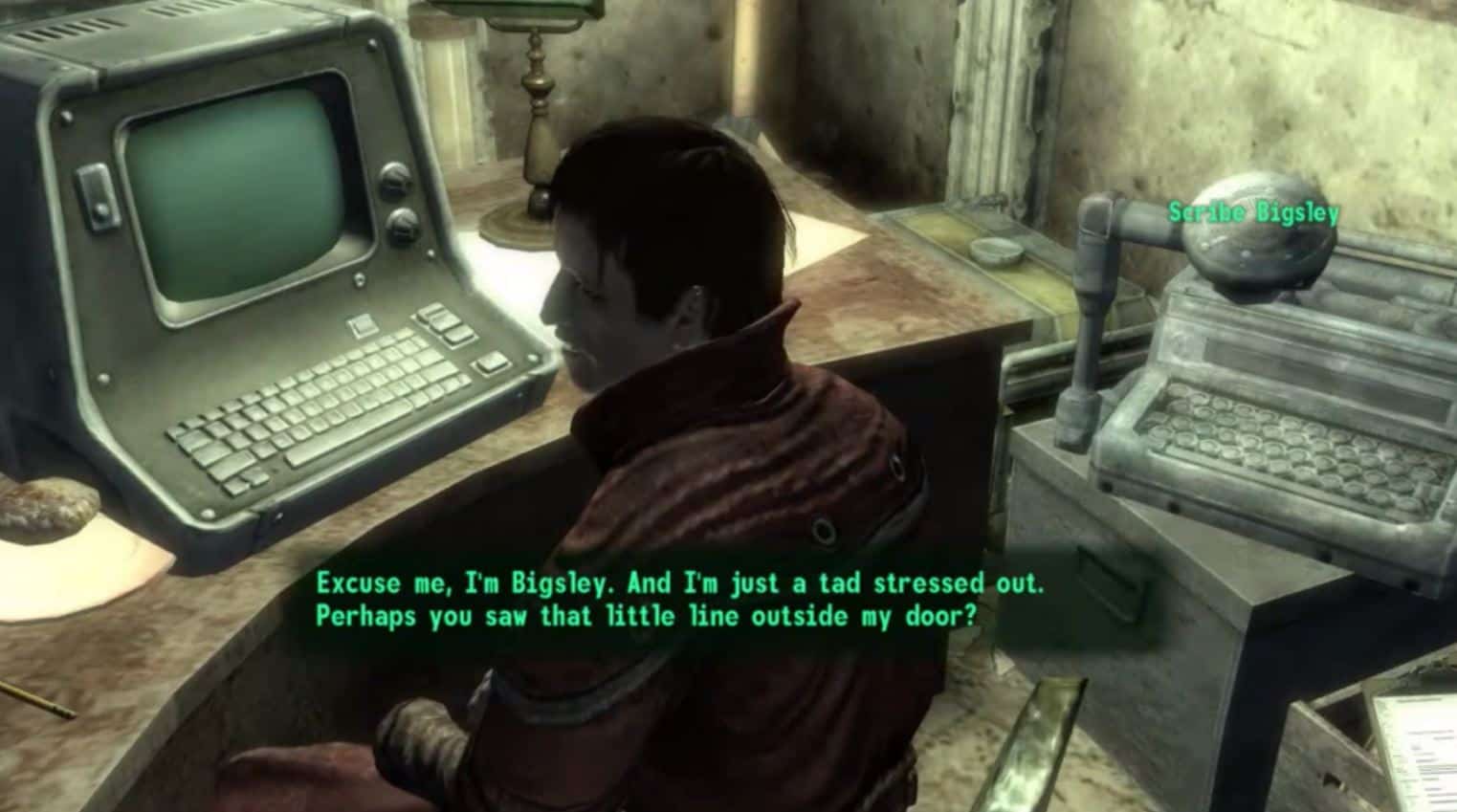 Stationed at Jefferson Memorial, Bigsley is the Brotherhood scribe in charge of the water distribution efforts in the Capital Wasteland. He plays a role in several side quests related to those efforts. 
Officer Lepelletier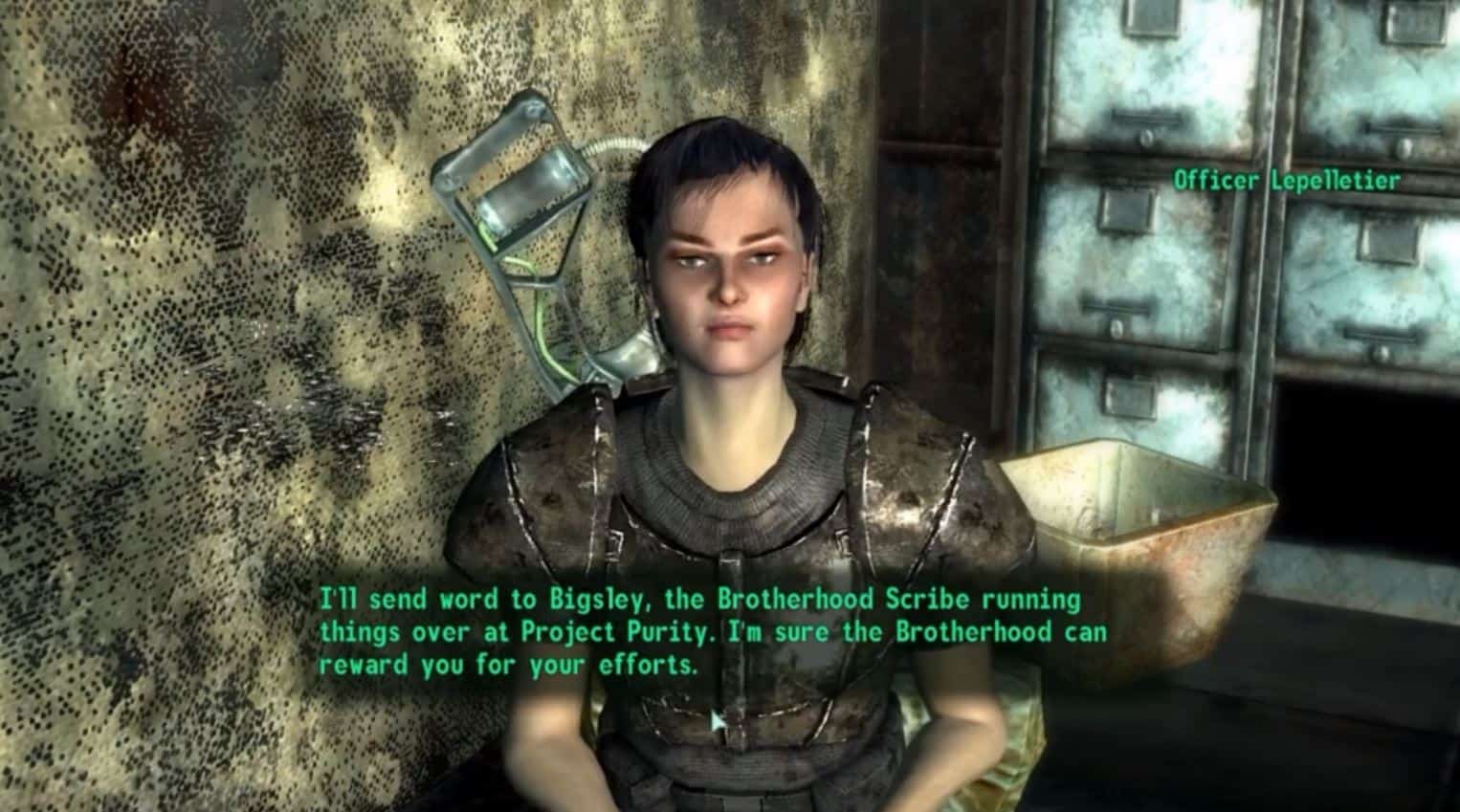 Officer Lepelletier is a Rivet City Security Force officer put in charge of Rivet City's end of water distribution. 
She thought that with the Brotherhood of Steel sharing technology with them in exchange for Rivet City's assistance in distributing water, it would be a piece of cake. That hasn't been the case. She could use your help with some bandit attacks on the water caravans. 
Scribe Vallincourt
Scribe Vallincourt is an assistant of Scribe Rothchild and plays a role in the quest Shock Value. She can give the Lone Wanderer a deathclaw control scrambler.
The device will turn Enclave-controlled deathclaws into friendlies as long as you're in close proximity to them. 
Stiggs
Stiggs is a repairman working for the Enclave. He has an interesting backstory. Speaking with him may give you some invaluable intel on Enclave operations. 
Brother Gerard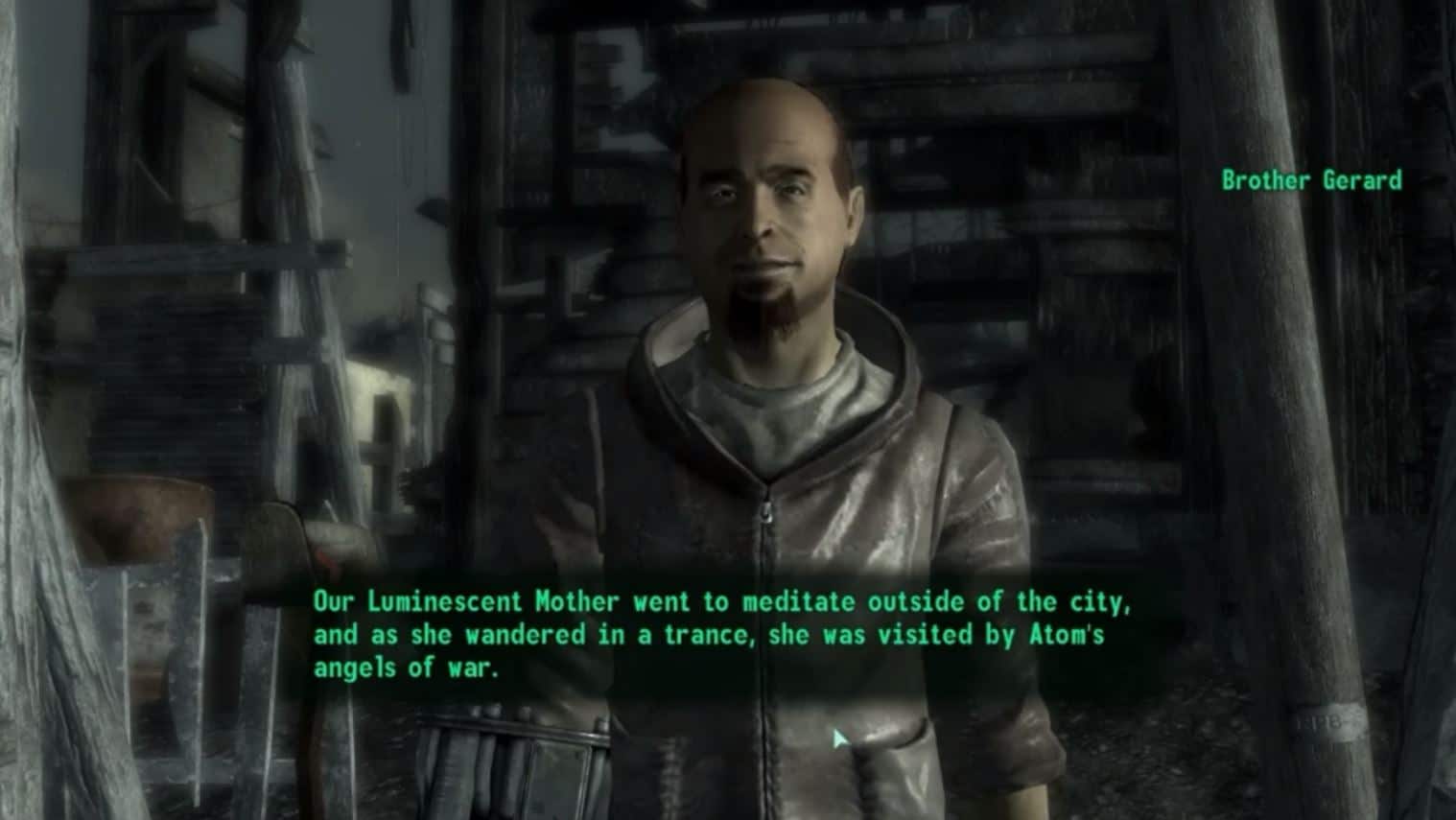 Brother Gerard is a member of the Apostles of the Eternal Light. 
He stands guard outside the Holy Light Monastery in Springvale. You must deal with him one way or another to enter the Monastery. 
If you blow up Megaton, Brother Gerard and other members of the Apostles of the Eternal Light will be affected. 
Mother Curie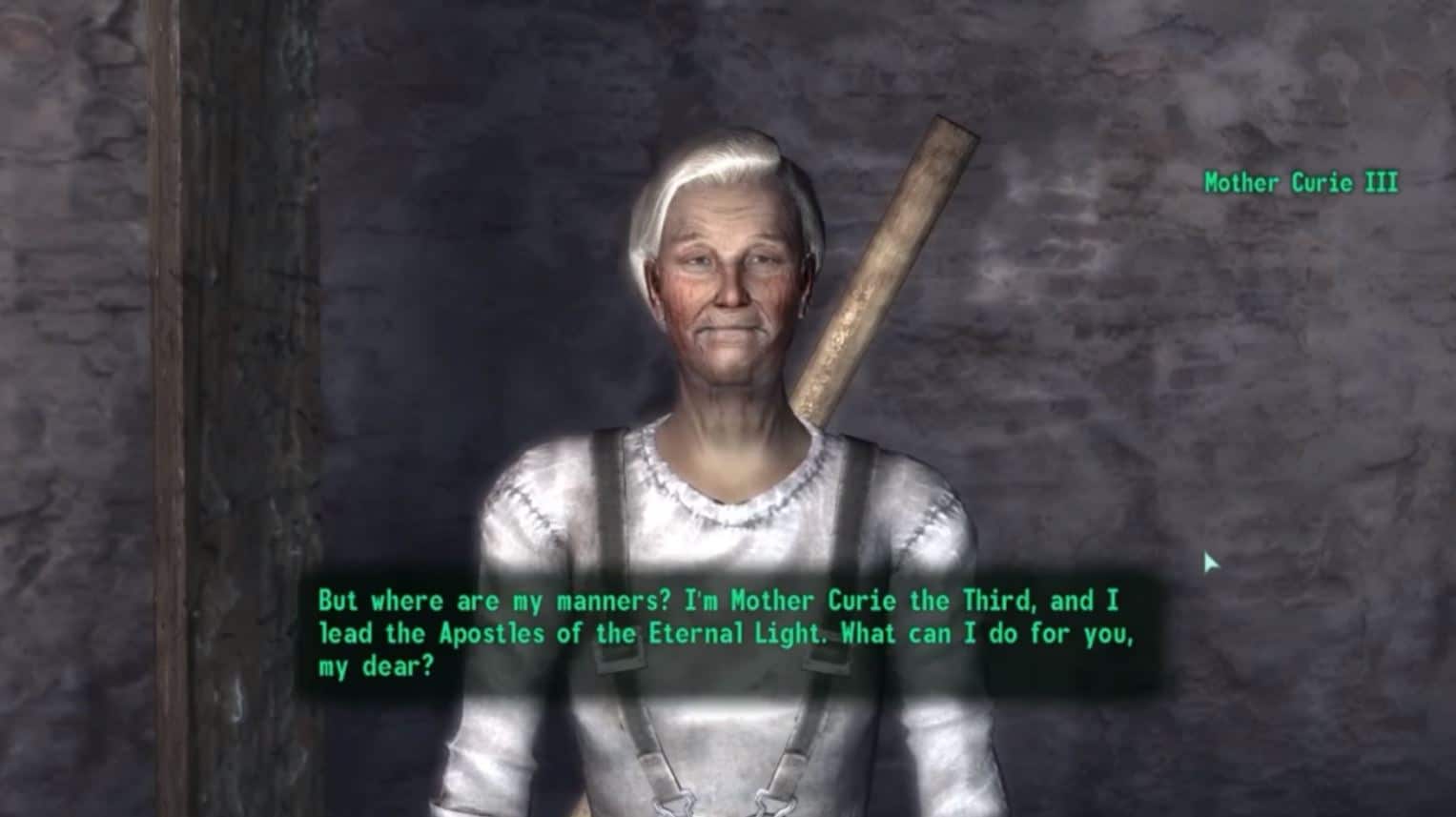 Mother Curie is the leader of the Apostles of the Eternal Light. They are an offshoot of the Church of Atom. More radical in their beliefs, they believe that becoming ghouls is the next step of human evolution and actively try to them themselves into ghouls through excessive radiation exposure. 
Curie has been "blessing" water given to them by the Brotherhood of Steel by irradiating it and passing it off as holy water. Her actions are causing wastelanders to fall ill and die. 
If you blow up Megaton, Mother Curie will become a hostile feral ghoul reaver. 
Griffon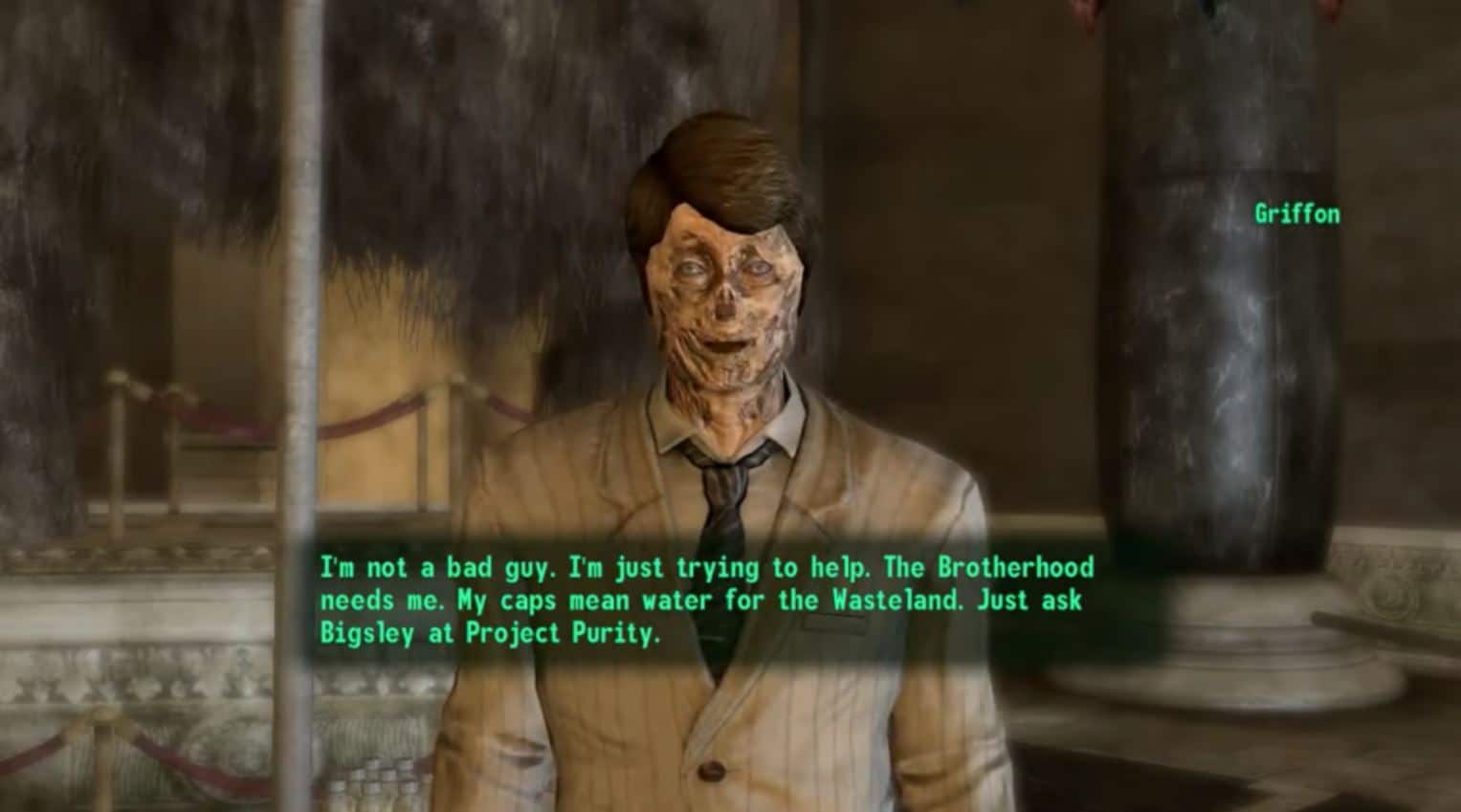 Griffon is a ghoul in Underworld with a head full of hair and a product that sounds too good to be true. 
Griffon is selling Aqua Cura, an offshoot of Aqua Pura, to residents of Underworld. But something isn't right about it. 
Lag-Bolt
Lag-Bolt is a Talon Company mercenary/raider with two unique items and a new weapon added with Broken Steel, the heavy incinerator. Finding and defeating him is well worth the trouble. 
Notable Locations
Rockland car tunnel
The staging area of the Brotherhood assault on the Enclave's satellite relay station, Rockland car tunnel, has many sets of Enclave armor lying around for the taking. 
Satellite relay station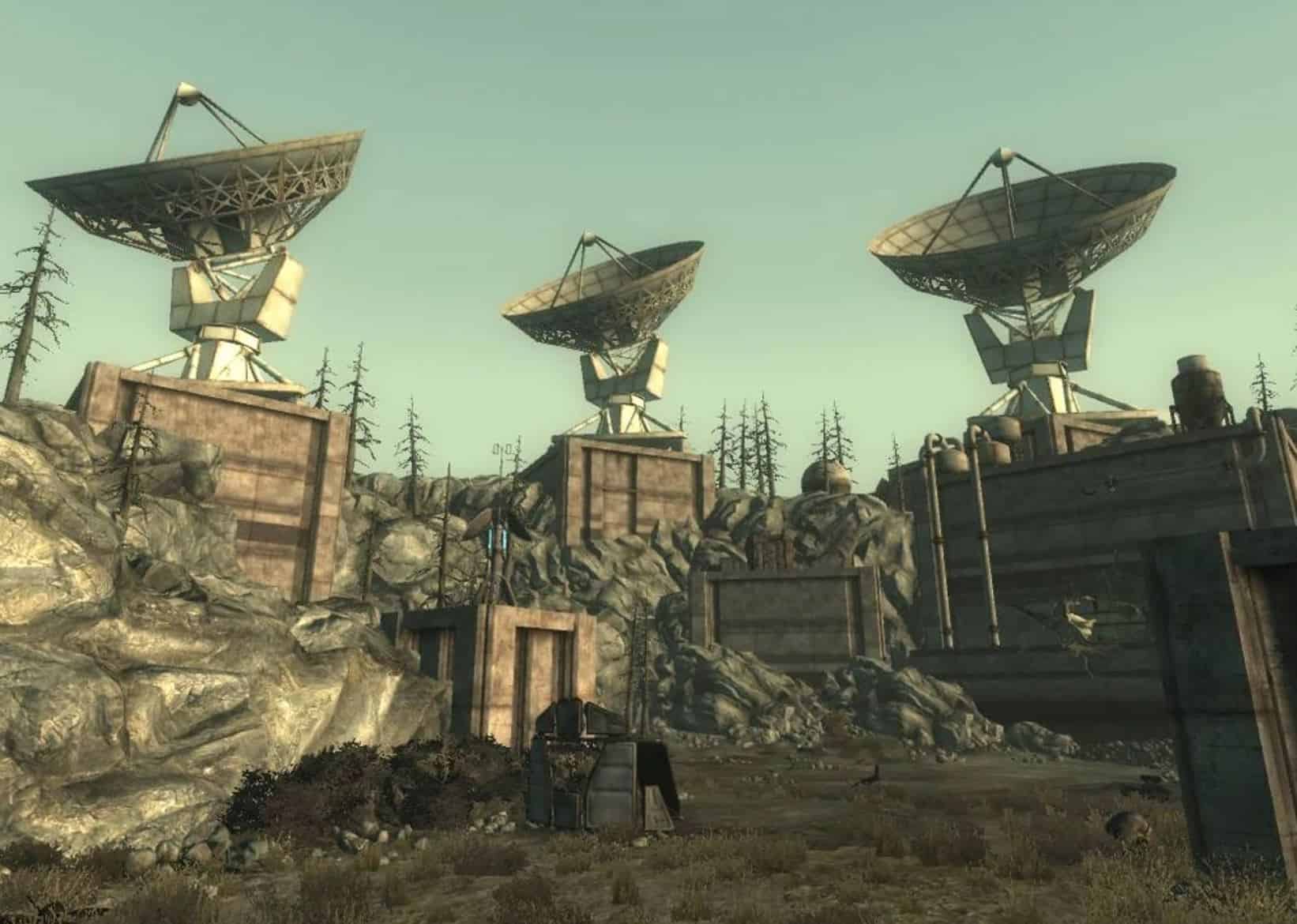 An Enclave outpost and home of the first battle of Broken Steel's main questline, you will face off against dozens of Enclave soldiers at the satellite relay station. 
Adams Air Force Base
Adams Air Force Base is the main base of the Enclave after the destruction of Raven Rock. The finale of Broken Steel takes place here. There are several main locations at Adams Air Force Base: the mobile base crawler, Adams storage facility, and the Air control tower. 
The Brotherhood of Steel would eventually take over Adams Air Force base and use it as their own base of operations.
Presidential metro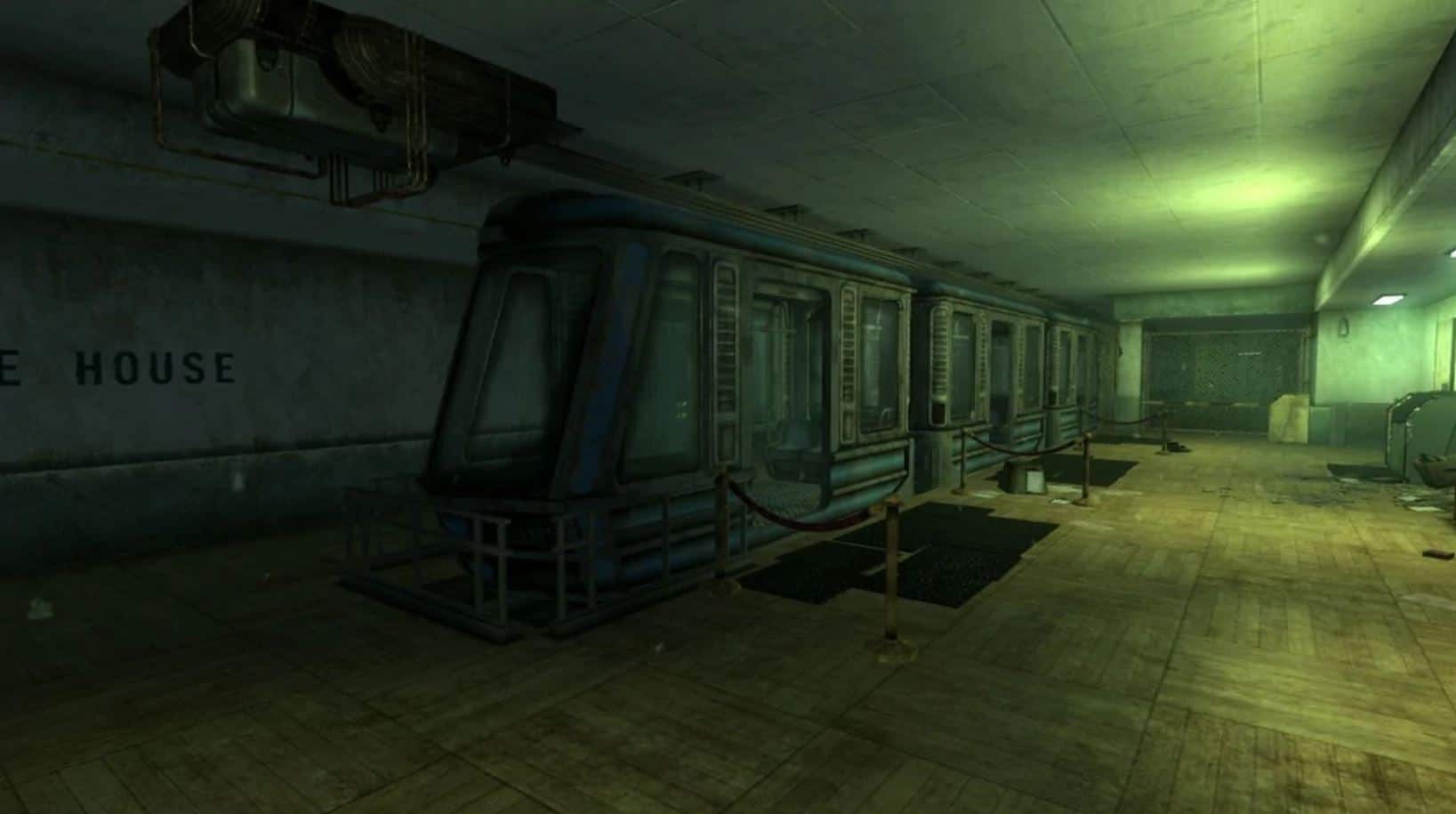 The Presidential metro is a series of connected metro tunnels beneath several government buildings in the nation's capitol of Washington D.C. You will have to traverse through this metro to reach Adams Air Force Base.
Old Olney Underground
The Old Olney Underground is a section of the Old Olney Sewers. Some ghouls from Underworld made the mistake of attempting to set up another ghoul-friendly settlement here. Unluckily for them, they settled next to a deathclaw nest. 
You'll venture through the Old Olney Underground during Broken Steel's main questline. 
Old Olney S. Wilson Building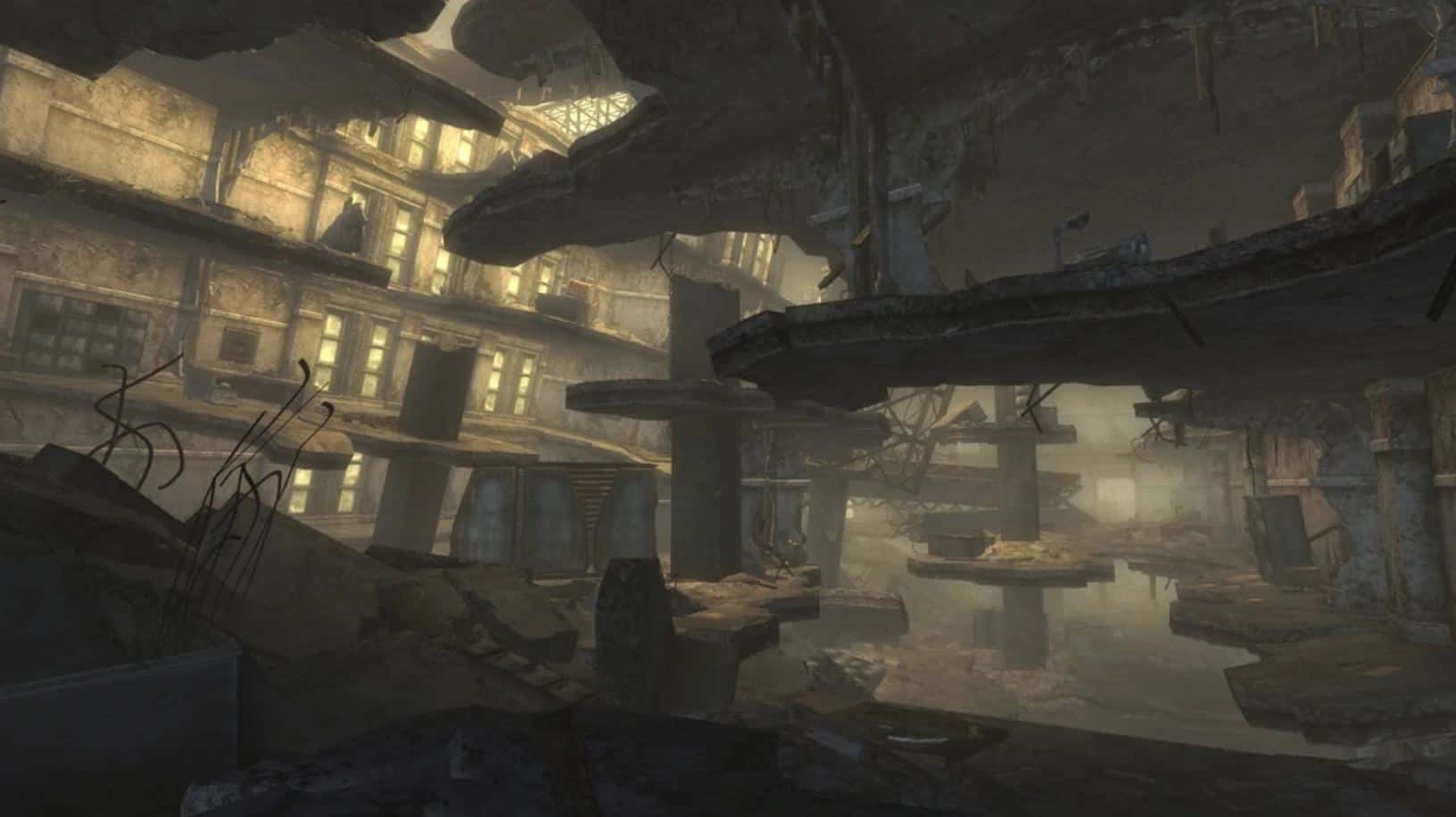 The Old Olney S. Wilson Building is an unmarked office building containing an entry point into the Olney Powerworks. You can reach this building through Old Olney Underground.
Old Olney Powerworks
The Old Olney Powerworks is a pre-War power plant that conducted experiments in alternative power sources. The Brotherhood of Steel sends you here to retrieve some tech to power a weapon they plan to use against the Enclave. 
Museum Authority Building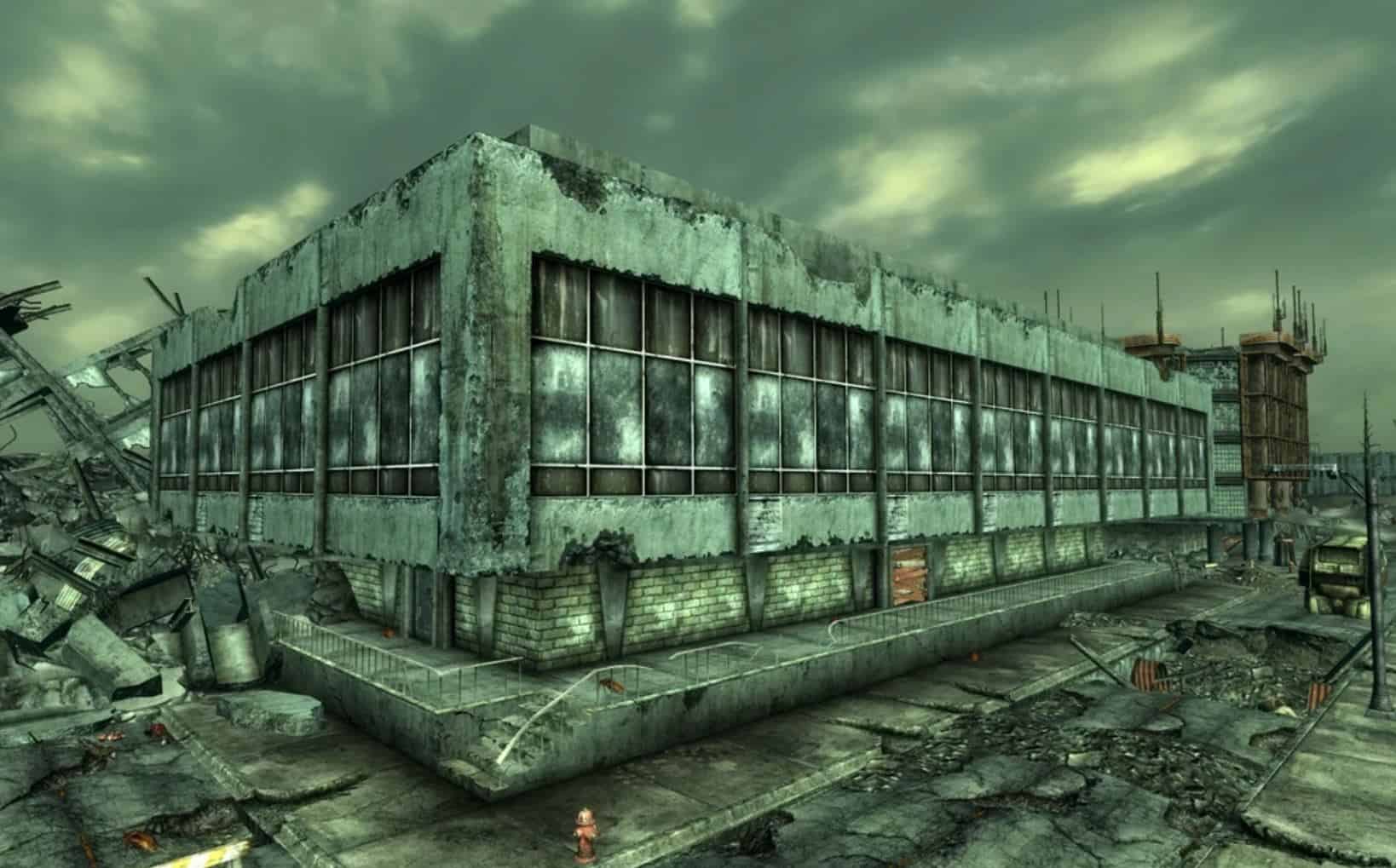 The Museum Authority Building is the home base of that sketchy ghoul Griffon. It's here that Griffon makes his Aqua Cura. 
Holy Light Monastery
The Holy Light Monastery is the headquarters of the Apostles of the Eternal Light. Nothing more than a cellar in a destroyed house in Springvale, this place is home to the Capital Wasteland's craziest radiation worshippers. 
Notable Loot
Enclave Hellfire Armor

Tesla cannon

Callahan's Magnum

Heavy Incinerator

Lag-Bolt's Combat armor

Lag-Bolt's shades

Tri-beam laser rifle

Slo-burn flamer

Rapid-torch flamer

Precision Gatling laser

Police hat

Wig

All-nighter nightwear

Lab coat

Super mutant blood sample

Holy water

Aqua Cura

Aqua Pura

Deathclaw control scrambler
Recommendations
My first recommendation for those who have never played Fallout 3 is to watch out if you listen to Galaxy News Radio. With Broken Steel installed, Three Dog can spoil the ending of the original game moments after you leave Vault 101. 
Broken Steel also prematurely spoils the arrival of the Enclave. In the original game, Enclave soldiers only appear after The Waters of Life. But with Broken Steel installed, lone Enclave troopers pop up in various locations across the Wasteland before The Waters of Life. The most common areas I see Enclave soldiers are behind the Super-Duper Mart (That's right; you ready to take on an Enclave soldier at level 2?), the street near Dukov's Place, and Rockbreaker's Last Gas.
Broken Steel offers some really great radiant quests for farming caps and exp, but all are too little too late unless you blitz through the main questline. The level cap bump and new perks are welcome additions, and the new enemy types provide a solid challenge to players. 
You can begin the Broken Steel main questline anytime after the original questline is over, but I prefer to be at least level 20. The final battle is very hectic, and you have to fight through a lot of enemies. 
Broken Steel's main questline will take around 2 hours. Completing all content introduced by Broken Steel will take about 5 hours. 
Point Lookout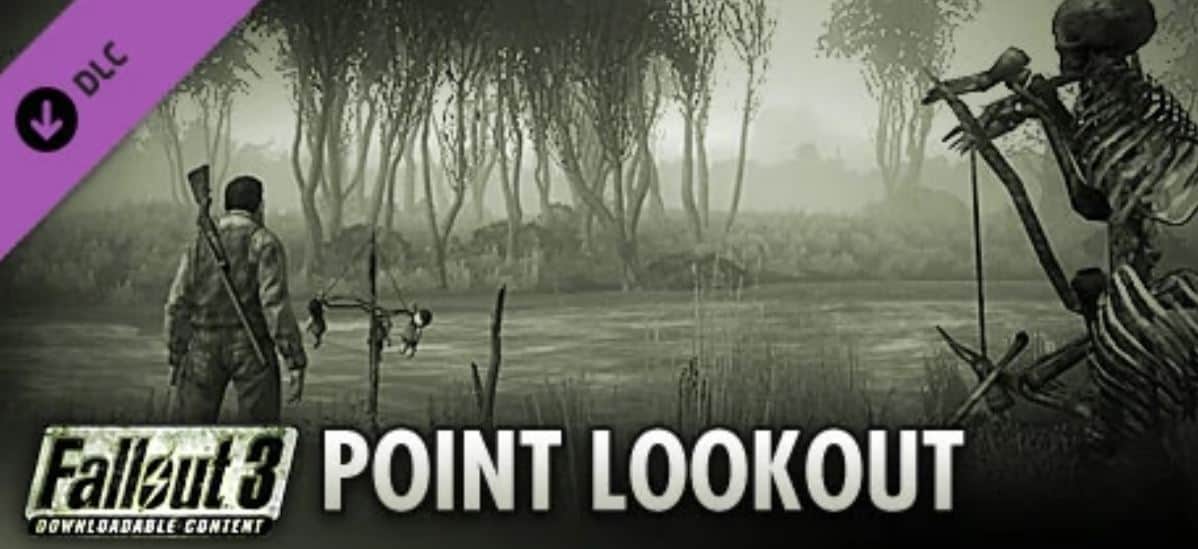 Synopsis
Deep in the southernmost part of the Capital Wasteland, near Arlington Library, sits a ferryboat called the Duchess Gambit. Speaking with Captain Tobar can land you a ticket to the mysterious Point Lookout. 
A reimagining of Point Lookout State Park, this new locale is shrouded in fog and mystery. Full of unexplored areas and untouched treasures, it's an adventurer's dream. 
It's also a parent's nightmare. Or at least one parent's nightmare. Standing out front of the Duchess Gambit is one Wastelander Catherine. Her daughter Nadine stowed away on the Duchess Gambit and ventured into Point Lookout herself. Be a doll and look for her while you're there, would you?
Purchase a riverboat ticket from Tobar and get the adventure started. 
Upon arrival, Tobar will mention some local tourist attractions. He will also point out the smoke coming from the Calvert Mansion. That's your cue to head over and begin Point Lookout's main questline. 
Once inside the mansion, you'll find a spiffy-looking ghoul named Desmond and his two good boys fending off some of the locals. Help Desmond deal with them, and he will reward you and charge you with assisting him further to defeat his enemies once and for all.
To continue, you must infiltrate the tribals' cult. As an outsider, no one will suspect you as no tribal from the mansion is alive to warn anyone about you. The tribals are doing the dirty work, but someone else is pulling their strings. Someone Desmond has been fighting for a very long time. The Lone Wanderer will be the deciding factor in how this conflict ends. 
Notable Characters
Tobar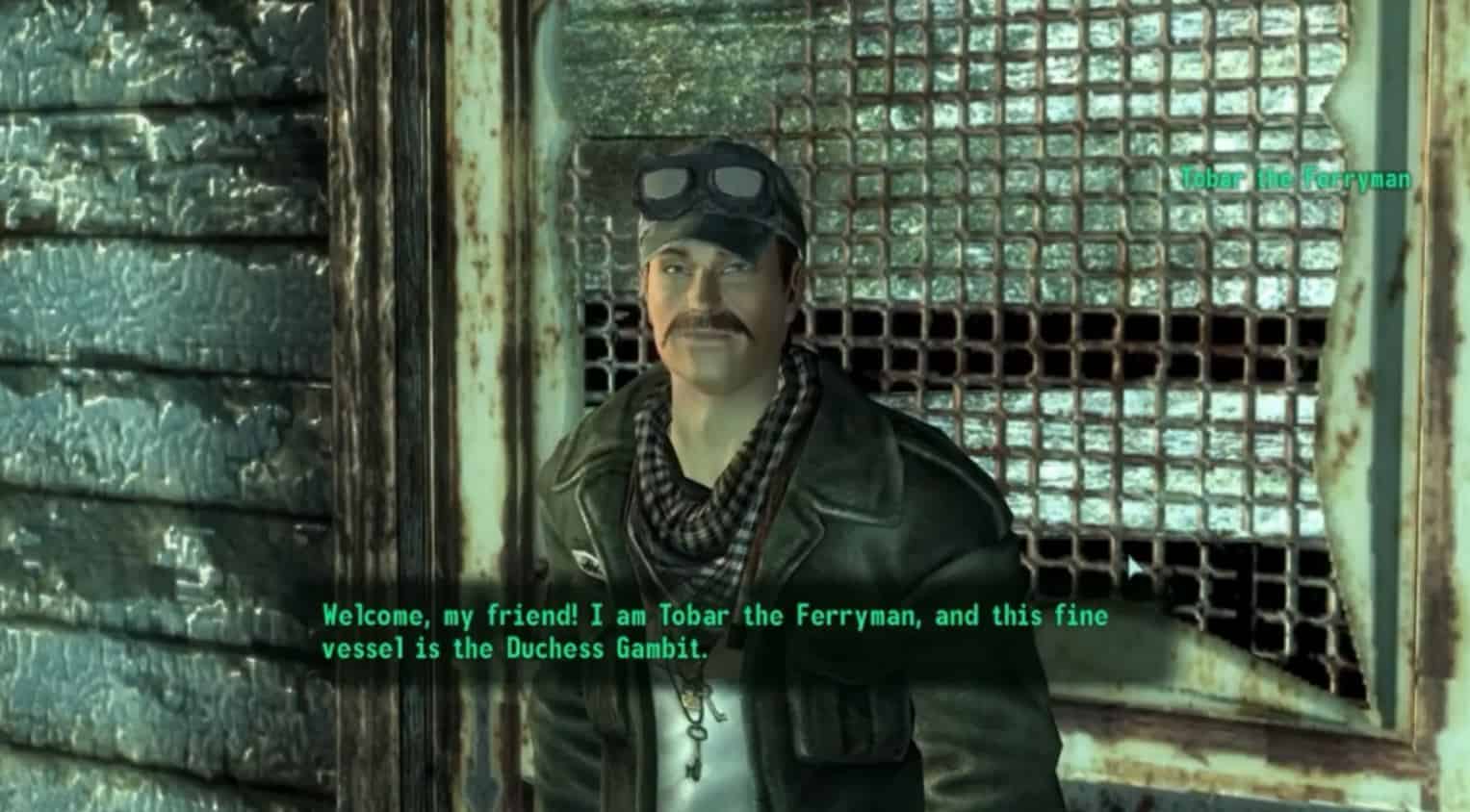 Tobar is a seasoned seafarer and captain of the Duchess Gambit. He will ferry you to and from Point Lookout for a hefty price. No roundtrip tickets from Tobar. 
As you may have guessed from his silver-tongued antics, Tobar isn't the most trustworthy man of the sea, and there's something off about him. Let's just say that your caps aren't the only thing this guy takes from you when you go to Point Lookout. 
Nadine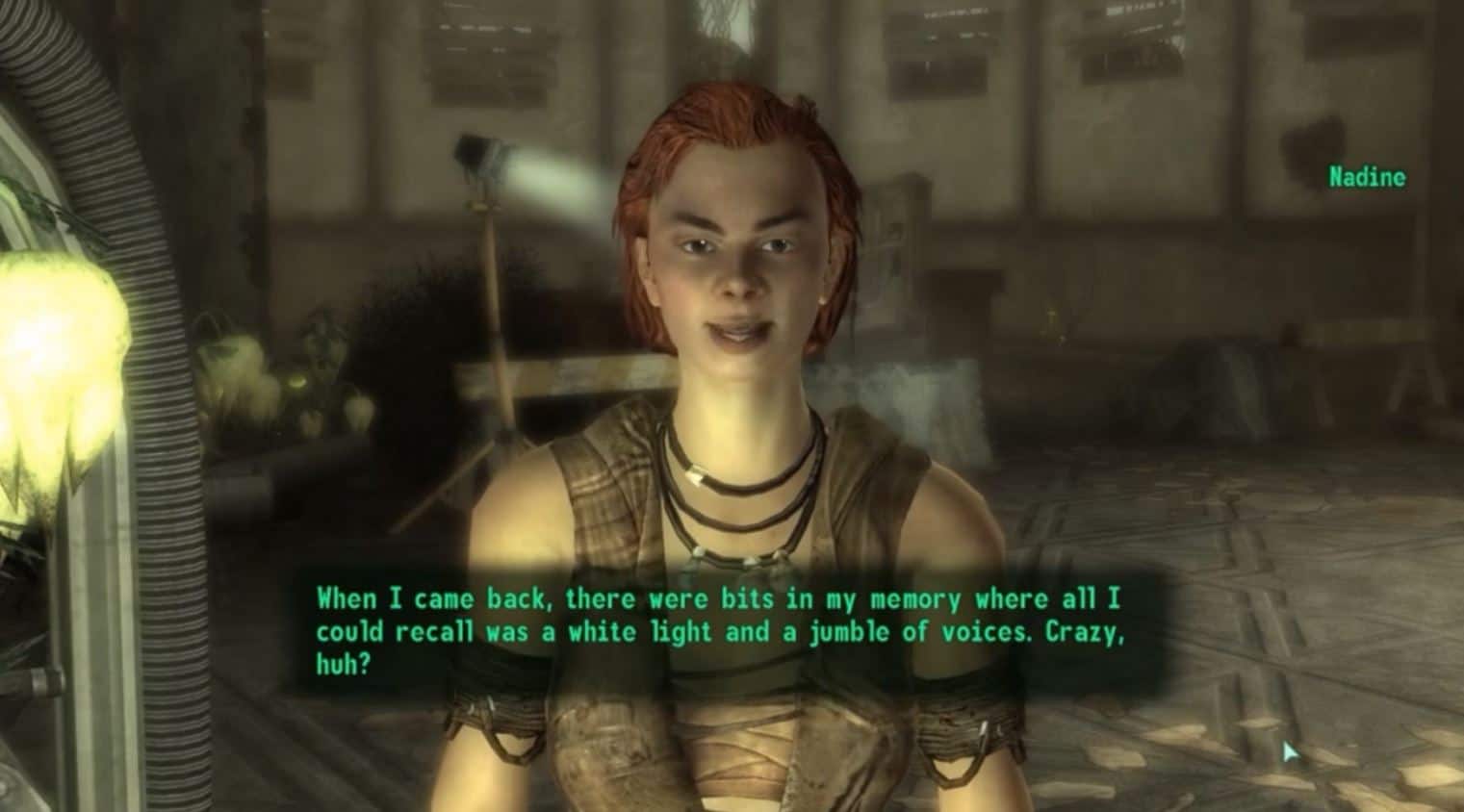 Nadine is the daughter of Catherine. After traveling to Point Lookout, Nadine fell in with the local tribals in an attempt to find a way into some treasure to bring back to her mother. 
Seeking out Nadine will not only ease her mother's heart but also shed some light on old Captain Tobar. A new ferrying arrangement is in order, and Nadine makes for a better second party than Tobar. It could prove lucrative for both of you. 
Desmond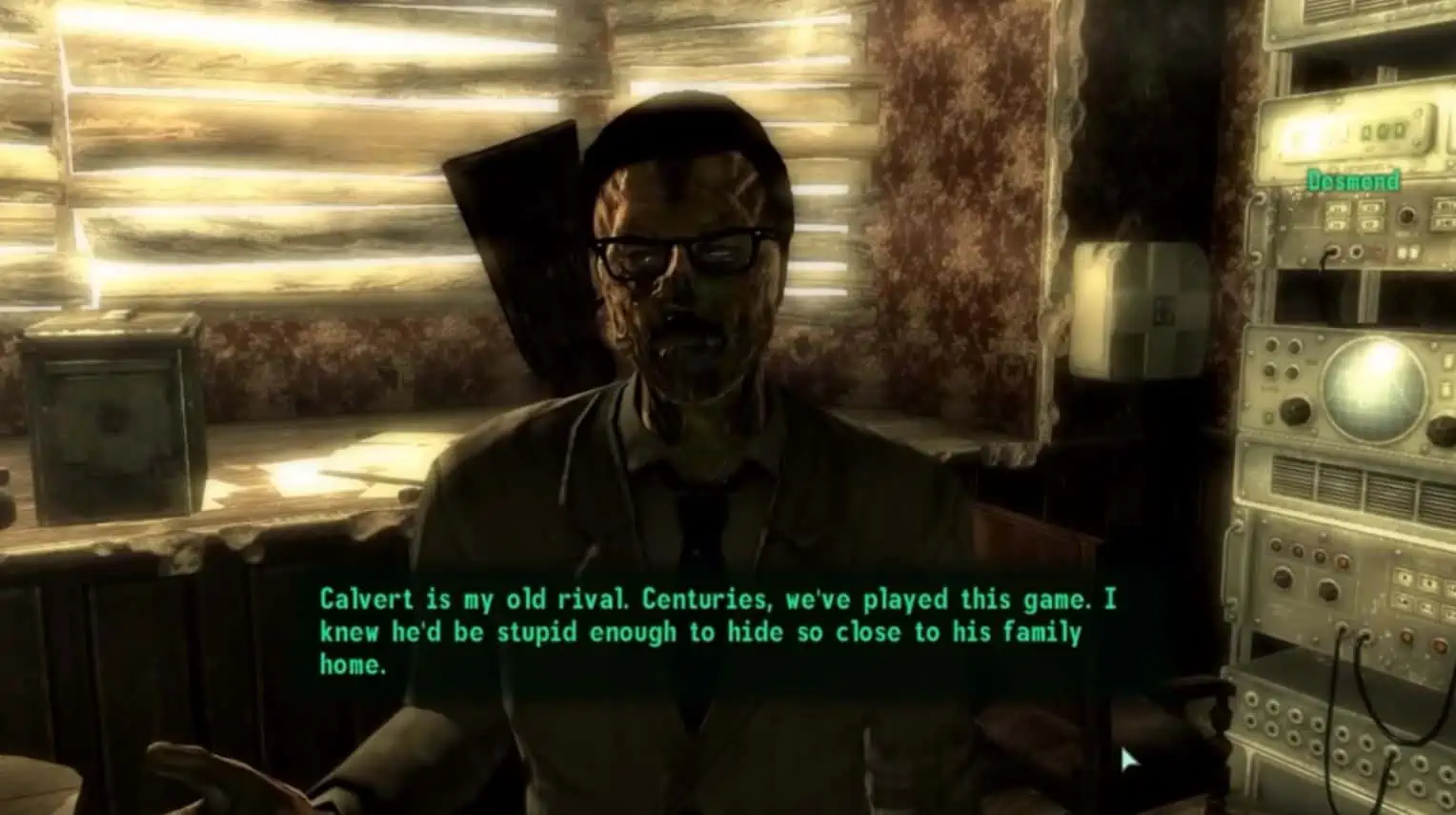 Desmond is the ghoul resident of Calvert Mansion. Curt and foul-mouthed, Desmond is a pre-War genius who hasn't let a nuclear apocalypse stop him from engaging in covert intelligence operations. 
Desmond is the focal character of Point Lookout and is in the middle of a 200+ year rivalry with Professor Calvert. 
Professor Calvert
Professor Calvert is a pre-War government scientist and rival of Desmond. He possesses telepathic abilities that allow him to communicate with people across Point Lookout remotely.  
He has spent the past few centuries attempting to gain control over the Maryland area and put an end to his rival Desmond.
Marguerite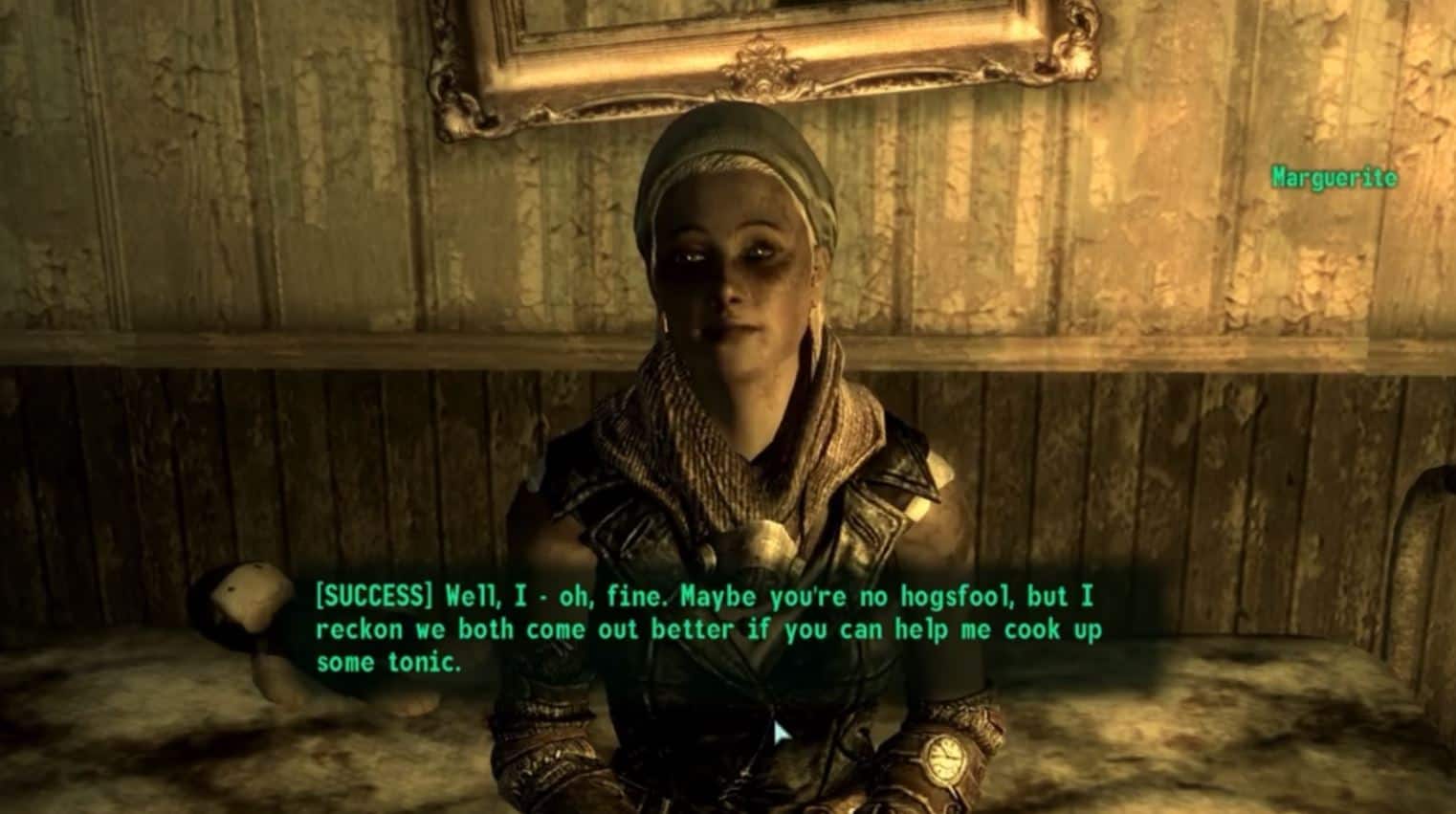 Marguerite is one of the few non-hostile natives of Point Lookout. 
Marguerite descends from a family of moonshiners. After completing a quest for her, she will make some moonshine for you if you give her the ingredients. 
Haley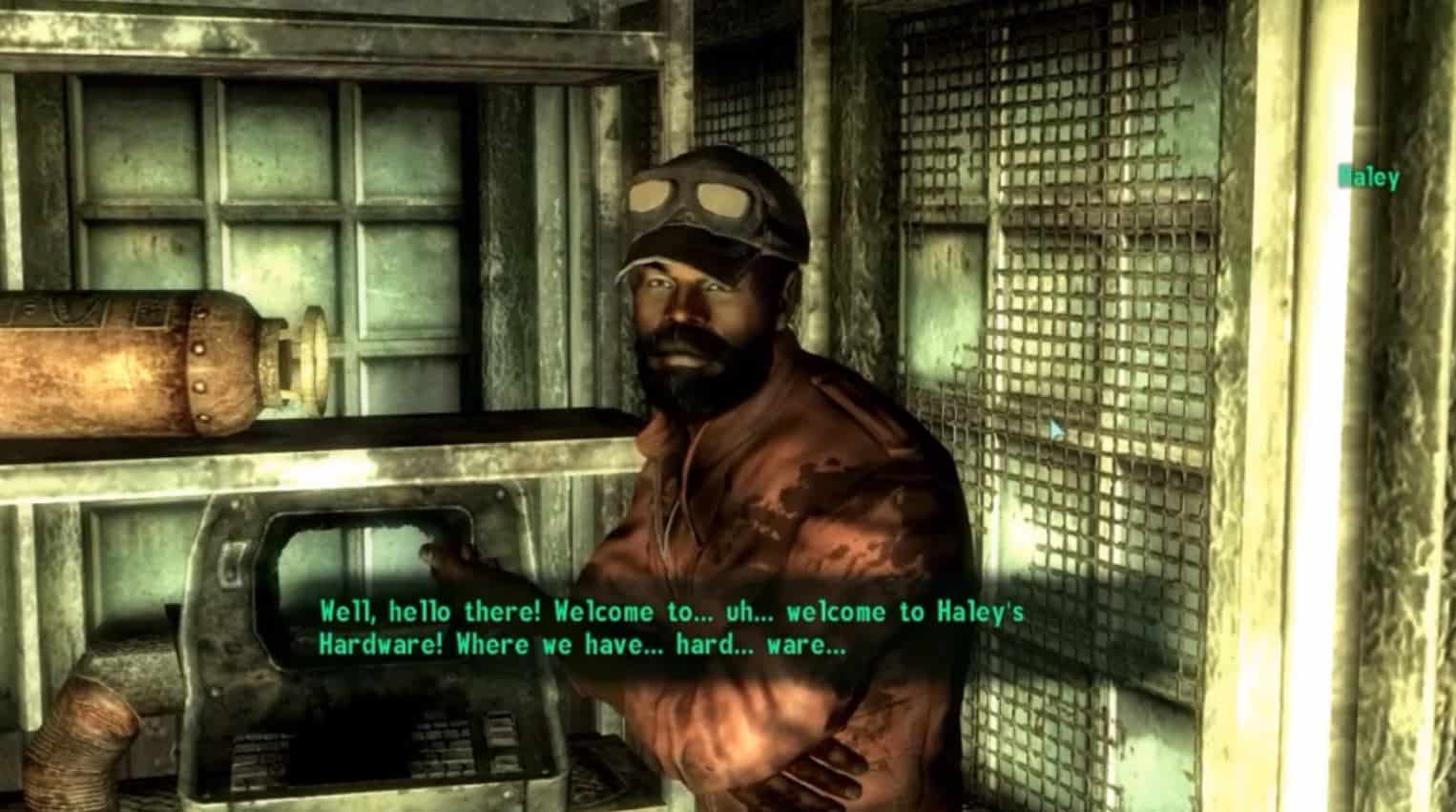 Haley is an amnesiac resident of Point Lookout. He took the name of his store for himself and has resided here ever since. He keeps busy repairing things and selling merchandise to locals and tourists. 
Panada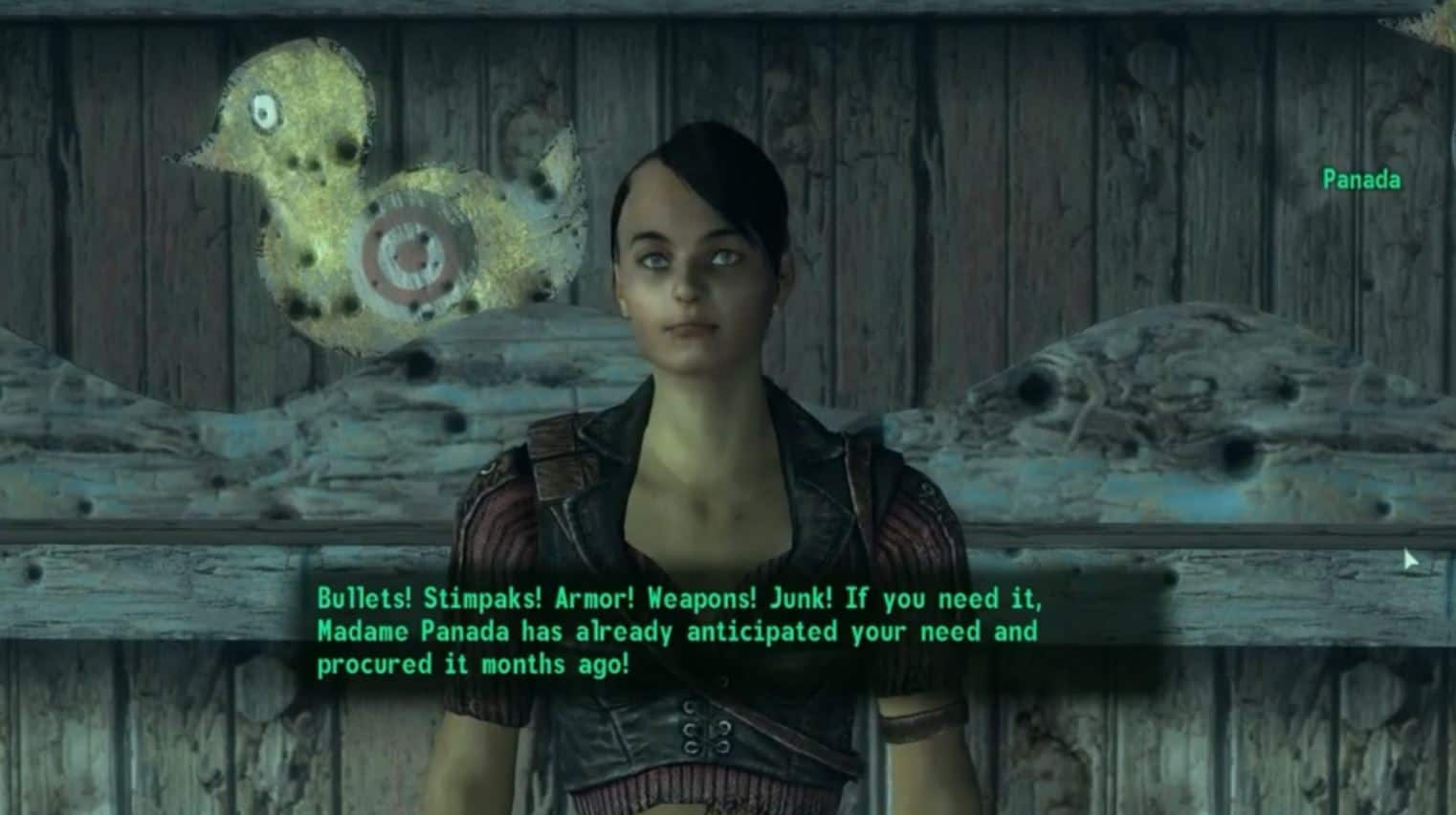 Madame Panada runs the House of Wares on the pier of Point Lookout. Captain Tobar gets a cut of her profits by referring tourists to her shop. 
She sells many items, including some of the local weapons and a large amount of ammunition. 
Marcella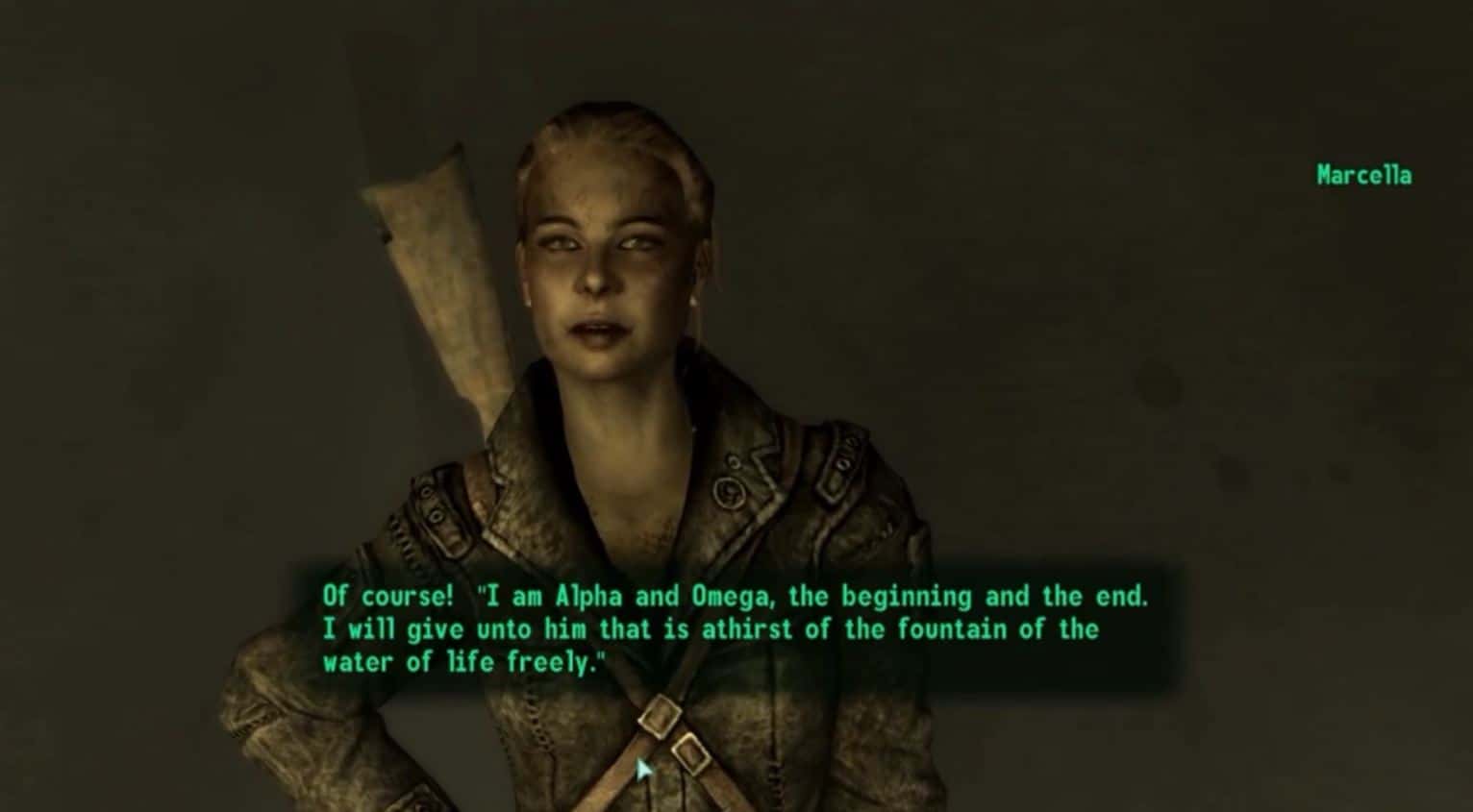 Marcella is a Christian missionary who spreads her faith to any of Point Lookout's locals willing to listen. Along the way, she meets and becomes suspicious of Mr. Blackhall. 
Obadiah Blackhall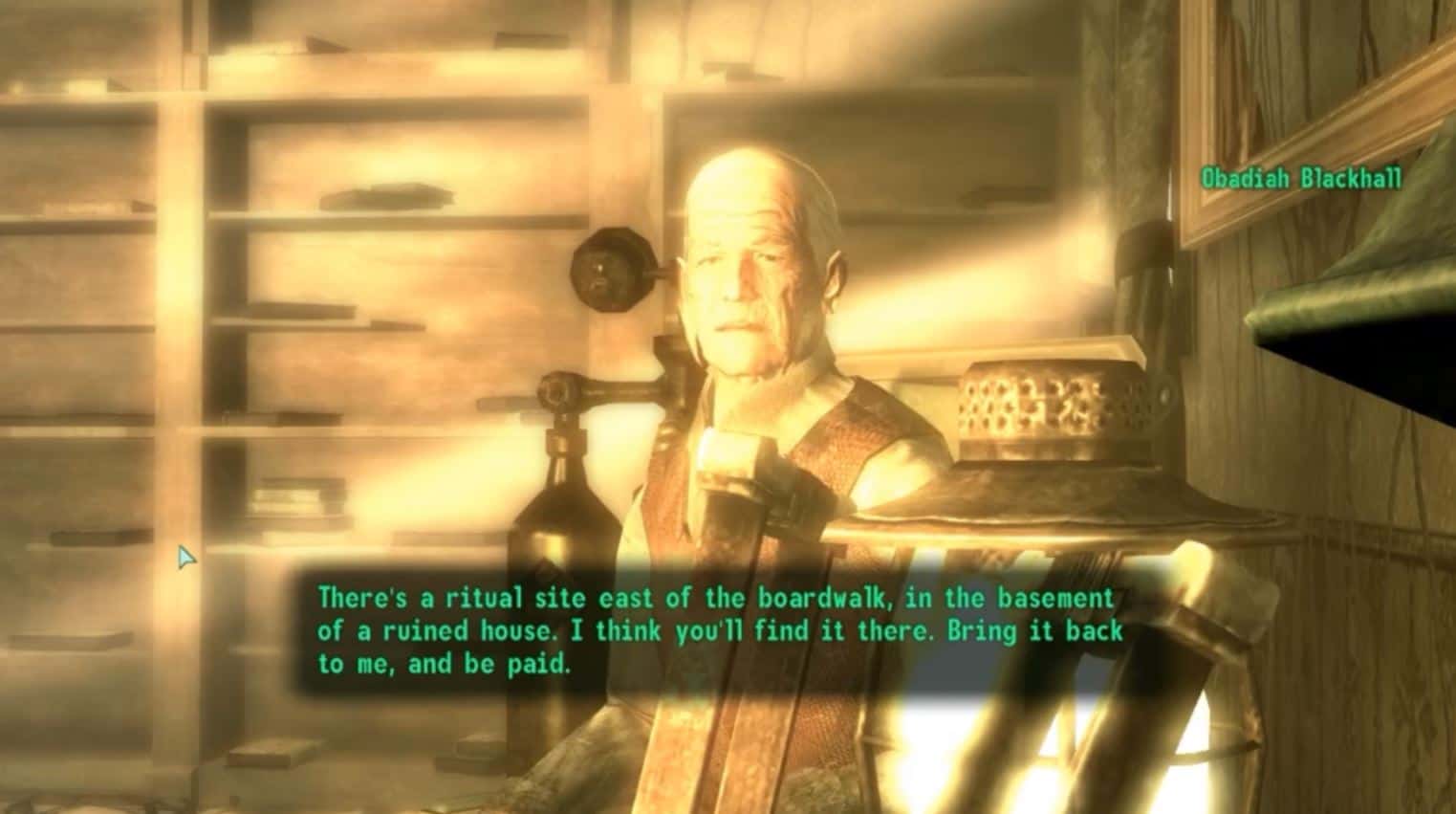 With a name fitting a tomb in Skyrim, Obadiah Blackhall is a mysterious descendant of a historically wealthy local family. He isn't fond of the natives and will ask you for help retrieving a family heirloom they stole. 
Kenny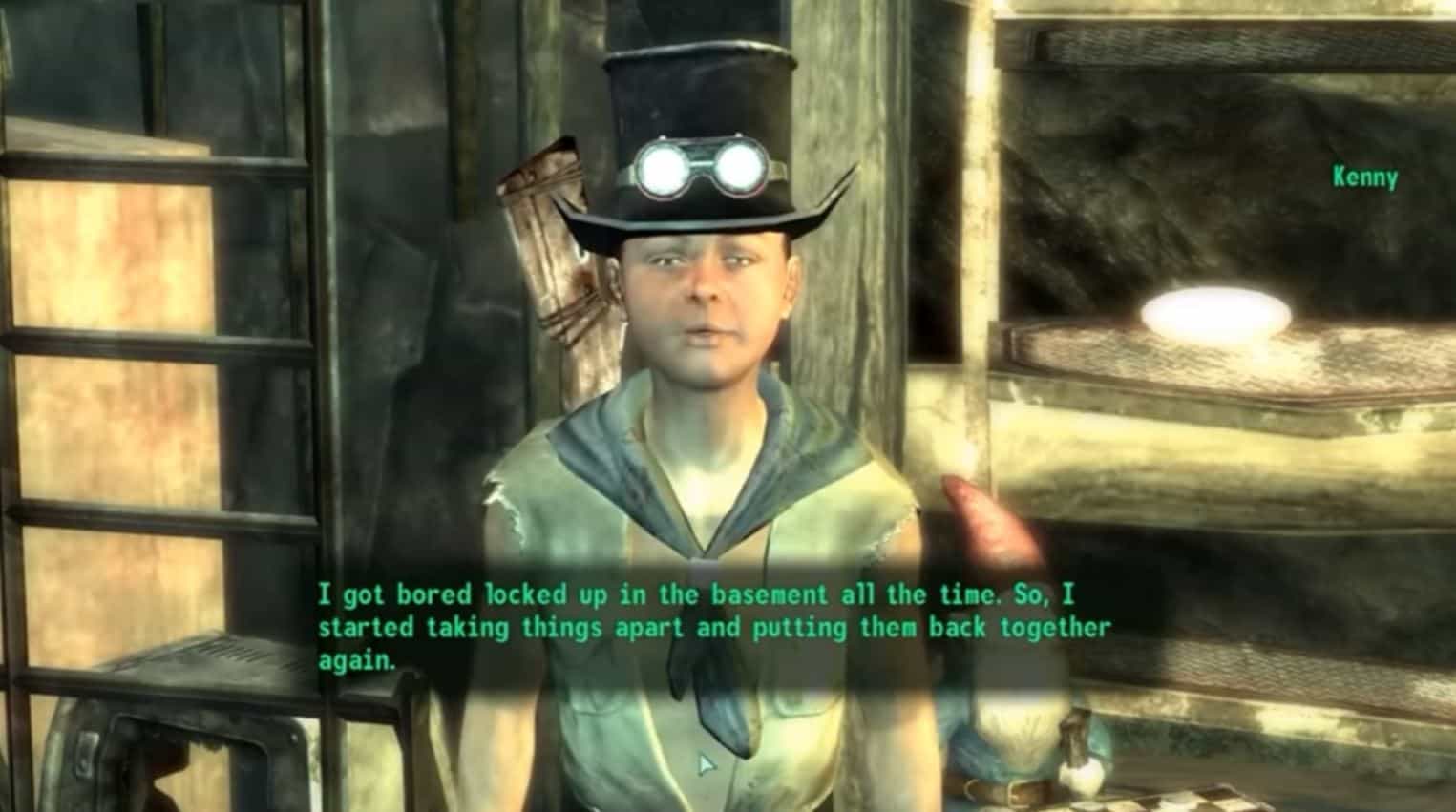 Oh my gosh, you can't kill this, Kenny.
Kenny is a young local of Point Lookout. His family treated him like a leper due to him not having the Sweet Home Post-Apocalypse physical features the rest of them possess. His normalcy makes him a freak to the freakish natives.
Kenny ran away to protect himself from the Swamp Folk and now lives in Herzog Mine. He has set up traps to keep the natives out and will ask you to play games with him.
Notable Locations
Pilgrim's Landing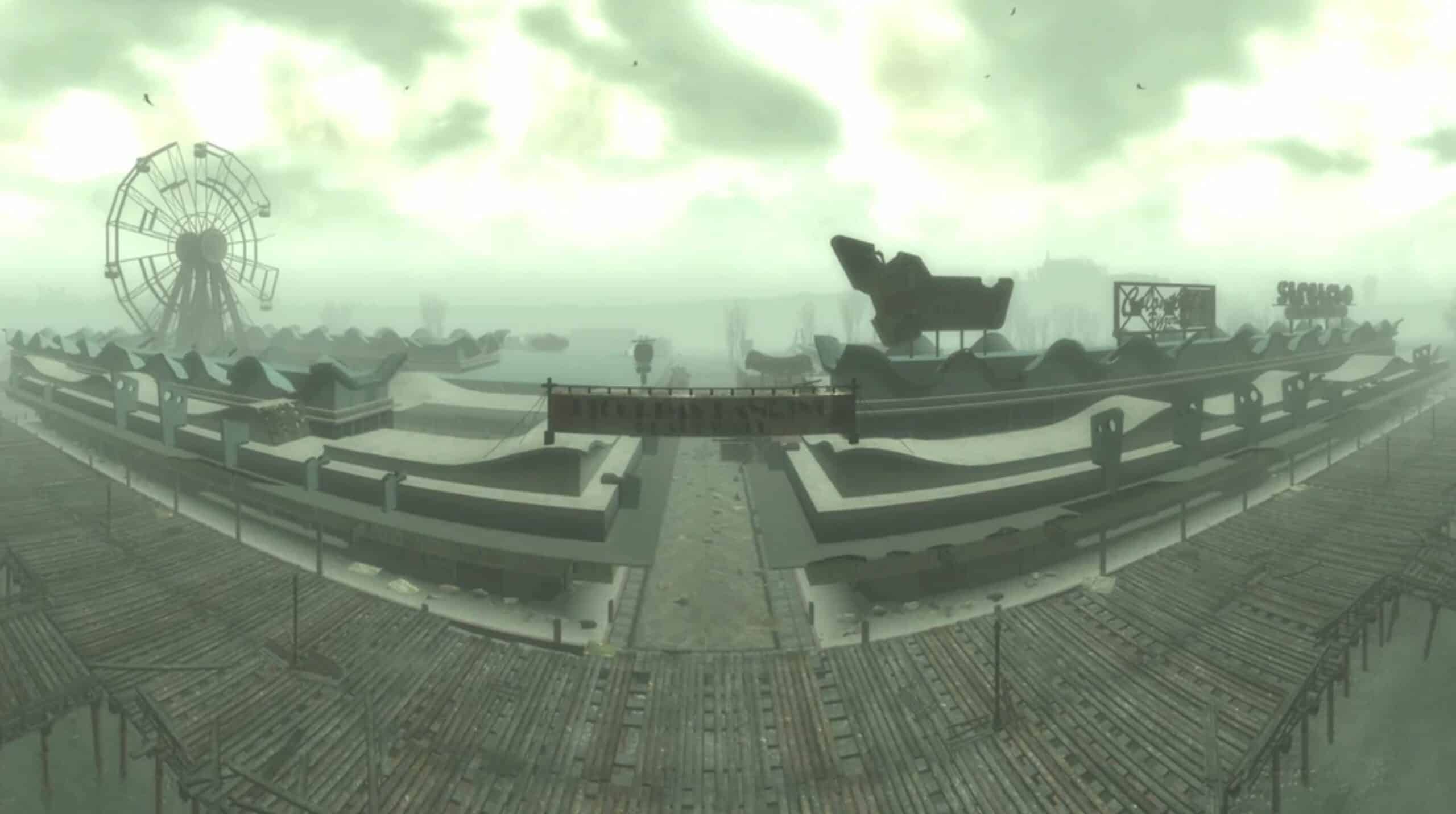 Pilgrim's Landing is the boardwalk of Point Lookout. It is home to many locations worth visiting, like the Homestead Motel, Wheel of Wonder Ferris Wheel, and Madame Panada's House of Wares. 
Ark & Dove Cathedral
The Ark & Dove Cathedral is home to the tribal cultists of Point Lookout. You'll have to venture here doing Point Lookout's main questline. It's also home to Nadine and a lot of the local produce, punga fruit. 
Calvert Mansion
The ancestral home of the Calvert family and the current home of Desmond Lockheart, the Calvert Mansion is the starting point of Point Lookout's main questline. 
Blackhall Manor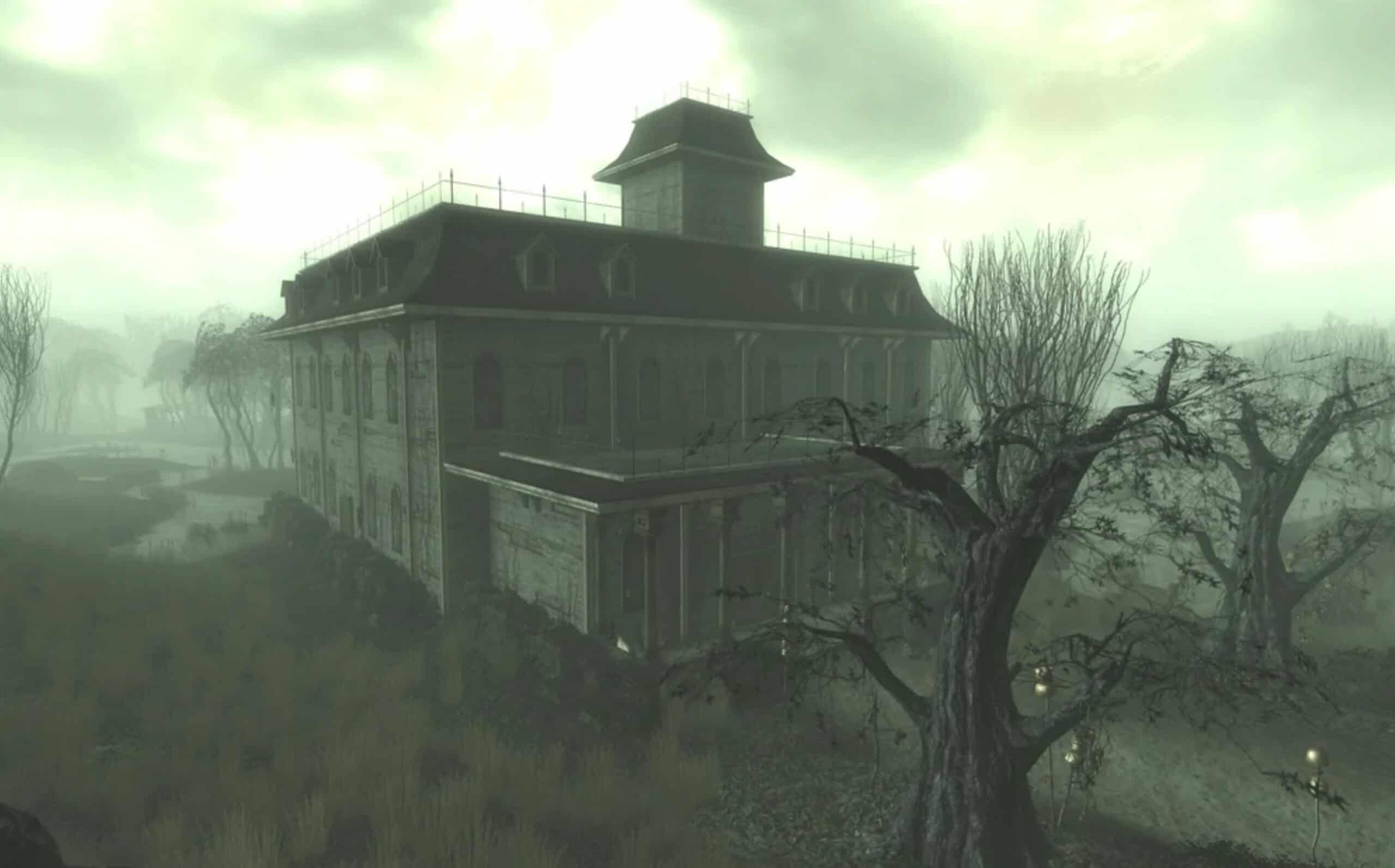 Blackhall Manor is the home of Obadiah Blackhall and a key location in the quest The Dark Heart of Blackhall. 
Chinese Intelligence bunker
Before the war that ended the world, the Chinese engaged in covert operations in the Point Lookout area. The Chinese Intelligence bunker is a secret base untouched by nuclear fire. Players wishing to enter this bunker must progress through The Velvet Curtain quest. 
Coastal grotto
The coastal grotto is where Plik runs his exclusive hunting club. Several other hunters will already be here and ready for the hunt. 
Disaster relief outpost
The disaster relief outpost is an abandoned pre-War outpost from the days of the New Plague. Marcella has taken up residence here during her Missionary efforts on Point Lookout. 
Haley's Hardware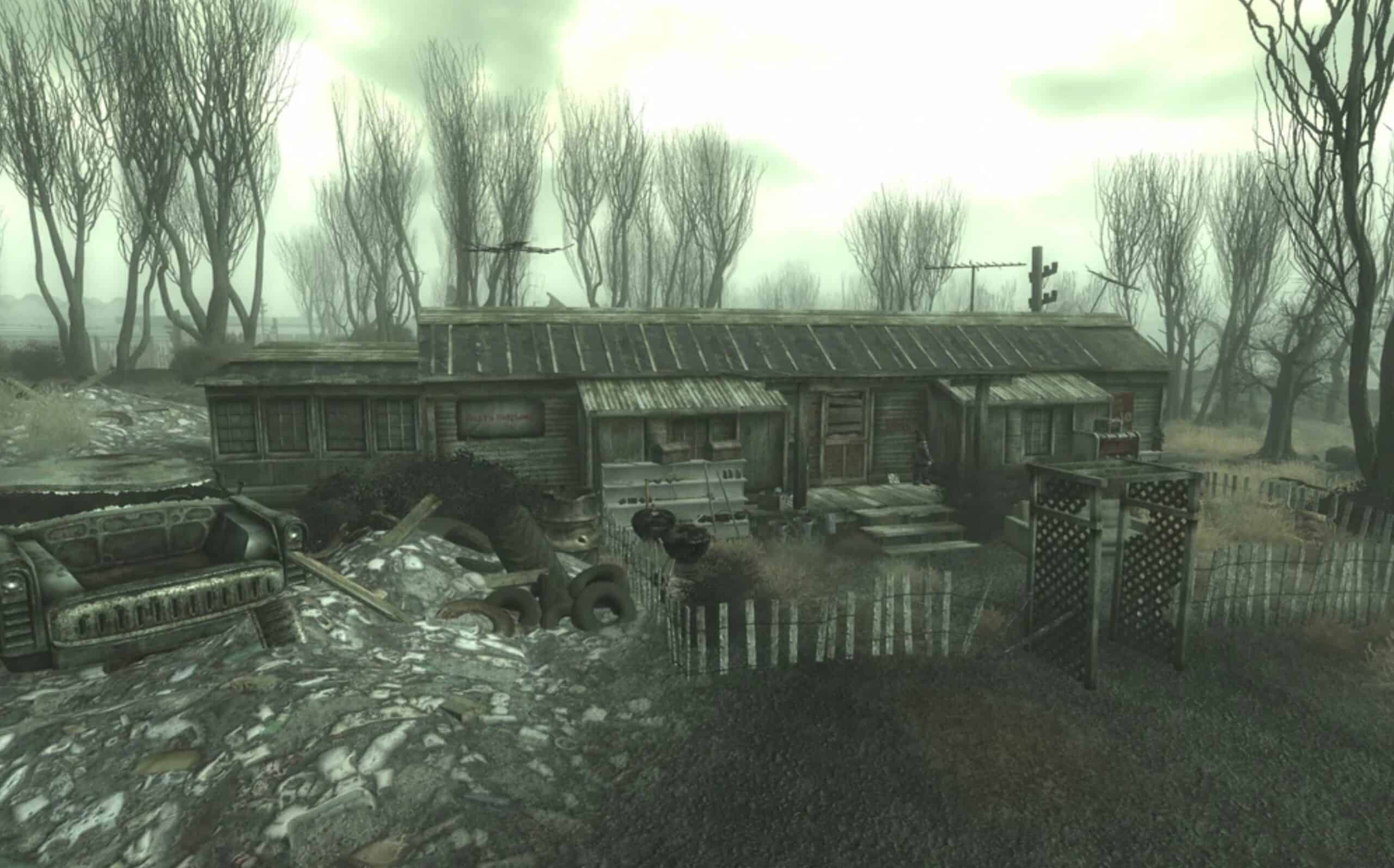 Haley's Hardware is the repair shop of Haley. It's a small store, but it has a standup owner with decent stock. 
Herzog Mine
Herzog Mine is home to the abandoned local child Kenny. It is full of traps, as those are how Kenny defends himself from hostile natives. 
House of Wares
The House of Wares is the general goods store run by Madama Panada on Pilgrim's Landing. She happens to be one of the best ammunition vendors in the game. 
Point Lookout Lighthouse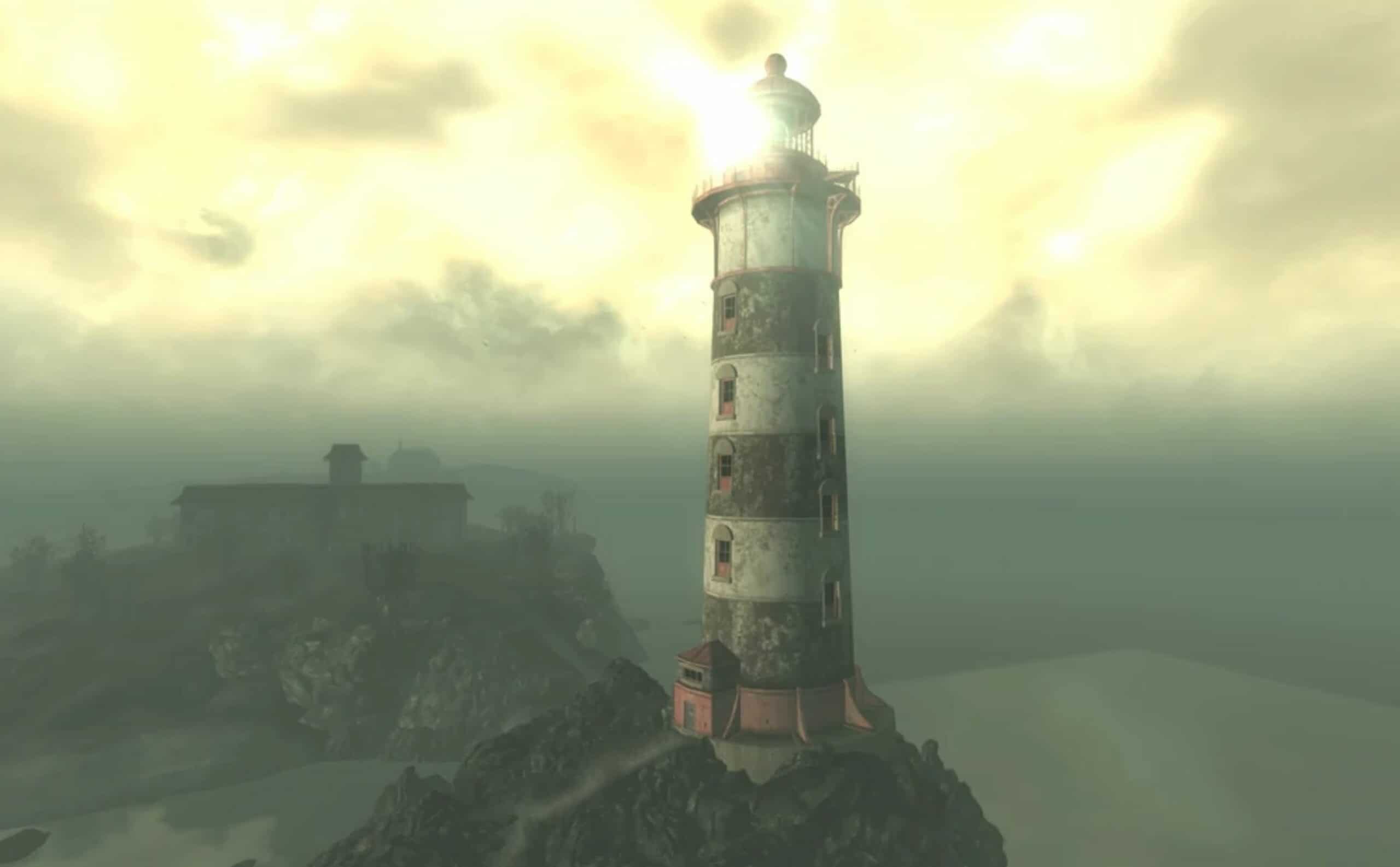 Point Lookout Lighthouse is hard to miss and plays an important role in Point Lookout's main questline. 
Ruzka's Lair
Ruzka's lair is home to Ruzka, a named yao guai and one of the toughest of her species. If you wish to take on one of Point Lookout's most dangerous foes, pay Ruzka a visit. 
SSN-37-1A
The SSN-37-1A is a submerged Chinese submarine from before the war. If you wish to explore the remains of this sub for yourself, you'll have to do The Velvet Curtain quest. 
Turtledove Detention Camp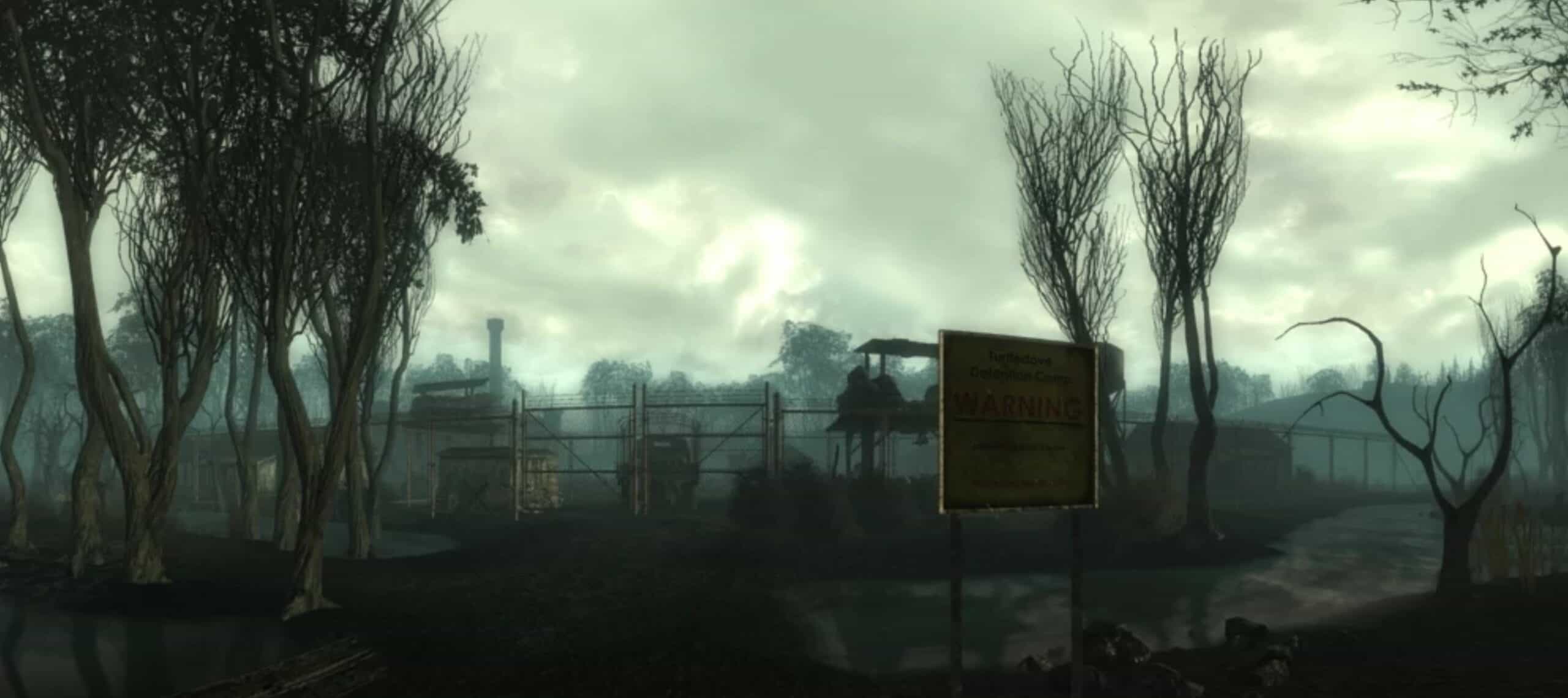 Turtledove Detention Camp is an abandoned military prison. The former residents/prisoners are either dead or ghouls, but the robot guards are very much still online and dangerous. Bring some radaway if you come here. 
USS Ozymandias
USS Ozymandias is a wrecked ship along the coast. History buffs will enjoy paying this fallen vessel a visit. 
Notable Loot
Backwater rifle

Double-barrel shotgun

Confederate hat

Cryptochromatic spectacles

Axe

Fertilizer shovel

Bio-gas canister

Lever-action rifle

Shovel

Ritual knife

Microwave emitter

Toy knife

The Dismemberer

Police hat

Pint-Sized Slasher Mask

Moonshine

Wild punga fruit

Refined punga fruit

Fishing pole

Desmond's eyeglasses

Grifter's Fit

Tribal garb

Workman's coveralls

Moonshine

The Krivbeknih

Kenny-bear

Ghoul Ecology perk

Punga Power! Perk

Superior Defender Perk
Recommendations
Point Lookout is easily the longest Fallout 3 DLC, and many Fallout fans consider it the best.
Point Lookout offers the most content, with the main storyline taking 2-3 hours to finish. Doing everything on Point Lookout will set you back 5-6 hours. 
Along with being the longest DLC, it's also the toughest. The natives of Point Lookout take a lot of punishment before going down. You don't want to come here without good weapons, armor, and a nice stash of healing items. Level 15 is a good starting level for taking on this DLC. 
One of the conflicts with Point Lookout is that some of its most enjoyable weapons are low-tier. Shovels, axes, the fertilizer shovel, and the double-barrel shotgun are fun but outclassed by level 15 onwards. If you come here too late, you won't really get to enjoy them except on low-tier enemies like raiders of mole rats. 
One workaround is coming to Point Lookout early on and progressing through the second quest in the main storyline. By that point, you'll be able to get your hands on axes, the fertilizer shovel, and a double-barrel shotgun for free. You'll also no longer have to pay for the excessively priced riverboat ticket for passage to and from Point Lookout. 
There are a lot of quest items on Point Lookout, so don't get involved in quests unless you are sure you will finish them. You won't be able to drop these items until their use is expired. 
If you want to get the most out of your trip to the Dunwich Building (Owned by the same company that owned Dunwich Borers from Fallout 4), avoid visiting that place until after you start the quest The Dark Heart of Blackhall.
Mothership Zeta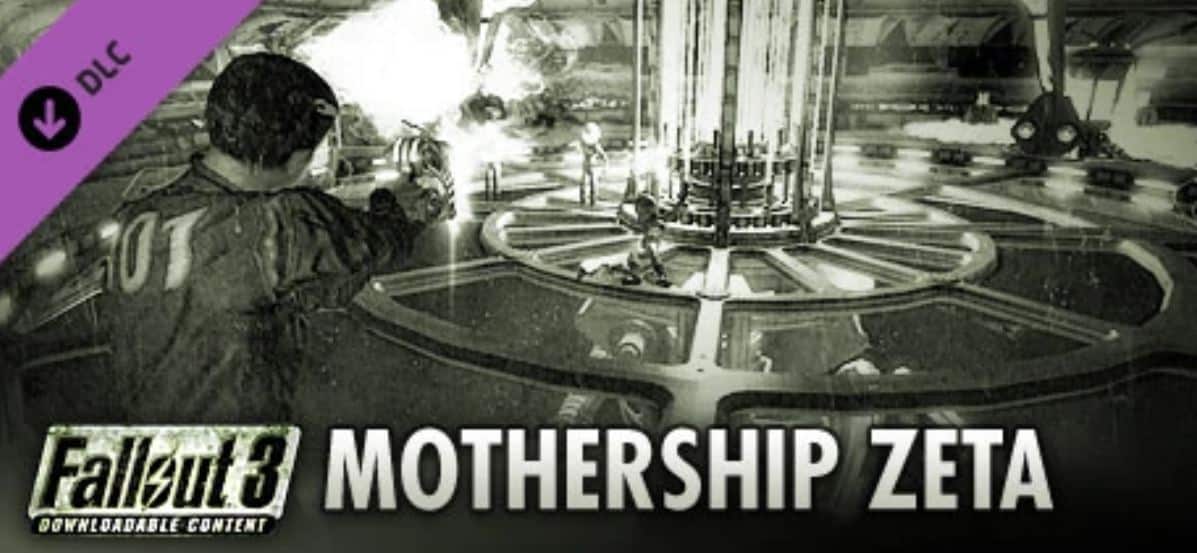 Synopsis
Released on August 3rd, 2009, for PC/Xbox 360 and October 8th, 2009, for PlayStation 3, Mothership Zeta is the fifth and final Fallout 3 DLC. 
Listening to the Recon Craft Theta Beacon will fill your airwaves with unintelligible noise. Following the signal to the source will lead to a crashed alien spacecraft. After approaching it, the mothership will beam you up and take you captive. 
The aliens onboard take your equipment and begin conducting experiments on you. Eventually, they dump you into a holding cell with another human prisoner, Somah. 
After waking you up, Somah reveals she has a plan that will help the two of you escape. She wants to stage a fistfight with you to force some guards to enter the cell and break it up. Once that happens, you'll turn on the guards and bust out of prison. From there, you can figure out how to escape the ship. 
A little girl named Sally is on board and knows a great deal about the mothership Zeta. There are also numerous other humans the aliens have abducted from various periods throughout human history. You'll need to work with them if any of you are to survive this otherworldly threat.
Notable Characters
Somah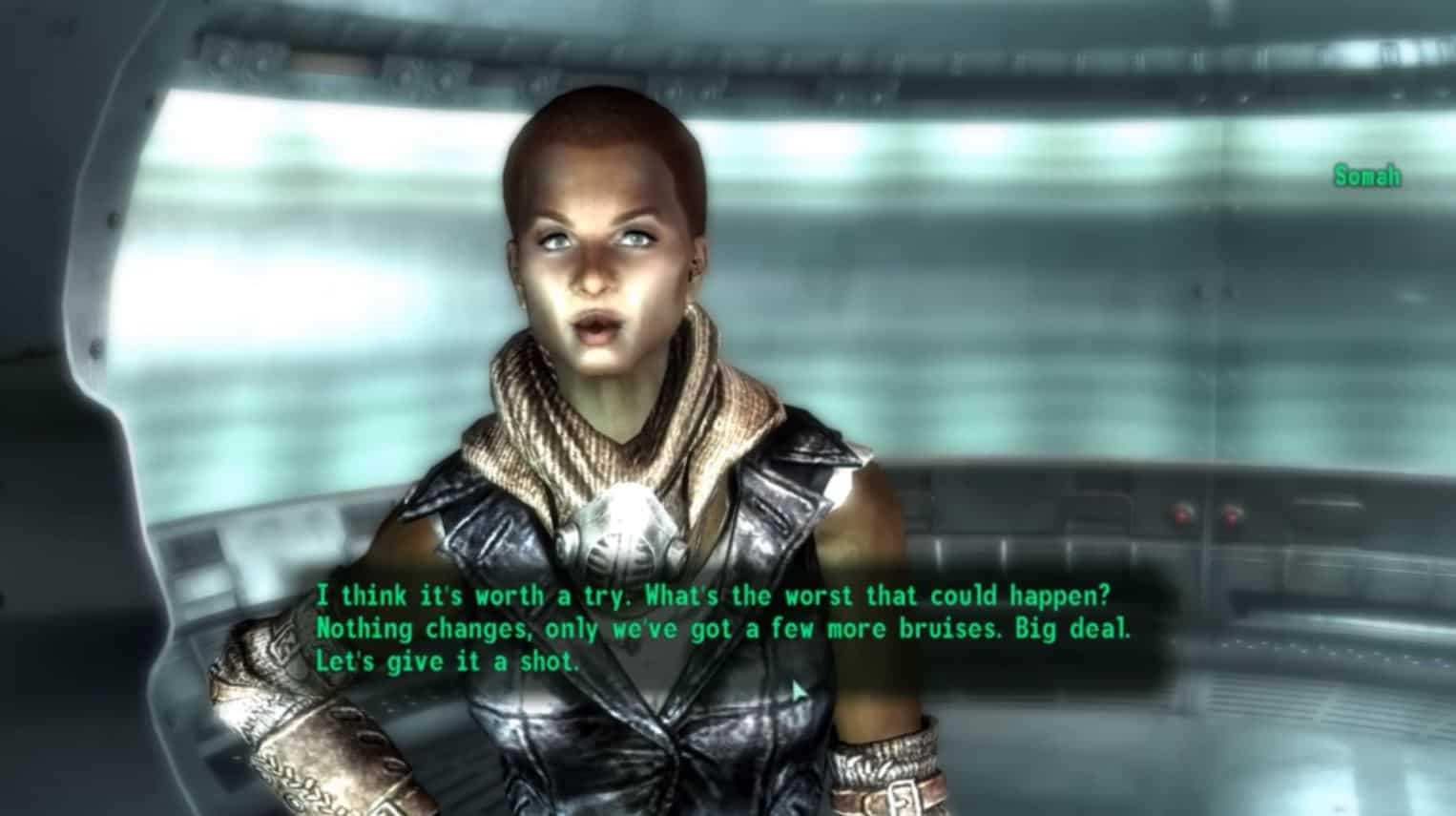 Somah is the first human you encounter aboard Mothership Zeta and your temporary cellmate. After escaping the cell, Somah will help you lead the efforts to defeat the aliens and return back to Earth. 
Sally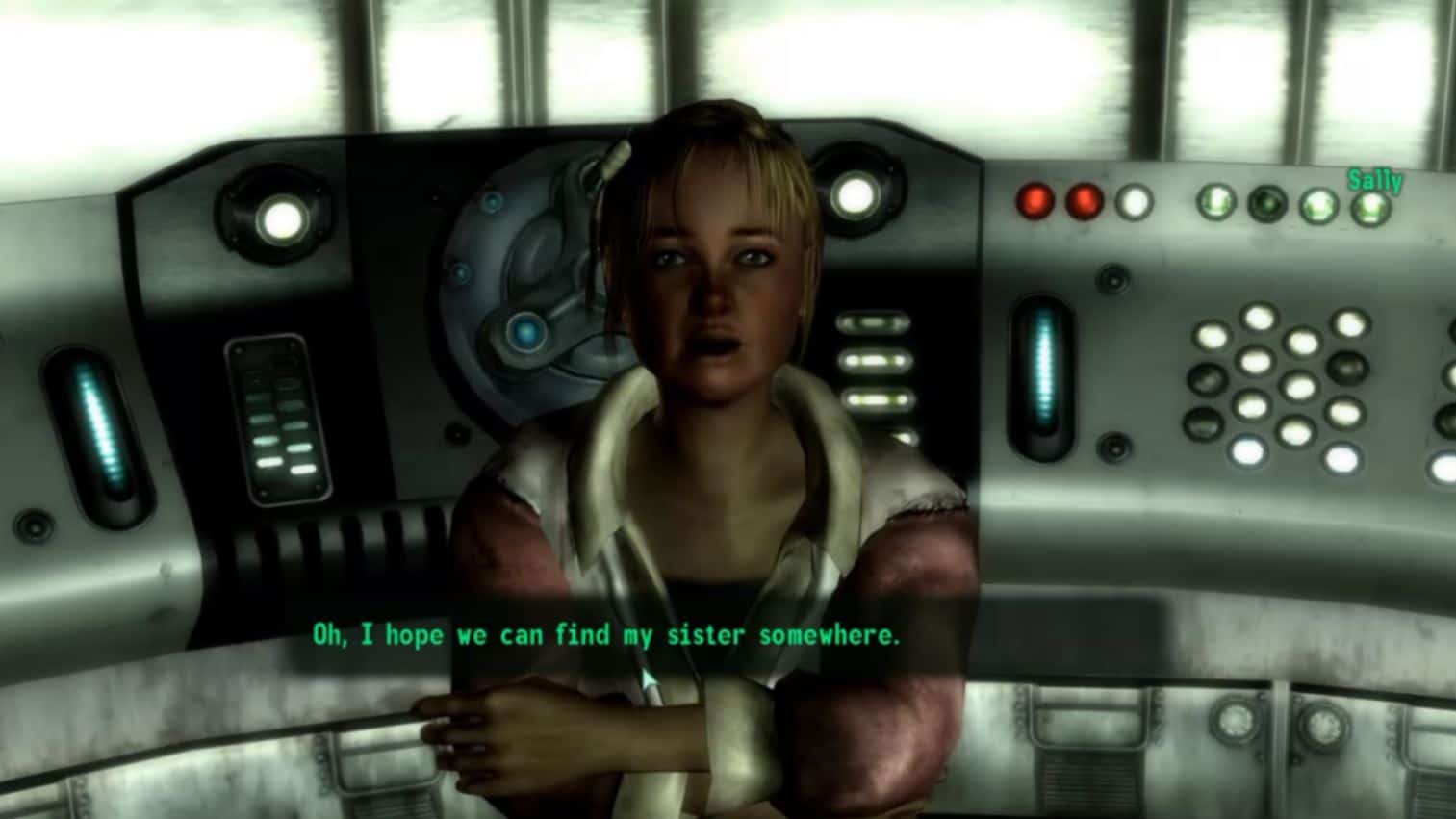 Sally is a child the aliens abducted shortly after the Great War. The aliens also abducted Sally's parents and sister, but only Sally remains alive. 
Over the years, Sally has developed a deep understanding of how Zeta works. She will be an invaluable ally in your efforts to escape. 
Upon completion of the DLC, Sally will scavenge for supplies on Zeta. She will give you some DLC items every 24 hours. 
Elliott Tercorien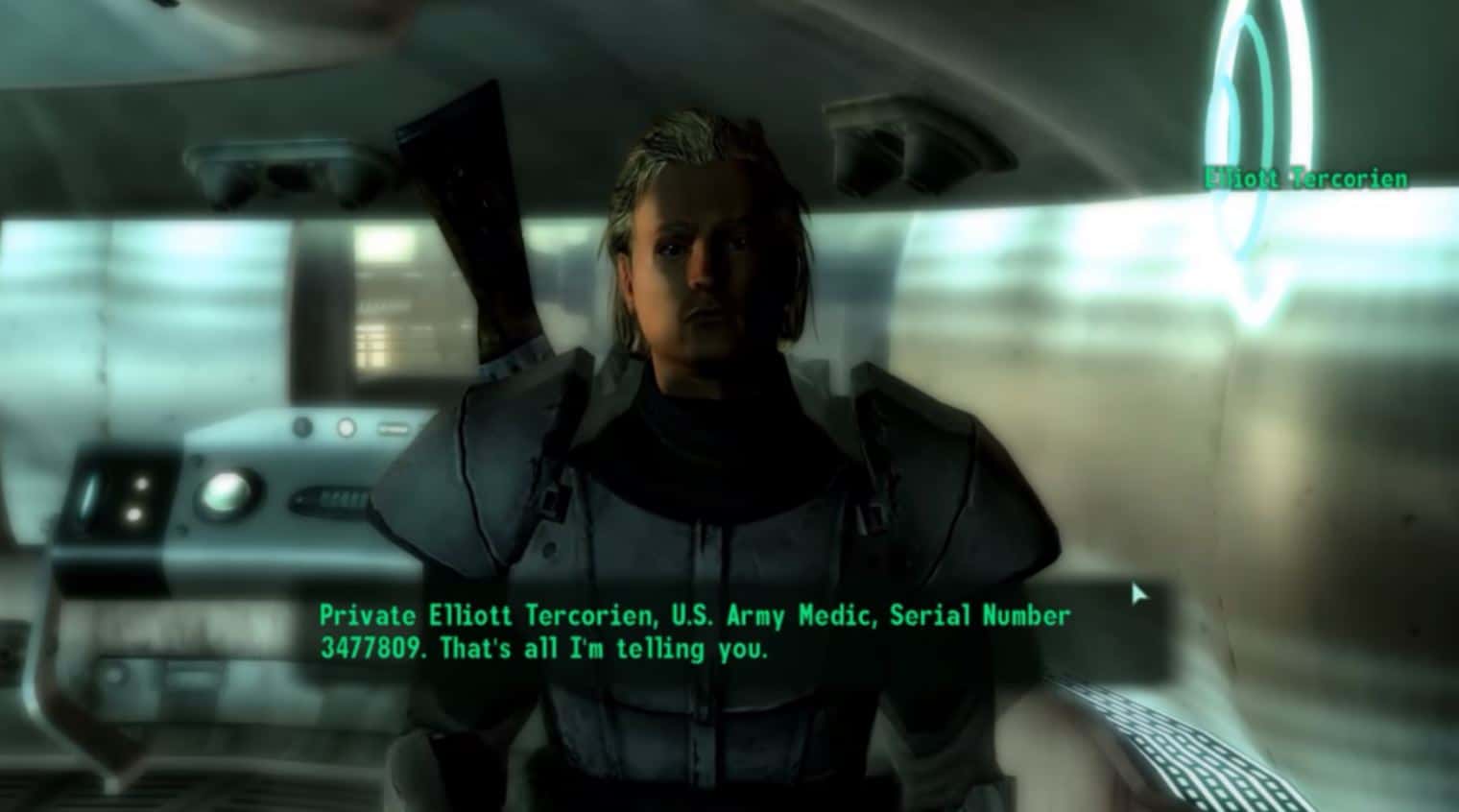 Elliot is a soldier who served in the army leading up to the Great War. The aliens abducted Elliot and the rest of his squad.
Elliot isn't much of a fighter but has a knack for creating and modifying alien technology. Keeping him alive will reward you with some great stuff. 
Paulson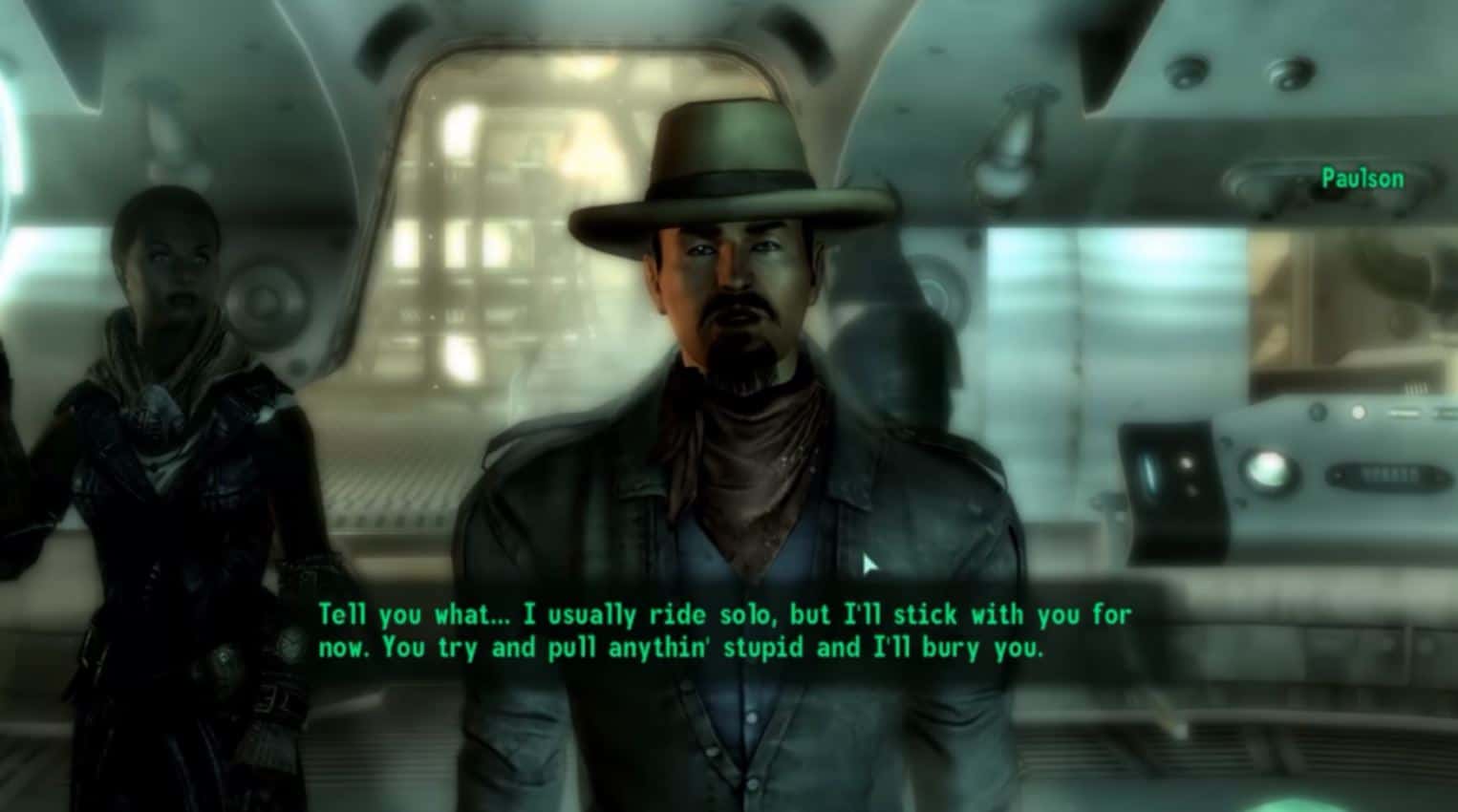 Paulson is a cowboy from an undisclosed time period well before the Great War. The aliens abducted him, his wife, and his daughter. His family died years ago, leaving Paulson with an intense hatred of the aliens. 
He is more than happy to tag along with you to enact some vengeance. 
Toshiro Kago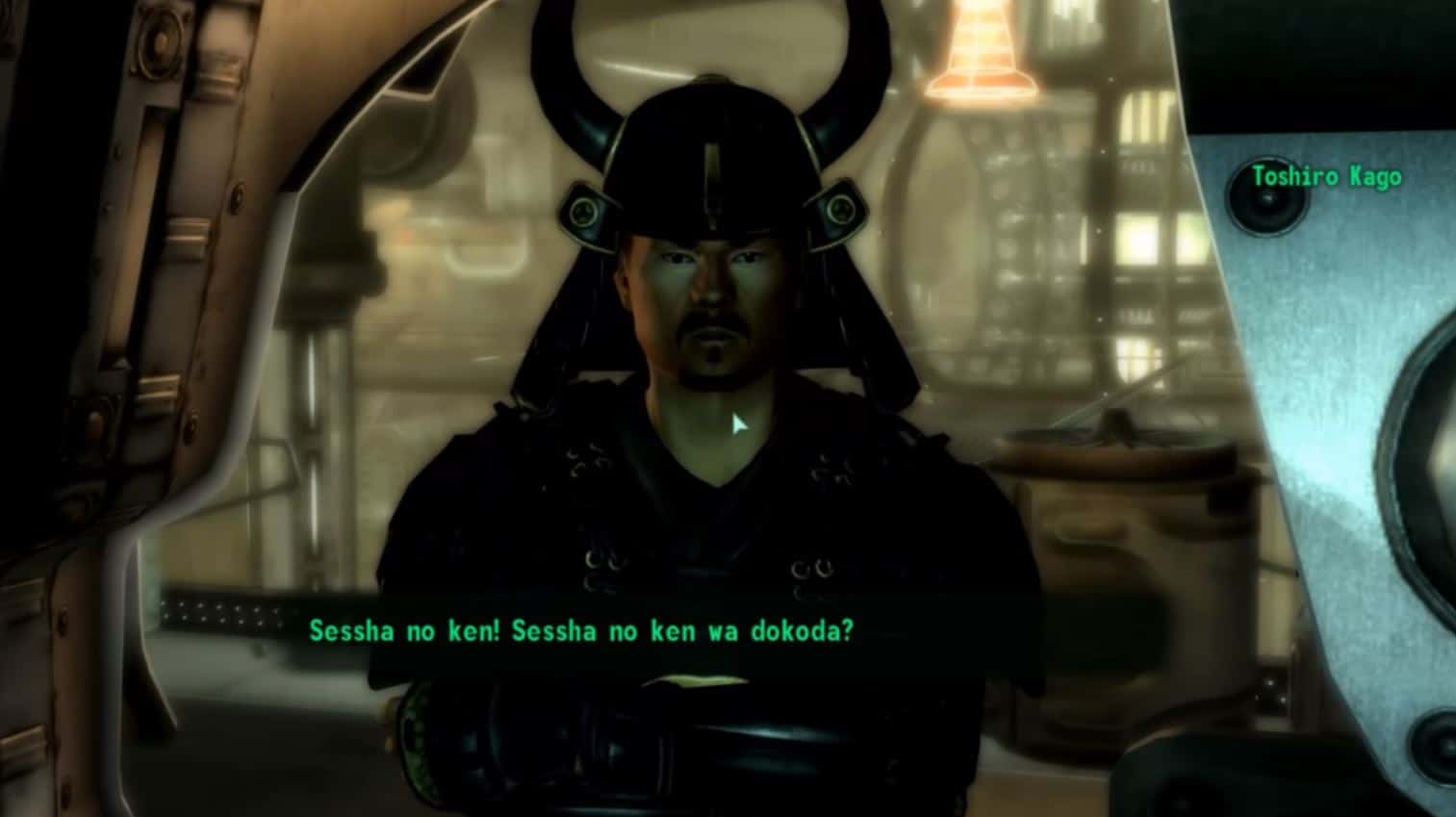 Toshiro is an abducted samurai and possibly the oldest living human being in the Fallout universe. 
As a Japanese samurai, he doesn't speak English, and he and the Lone Wanderer can only engage in limited communication. After reuniting with his sword, Kago will join you in the battle against the aliens.
Notable Locations
The Bridge
The Captain's Bridge is where the final showdowns on Mothership Zeta take place. Claim victory here, and you'll be able to return to the Capital Wasteland. 
Cryo Lab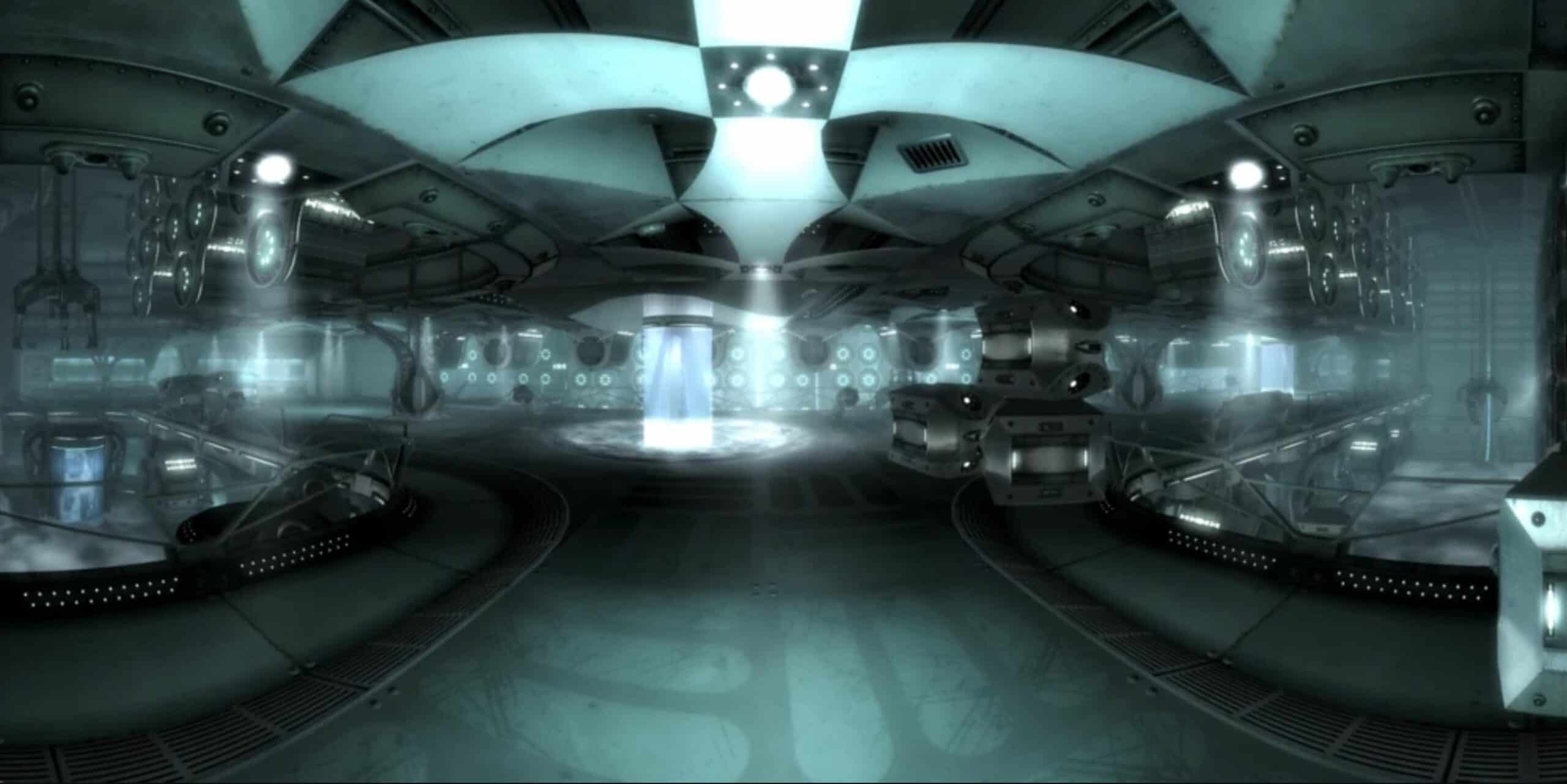 The Cryo Lab is where the Zeta aliens conduct various experiments on their abductees. You must bring Elliot here to get the complete Mothership Zeta experience and unlock the aliens' cryo weaponry for yourself. 
Engineering Core
The engineering core is one of the primary hubs in Mothership Zeta and where you can catch a breather. 
Several rescued NPCs will begin offering services after you reach the engineering core. Some of them will only provide these services here.
Weapons Lab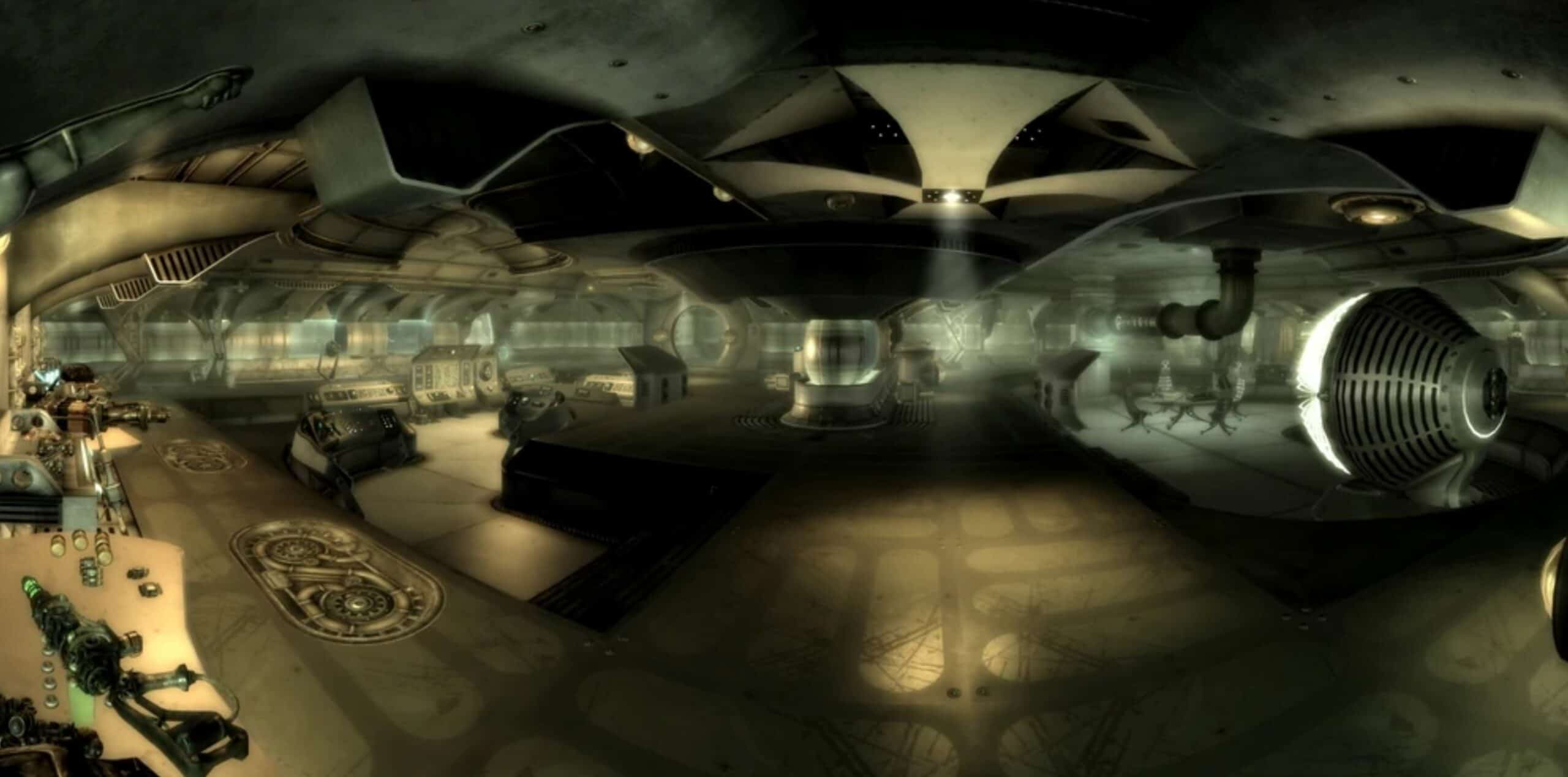 One of the most dangerous areas of Mothership Zeta, the weapons lab is home to several unique DLC weapons and an essential perk. It will be tough acquiring them, but worth it. 
Notable Loot
Alien atomizer

Alien disintegrator

Atomic pulverizer

Captain's Sidearm

Cryo grenades

Cryo mines

Destabilizer

Drone cannon

Drone cannon Ex-B

Electro-Suppressor

Samurai's sword

Paulson's revolver

MPLX Novasurge

Shock baton

General Chase's overcoat

Paulson's outfit

Samurai armor

Winterized medic armor

Winterized medic helmet

Sheriff's hat

Spacesuit

Samurai helmet

Alien power module

Alien biogel

Adapted biogel

Alien squid food

Alien worm food

Alien epoxy

Alien crystal

Alien captive recorded logs

Drone control device

Xenotech expert Perk
Recommendations
Whereas Point Lookout is the longest DLC and often considered the best, Mothership Zeta is the shortest DLC and often considered the worst. 
There's a lot of good in Mothership Zeta but also a lot of bad. Much of the DLC is essentially a corridor shooter. And that would be fine if Fallout 3's shooting mechanics weren't mediocre.
It's not easy to get bored playing Mothership Zeta, which is a problem as it will likely cause you to miss a lot of stuff. Mothership Zeta is the most restrictive DLC of the five, with most of the mothership becoming inaccessible after the DLC is over. If you don't do things as you come across them, they'll be permanently out of your reach. 
Another issue is how tricky it can be to understand how everything works. Paulson disappears after the DLC ends, so if you want his stuff, do it before you leave. 
If you take Elliot to the cryo lab, he will learn to create cryo grenades and mines for you. But Elliot will only make them in the engineering core. After you progress through the main questline beyond that, he stops making them for no reason. If you like them, you'll need to spend a lot of time waiting in-game to stock up on them before moving on. 
Mothership Zeta is easily the best way to kickstart an Energy Weapons build in Fallout 3. You will be drowning in alien weapons by the time it's over. You'll also gain access to high-tech alien repair items like epoxy to keep them in good condition. However, the ammo and epoxy are limited and aren't the easiest to restock. If you're not careful, you can easily blow through the DLC's most valuable resources and be kind of screwed. 
All in all, Mothership Zeta is a DLC that is hard to complete without a guide. You're sure to miss out on or misuse some of the items aboard. Search every inch of the ship and think twice before using anything you find. 
FAQs
Question: What is your favorite Fallout 3 DLC?
Answer: My favorite DLC is The Pitt. While I believe Point Lookout is the best, I find The Pitt to be the best balance between enjoyability and length. 
Question: Are any of the DLC items best-in-class?
Answer: The Chinese stealth armor from Operation: Anchorage is easily the best armor in the game for a stealth character. There are so many good weapons in Fallout 3 that it's hard to say which is the best. A lot of it depends on your perk build.
Question: What's your favorite DLC reward?
Answer: My favorite DLC reward is the Tribal power armor from The Pitt. Funnily enough, it's significantly better than Ashur's power armor, which serves as the inspiration for the Tribal power armor. 
If you like AP builds, the Tribal power armor is your best friend. 
Conclusion
Fallout 3's DLC add-ons are hit-and-miss. In many ways, they show the potential of Bethesda as creators of Fallout video games, though that potential has never been fully realized (In my opinion).
The Pitt addresses one of Fallout 3's biggest criticisms: too many black-and-white moral choices. The Pitt operates in shades of grey. No matter which faction you side with, someone loses and loses big. 
I would love some Fallout games focusing on pre-War events or the Great War itself. The liberation of Anchorage would make for an incredible military campaign game. But Fallout 3 is not the sandbox for that sort of experience. The same goes for Mothership Zeta. I'd have nothing against a Fallout corridor shooter, but with Fallout 3's mediocre shooting mechanics, that experience falls flat. 
Point Lookout is definitely the standout. It has one of the few cinematics in Fallout 3 and pulls it off well as a scenic introduction to the DLC. It maintains the overarching roughness of a post-Apocalpyse while having a different tone and theme compared to the Capital Wasteland.
Bethesda is not an untalented bunch. There's a lot of good on offer here, and I play through all the DLCs every time I pick up Fallout 3 again. I suppose I just wish they could pull off a smash-hit Fallout game and solidify themselves as truly worthy successors to Black Isle Studios. It remains to be seen.