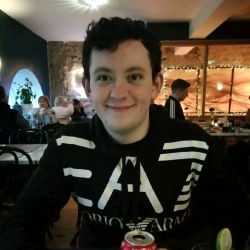 Latest posts by Eoin Black
(see all)
I've put hundreds of hours into Fallout 4 since its launch – be that for better or worse. That means I'm more than qualified to run you through everything you need to know about all of Fallout 4's DLC. This Fallout 4 DLC guide will do a deep dive into Far Harbor and Nuka-World, and a lesser run-through of Automatron and the Workshop DLCs. Although, I would hesitate to call Wasteland Workshop a DLC.
Fallout 4's DLCs aren't exactly bad; it's just that there are only two of them, and neither one of them is better than Fallout New Vegas' worst DLC. Plus, Bethesda shot itself in the foot by offering a Fallout 4 expansion pass. A pass that gets you two proper DLCs, a side quest, and a bunch of extra buildable junk in settlement mode. That left a sour taste in a lot of people's mouths, especially after Fallout 4 was met with a mixed reception in the first place. Still, we all buy what Bethesda puts out, and we all play it. It's just who we are.
In this Fallout 4 DLC guide, my goal is to give you as much context about aspects of the DLC as possible while spoiling as little of each one as possible. There will be spoilers, but I'm guessing you don't care for blind-running DLC since you're here.
So, let's get started with Far Harbor – arguably Fallout 4's greatest DLC, and also it's first. It's all downhill from here.
Far Harbor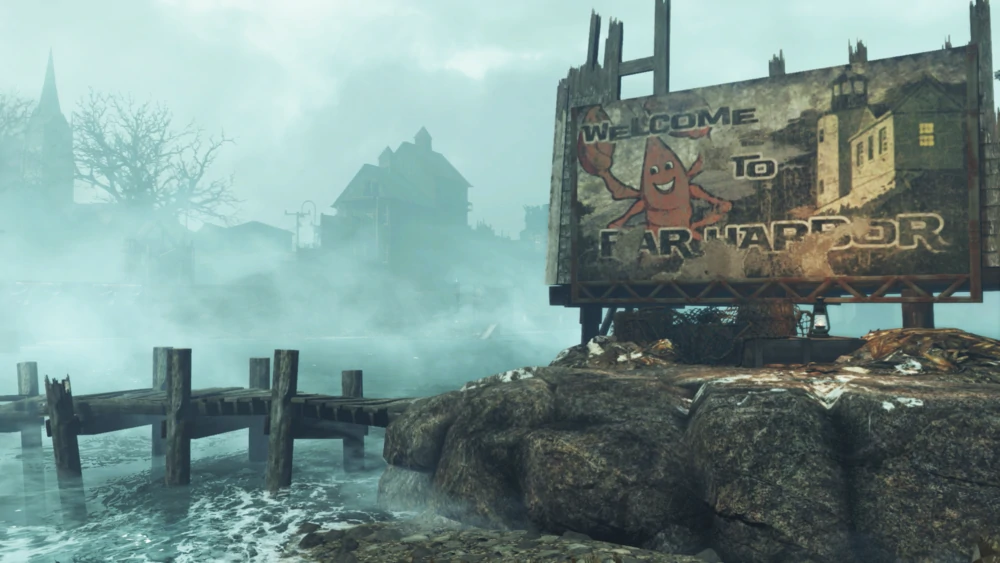 Synopsis
Far Harbor was the first of two large DLC releases for Fallout 4. It was also widely regarded as the better of the two. The expansion starts with a radio message from Ellie at Nick's Detective Agency. Speak with her, and she'll send the player to the Nakano residence along the Northern edge of the map. Once there, you'll have to do a bit of investigative work as you try to determine what happened to a woman named Kasumi Nakano.
After a bit of digging, you'll discover that Kasumi believed that she was a Synth replacement. Her parents will ask you to find her and convince her to come home, at which point you take their boat to the town of Far Harbor on Mount Desert Island.
Once you've arrived at Far Harbor, you'll discover that three factions on the island are locked into a desperate power struggle. The humans of Far Harbor, the Children of Atom, and the Synth refuge of Acadia.
The reason for the power struggle is a mysterious radioactive fog that has fallen over the island. Every bit of wilderness is coated in it, making the majority of Far Harbor's locations inhospitable for humans. To combat the fog, the residents of Far Harbor use a piece of technology called fog condensers. These condensers filter the fog into breathable air.
The Children of Atom are a fanatical group of radiation worshippers that we first saw in Fallout 3. Unlike Confessor Cromwell back in the day, these new Children of Atom are zealots, spreading the word of Atom by the sword. Or a gun, in this case. They believe that the fog condensers are blasphemous and that the fog is a gift from Atom, leading to active hostility between them and the town of Far Harbor.
Caught in the middle of this power struggle is Acadia, a refuge for runaway Synths and the current home of Kasumi. Acadia, run by a Synth named DiMA, wants nothing but peace on the island. They are pacifists. To try and placate both groups, they're the ones that provide fog condensers to Far Harbor. Still, they're also the ones that supplied the Children of Atom with their current headquarters, a nuclear submarine.
Once you arrive at Far Harbor, you'll be introduced to all three factions. You're free to make your own judgments about each of them, but be aware that you are a flame to what amounts to a powder keg of tension on the island.
Key Characters
DiMA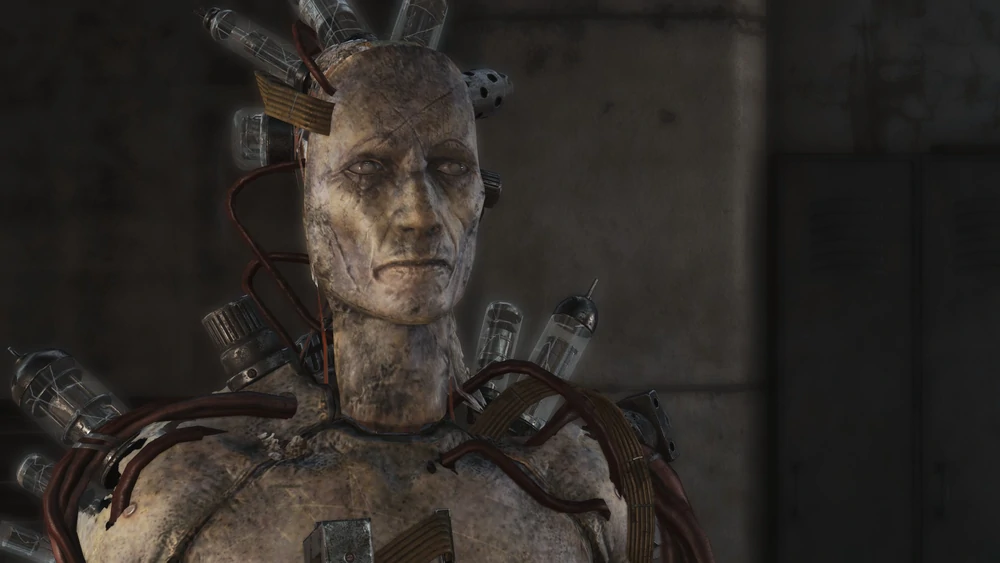 DiMA is the current leader of Acadia and also one of the faction's founders. He's a prototype, Gen III Synth. One of two prototypes, in fact. The other is Nick Valentine, who DiMA considers to be a brother. If you make a point of bringing Nick with you to Far Harbor, you'll get a fair bit of unique dialogue and interaction between the two.
When they were still in the Institute, different methods of creation were used on DiMA and Nick. DiMA was allowed to develop naturally, resulting in his own unique personality and sense of self. Nick, on the other hand, was uploaded with a pre-existing personality.
Eventually, DiMA grew to resent the Institute for their experiments. He devised and executed a plan that resulted in him and Nick escaping. The damage was already done, however. Disoriented from fleeing the Insitute, Nick fully awoke into his Nick Valentine personality, forgetting all about DiMA. At this point, DiMA was forced to knock Nick out before leaving him for Far Harbor.
Several years after hiding in Far Harbor, DiMA discovered an old nuclear submarine. Shortly after, he met and befriended Confesser Martin, the leader of the Children of Atom at the time. He ended up giving the Children the submarine, now called the Nucleus, as a base of operations.
Sometime after that, DiMA, alongside a Synth scientist named Faraday and a runaway Courser named Chase, founded Acadia.
DiMA isn't a completely altruistic good guy, though – as the Sole Survivor and Nick Valentine discover during their exploration of the island.
High Confessor Tektus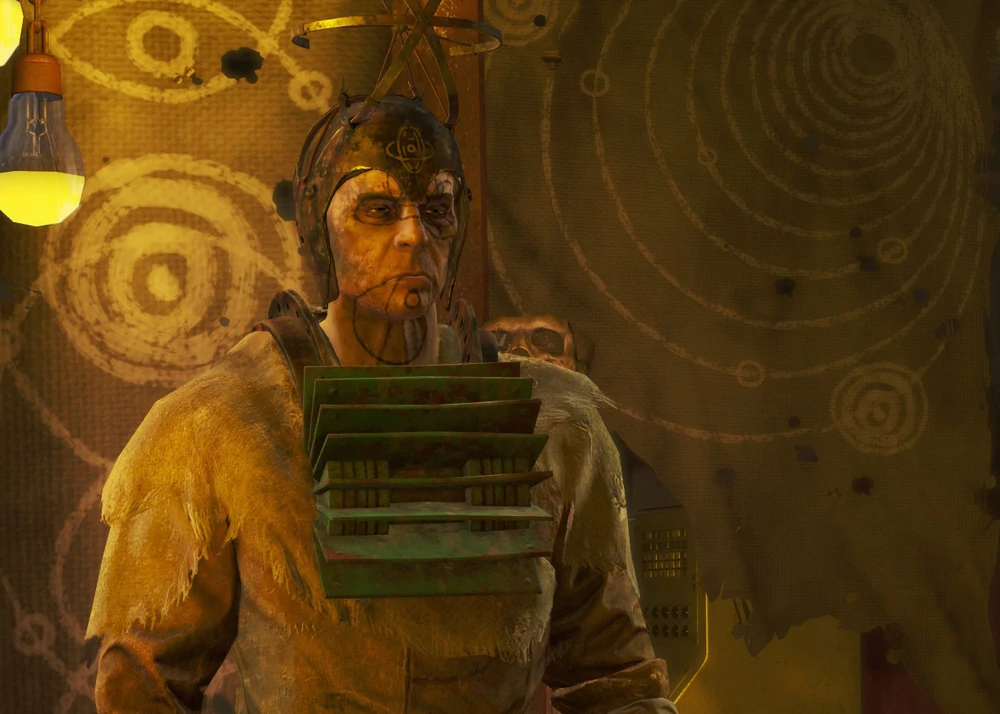 Tektus is the active High Confessor of the Children of Atom when Nick Valentine and the Sole Survivor arrive on the island. He succeeded High Confessor Martin after he left, taking a much more aggressive and fanatical approach to the religion of Atom than his predecessor.
Prior to coming to Far Harbor, Tektus was a regular Child of Atom under Confessor Cromwell back in Megaton in the Capital Wasteland. He eventually left Megaton with the Children to settle in Maine. It was here that Tektus rose to the rank of Zealot.
While acting as a Zealot, Tektus discovered Brian Richter on the brink of death after an Enclave mission gone awry. Together with the help of the Archemist, he nursed Richter back to health and inducted him into the Children.
As High Confessor, Tektus takes an extremely aggressive and hostile stance against the people of Far Harbor. While he tolerates Acadia, due to DiMA supplying the Children with the Nucleus, he actively sabotages Far Harbor's defenses against the fog and desires to wipe the settlement out.
Grand Zealot Brian Richter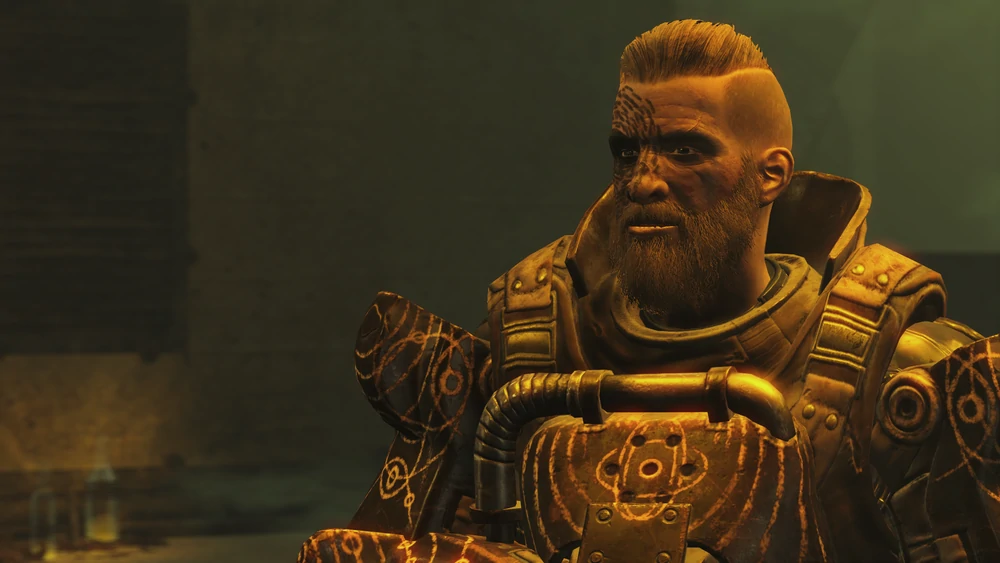 Before joining the Children of Atom, Brian Richter was an Enclave soldier. He fought with the Enclave back in the Capital Wasteland, presumably taking part in the war against the Brotherhood of Steel.
During a mission to track down a large number of Fusion Cores, Richter and his team became trapped in a containment cellar, unable to escape. Richter managed to survive on two sips of water and a bit of Radroach per day. His team, however, wasn't so lucky.
Eventually, Zealot Tektus came and broke through the door, discovering Richter inside and on the brink of death. Tektus dragged Richter out, and the Archemist helped him recover to full strength. After such a harrowing experience, Richter's fate in Atom was secured. He joined the religion, eventually becoming the fierce, loyal fanatic that he is when the Sole Survivor arrives at the Nucleus.
Captain Avery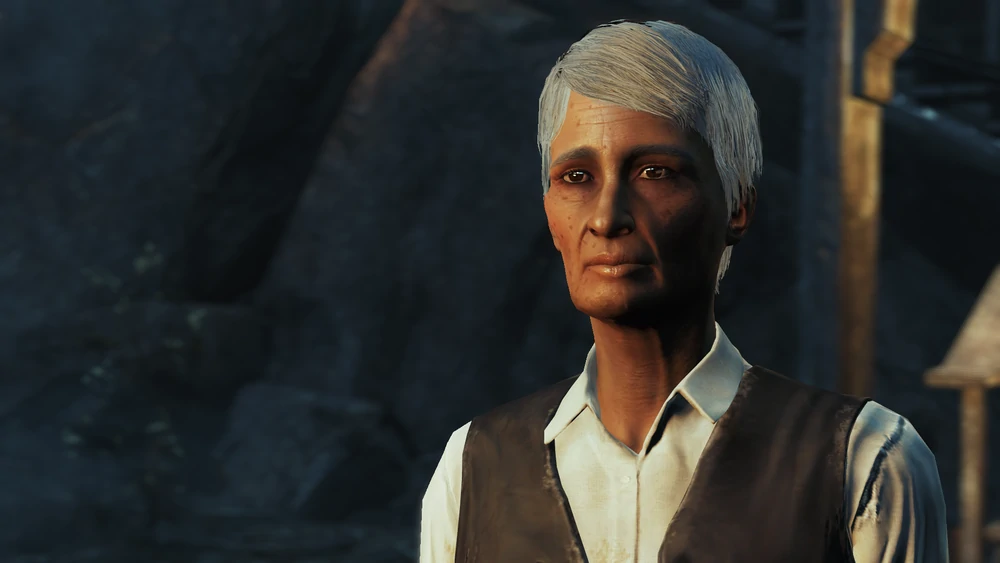 Captain Avery is the leader of the Far Harbor settlement when you arrive on the island. She'll be one of the first people you interact with after disembarking your boat. While she was born on the island, she left at some point in her life for a little over 10 years before returning after the death of her mother.
As the leader of Far Harbor, Avery wants to keep the peace between the three factions on the island. These efforts are hampered by certain members of the settlement, most notably Allen Lee. Lee is responsible for killing one of the Children of Atom's missionaries. This act sparked the active hostilities between the two groups.
Kasumi Nakano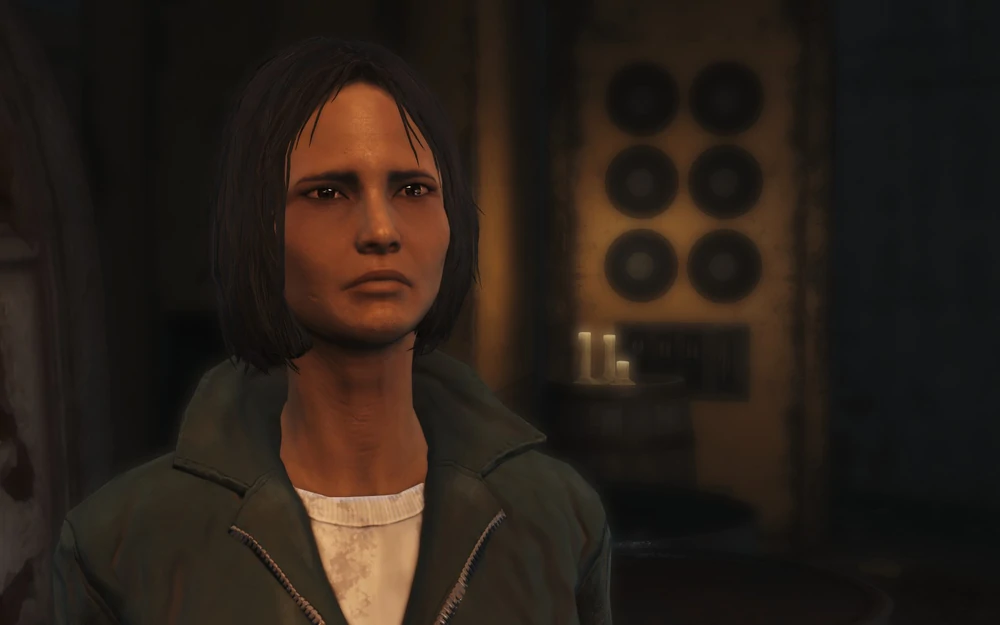 Kasumi is the daughter of Kenji and Rei Nakano. It's her that starts your journey into Far Harbor after running away from home. Her parents contact Nick's Detective Agency for help in locating their missing daughter. During the course of your investigation, you discover that Kasumi believes herself to be a Synth, running away from Boston to set up shop in the Synth refuge of Acadia.
While integral to starting the Far Harbor questline, Kasumi's struggle quickly takes a backseat to the ongoing hostilities on the island. In fact, you never find out for sure whether she's a Synth or a human, granted she has no Synth component on her body if you kill and loot her.
Key Locations
Far Harbor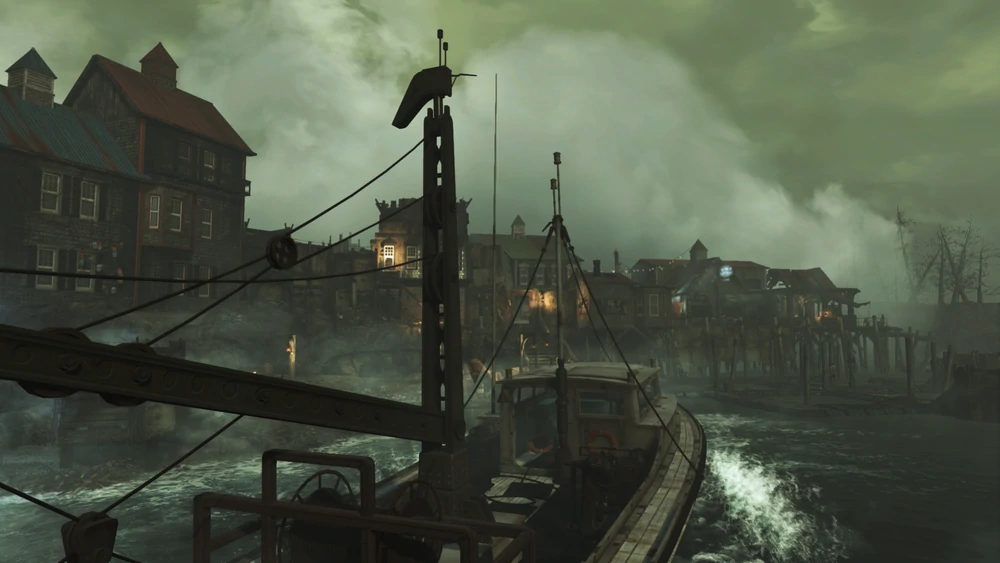 The settlement of Far Harbor is the first location you will arrive at upon starting the DLC. It is a coastal town on the North East side of the island. It is the remnants of a fishing hamlet, refurbished with man-made defenses in an attempt to stave off any potential attacks from Trappers, the Children of Atom, or any creatures that reside on the island.
Far Harbor manages to maintain clean air despite the irradiated fog that has taken over the island. This is thanks to fog condensers provided to the town by Acadia. These condensers filter the fog and turn it into breathable air.
Far Harbor will be your main point of rest during the course of the Far Harbor DLC. It's home to a handful of shops, as well as a potential companion in the form of Old Longfellow.
The Nucleus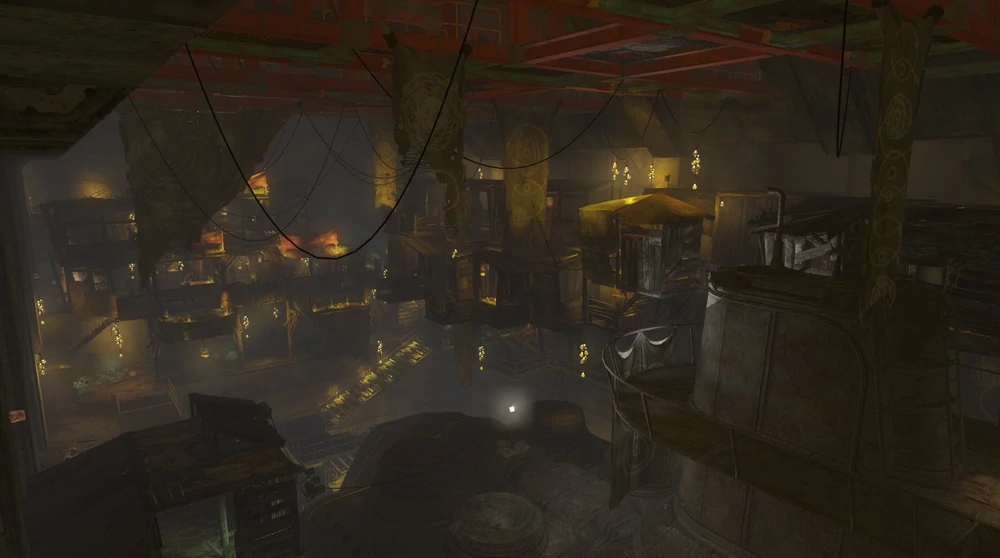 The Nucleus is the headquarters of Far Harbor's Children of Atom faction. The name is a clever pun in its reference to the brain of a cell, but it also has a double meaning. The Nucleus, that is to say, the base, is actually an old American nuclear submarine. While the Children don't have access to the nuclear missiles that the sub was carrying, it does make for a terrifying prospect should the group ever manage to make the submarine operational again.
The Nucleus was actually given to the Children of Atom by DiMA several years prior to the start of the Far Harbor DLC. DiMA hid in the submarine after fleeing the Institute, eventually meeting Confessor Martin there. He gifted the submarine to Martin, a man who shared DiMA's desire for peace. When Confessor Martin died, Tektus took over and introduced a much more aggressive regime.
Despite this, the Children of Atom and Confessor Tektus remain peaceful towards DiMA and Acadia out of gratitude and respect for providing the group with The Nucleus.
Acadia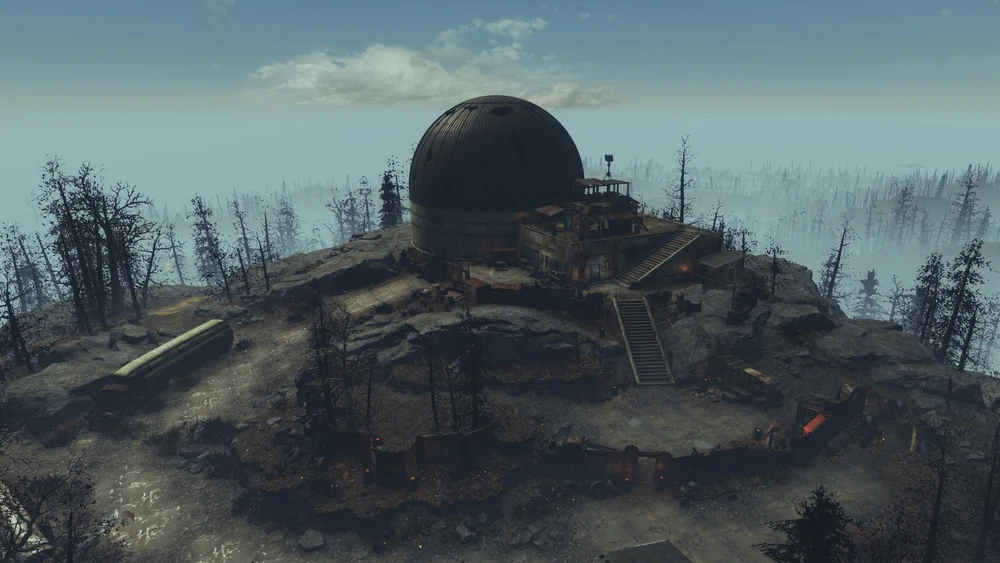 Acadia is the last of the three major settlements in the Far Harbor DLC. With Far Harbor being home to the regular human settlements of the island and The Nucleus housing the Children of Atom, Acadia serves as a Synth refuge. Granted, one does not have to be a Synth to call Acadia their home.
The settlement was founded by DiMA after gifting The Nucleus to the Children of Atom. He, alongside a Synth scientist named Faraday and an ex-Courser named Chase, set up Acadia as a peaceful refuge for Synths away from the prying eyes of the Institute.
As a technologically advanced settlement led by Synths, Acadia is responsible for the creation and distribution of the fog condensers used by Far Harbor to maintain the town's clean air. These condensers were created in an effort to keep the peace on the island, something that DiMA is particularly passionate about.
As the only settlement tolerated by both others, Acadia finds itself stuck in the middle of the ongoing power struggle, with each side requesting the Synth's assistance in wiping the other out.
Marquee DLC Items
Marine Armor
Hunter's Long Coat
The Striker
Robes of Atom's Devoted
Radium Rifle
Harpoon Gun
Unique Mechanics and Features
The Fog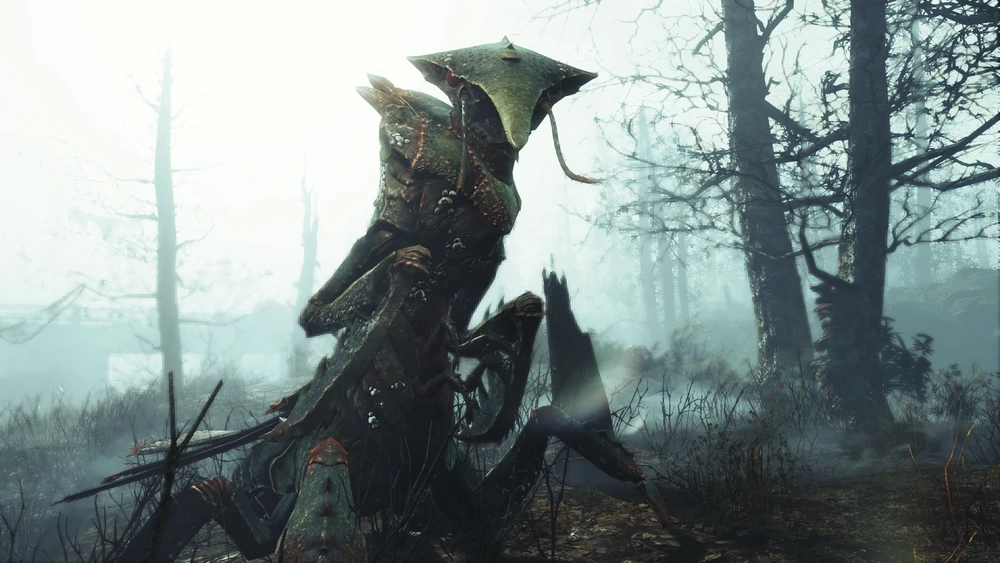 The fog that blankets Far Harbor is radioactive in nature. While the Synths of Acadia and certain members of the Children of Atom are immune to it, the humans of Far Harbor are not. As a result, they rely on the fog condensers engineered by Acadia to maintain breathable air.
According to members of the Far Harbor settlement, the fog was fairly light initially, only covering part of the island. However, after the arrival of the Children of Atom, it became much more intense. This led to many blaming the Children for the fog. While the Children of Atom claim not to have taken part in spreading the fog, they do believe that it was a gift from Atom for their loyalty. This has led to conflict and tension between the two settlements.
Old Longfellow, however, has a different take. According to him, the fog was extremely heavy during his childhood, before the Children ever arrived on the island. He comments that the fog comes and goes in intensity and that the people of Far Harbor have short memories.
While the fog is radioactive to any human exposed to it, the real danger is in how it mutates the creatures of the island. Some of Far Harbor's most vicious foes, like Fog Crawlers, are a direct result of the radioactive exposure.
Time to Complete
Far Harbor isn't a massive DLC, but what it lacks in size, it makes up for in content. It's jam-packed with stuff to do and locations to explore, so the time it takes you to complete it will depend on how many optional activities you wish to complete.
If you're only interested in completing the DLC's main questline, then Far Harbor will take you between 6-10 hours to complete. However, if you do want to milk the island for all of its content, you can easily get 20+ hours of gameplay out of it.
Recommended Level
The official recommended level for Far Harbor is 30. While it's typical for Fallout DLCs to be a bit conservative with their level recommendations, I feel like this one is pretty spot-on, especially on higher difficulties.
Far Harbor is home to some seriously tough and terrifying creatures. On top of that, you'll be dealing with a faction that fights almost exclusively with radiation, as well as the hostile nature of the island's environment itself. It's very easy for an unprepared or underdeveloped player to get pulverized upon arriving to Far Harbor.
You should try to make sure you're level 30 before heading to the island. If you're impatient, though, you might get away with starting the DLC around level 25 or so.
Nuka World
Synopsis
One day, whilst wandering the untamed and savage world of post-apocalyptic Boston, the Sole Survivor gets a strange radio signal. Tuning into it, they hear the sound of cheer and wonder as they're invited to the Nuka World theme park. Naturally, they go to investigate. After all, who wouldn't want to visit Fallout Disney Land?
Making their way to the Nuka World transit center, the Sole Survivor battles through a group of Gunners before bumping into a man named Harvey. Harvey looks a little bit worse for wear and will give you a sit-rep on what's going on in Nuka World.
Harvey was a trader in the Nuka World settlement before it was attacked by a massive army of raiders. Now, it's home to three different raider factions, each of which controls its own portion of the park. Slavery is rampant, but the caps are flowing, and the economy over there is exceptionally healthy.
Now, you can either be the industrious survivor that you are and hop the train to get a piece of the pie, or you can question Harvey. If you do decide to stick it to him, he'll tell you that he's working for the raiders. It's his job to get unsuspecting people to board the train to Nuka World so that the raiders can put them through a lethal obstacle course called the Gauntlet.
That sounds like fun, so you're going to subject yourself to it. You take the train to Nuka World and crush the obstacle course before being forced to fight the current Overboss of all three raider factions – Colter. Colter is using some seriously cool-looking power armor that's connected to the power lines in a bumper car arena, making him virtually unkillable.
Before you're forced into this rigged fight, Colter's right-hand man Porter Gage calls you for a chat. He explains that he's become sick of Colter's incompetence and complacency. Apparently, the raider gangs aren't doing as well as you thought. In fact, they don't even have control over the majority of the Nuka World park.
Porter Gage points you in the direction of a water gun. Yes, a water gun that can cause Colter's power armor to malfunction.
Using the super soaker, you defeat Colter in combat and, according to some strange raider customs, become the new Overboss of the three raider factions in Nuka World.
As the head honcho, it's now your job to lead the army of raiders and reclaim the parks inside Nuka World.
Key Characters
Porter Gage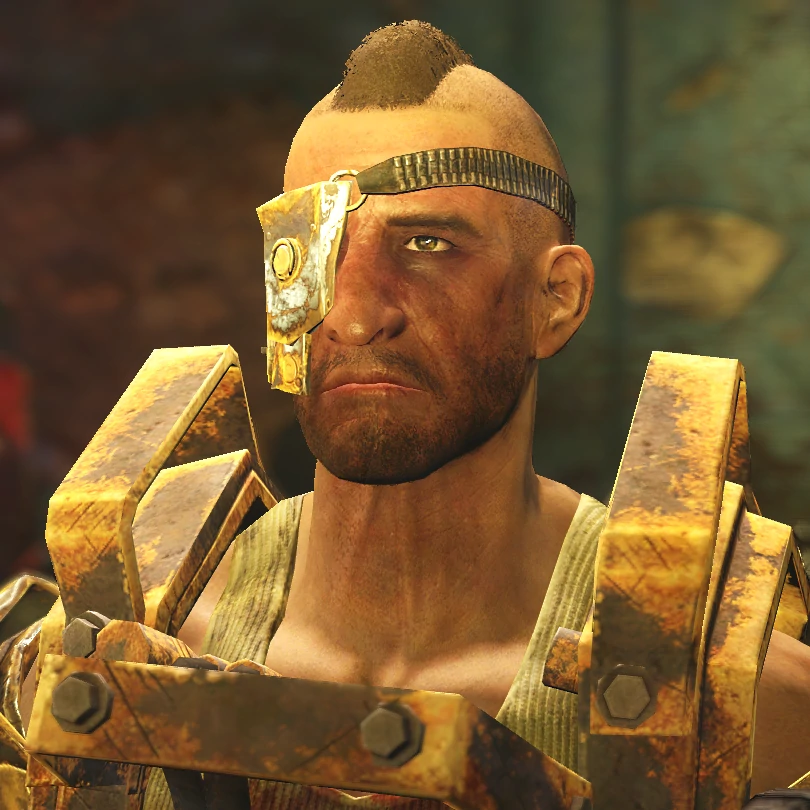 Porter Gage had a pretty hard upbringing. His parents lived in a small farming village that was constantly being harassed by Raiders. Naturally, the villagers would constantly give into the Raider's demands, something that Gage resented. To avoid following in his parent's footsteps, Gage left home at the big, bold age of 12 to carve out his own path in post-apocalyptic America.
For the next four years, he took odd jobs here and there to make enough caps to get by. Eventually, after turning 16, Gage turned to caravan mercenary work. While working as a caravan guard, he continued to watch settlements give in to Raiders, including the settlement he called home. After one particular raid, he decided that rather than fleeing or fearing Raiders, he was going to become one.
Gage's first Raider gang was run by a man named Connor. While relatively small, the gang still had a lot of strength. However, he believed that they were misusing their resources and squandering opportunities. He approached Connor with alternative ideas to expand the group's reach, ideas that Connor actually followed.
After Gage's initial round of advice worked out well, Connor would continue to seek out his opinion and input, inflating Gage's ego tremendously. This right-hand role wasn't meant to last, though. About a year into working with Connor, Gage proposed the idea of creating a truce with a rival gang. While Connor was against the idea at first, he eventually came around, letting Gage lead a convoy of four to peace talks with the other Raider party.
Just as the peace talks were beginning to make progress, they were ambushed by gunfire and explosions. It didn't take long for Gage to figure out that Connor had set him up, possibly out of the fear that Gage would usurp him.
Gage survived that attack, but he decided to cut his losses and leave that gang behind. From here, he bounced from Raider gang to Raider gang, never staying long enough to watch one of the groups implode on itself, something that always inevitably happened.
His travels took him to the outskirts of the Commonwealth. This is where he met Colter. Following his advice, Colter recruited three different Raider gangs (the Disciples, Pack, and Operators) and stormed Nuka World.
While they were successful in subduing the settlers in Nuka World, Gage soon became frustrated at Colter's complacency. Gage believed that this new Raider army could be so much more, but Colter had no interest in expanding their power or territory. Gage began plotting to overthrow Colter, and that's when the Sole Survivor arrived on the scene.
Overboss Colter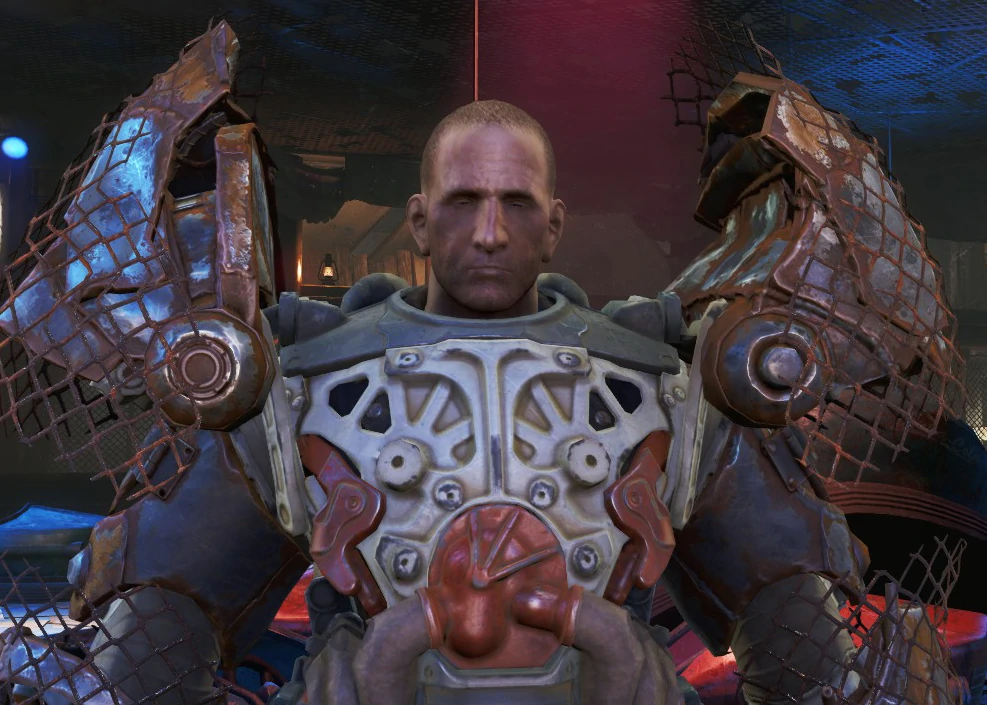 We don't actually know all that much about Colter, especially prior to his meeting with Porter Gage. What we do know is that he was responsible for recruiting the Pack, the Operators, and the Disciples to raid Nuka-World.
After the group successfully captured Nuka-World, Colter became lazy. Rather than continuing into the park to take more territory, he wasted his days fighting victims in the rigged final battle of the Gauntlet.
Needless to say, nobody was happy about this. Porter Gage, with the help of the three gang bosses, devised a plan to overthrow Colter through the use of the Thirst Zapper water gun. All they had to do was wait for the right replacement to come along.
Mags Black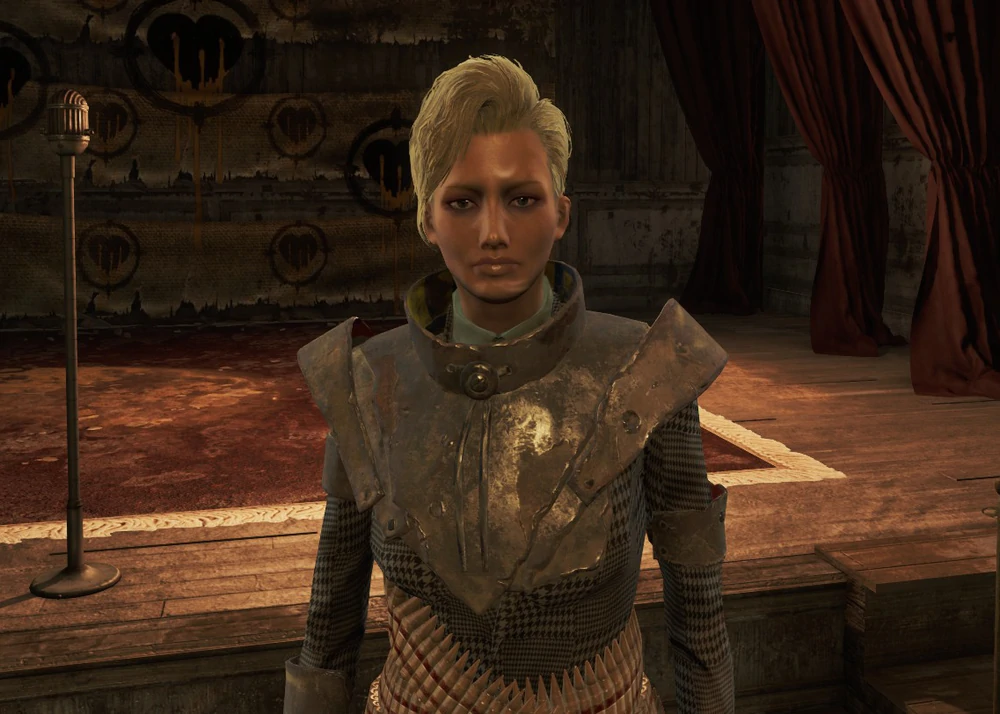 Mags Black is the leader of the Operator gang alongside her brother William and their friend Lizzie Wyath. All three of them were originally from Diamond City. Particularly, they belonged to two different prestigious upper-stand families. Despite the wealth and comfort this afforded them; the three were constant trouble makers. After an unspecified event involving a classmate of the three, they were disowned by their parents and exiled from Diamond City.
Mags responded to her mother's notice of exile with a letter of her own, informing her that she would be coming for her inheritance and that the Black family wouldn't be able to stop her. We don't know whether or not she ever got that inheritance, and we also don't know what happened between here and the events of Nuka-World.
All we know is that the trio set up the Operator gang and threw in with Colter.
The Operators, compared to the other two Raider gangs, seem relatively grounded. While cold and ruthless, they aren't needlessly cruel or animalistic. Their sole goal is the generation of wealth, something that's reinforced by their calm, calculated demeanor.
Nisha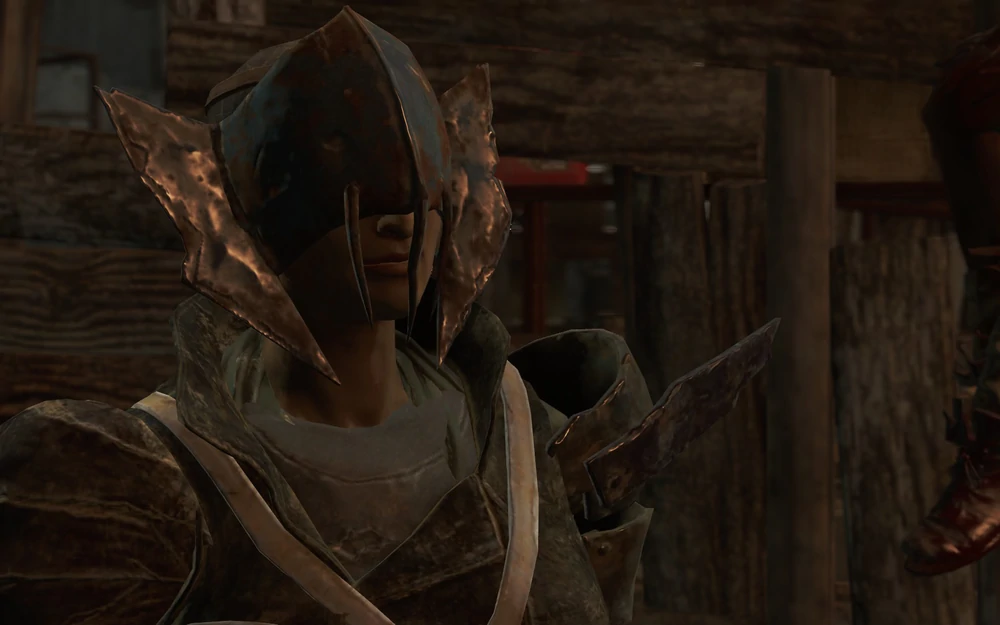 Nisha is the sole leader of the Disciples, a crazy coven consisting of primarily female Raiders. The Disciples' M.O. is pain, misery, and torture. They're a group built around a survival of the finest mantra taken to extreme lengths. Out of the three different Raider clans of Nuka-World, they are easily the cruelest and are known to kill other gang's members. However, neither Mason nor Mags has been able to prove that.
Nisha herself was taken in by a Raider gang led by a man named Sledge from a very young age. We don't have many specificities about Sledge and Nisha's relationship. They were close, and that Sledge took on an almost paternal role, training and raising Nisha himself.
However, we do know that at some point, Sledge left Nisha for dead at some point. This abandonment, along with the fact that Sledge had Nisha's parents killed, led to Nisha, bloodied and battered, slowly killing Sledge over the course of an entire month.
After Sledge's death, Nisha took over his Raider gang, renaming it the Disciples and killing anyone who refused to fall in line. This is when the Disciples became obsessed with killing, to the point it became almost fanatical and serial-killer-like.
Nisha and the Disciples were contacted by Porter Gage around the same time as the other two gangs. Like the other two gangs, they also grew tired of Colter's incompetence and actively partook in the conspiracy to replace him.
Mason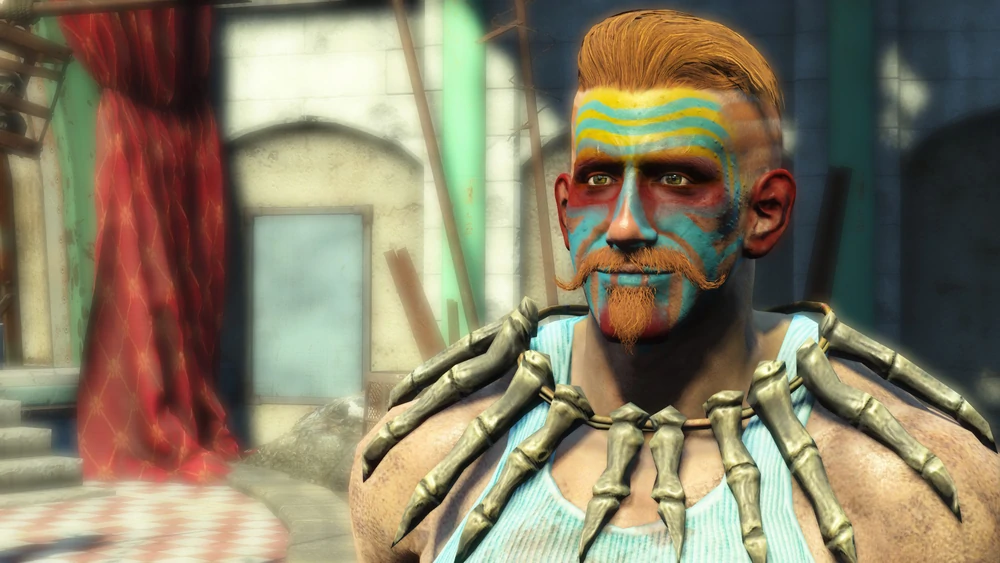 Mason is the leader of the Pack. That's about all we've got on him. Yeah, it's strange that both Nisha and Mags were given fairly elaborate and individual backstories while Mason… well, wasn't.
We do have a little bit of information on the Pack themselves, but again it's less than we have on the Operators or Disciples. We know that the Pack is based on the stereotypical presentation of a wolf pack. They are led by an "Alpha" and follow animalistic rules like survival of the finest, granted they aren't nearly as extreme as the Disciples. In fact, it's forbidden for Pack members to kill one another. Instead, members will humiliate each other, which that serving as a social way of settling disputes or establishing dominance.
This is exactly how Mason came to be the Alpha of the Pack. At any point, any member of the gang can challenge for Alpha. The loser of that fight is covered in feathers and banished. Mason ousted the last Pack Alpha and has reigned ever since.
This animalistic idealization doesn't end there, though. Pack members actually dress up like animals themselves, complete with face paint and peacock-like decoration. They're also obsessed with partying, something that works quite well with the bright color theme they have going on.
Key Locations
Nuka-Town USA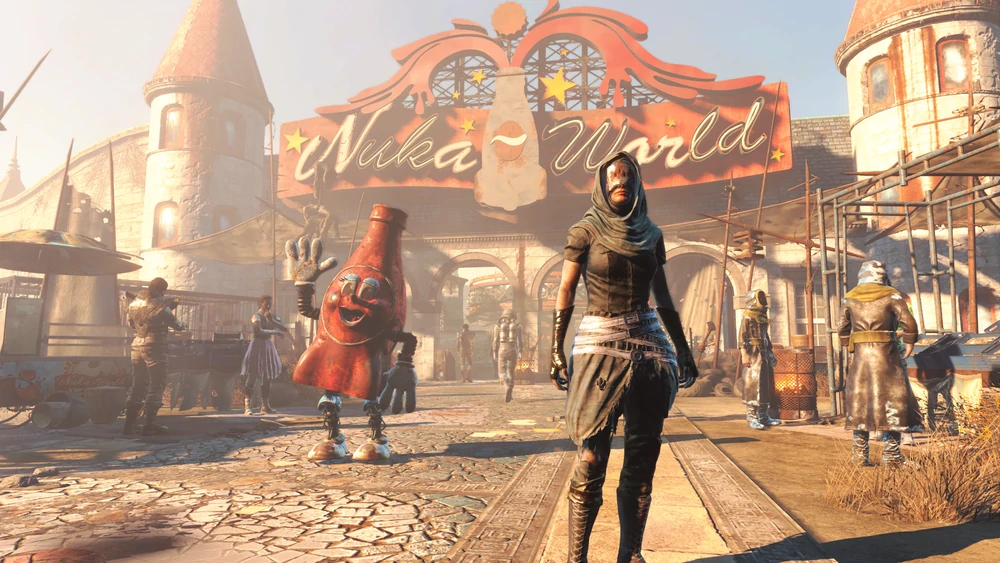 Nuka-Town USA is Nuka-World's central hub. It's the first location you arrive in, it's home to the market, it's home to the gangs, and it's home to you. This is the location from which you'll be building your Raider empire.
Dry Rock Gulch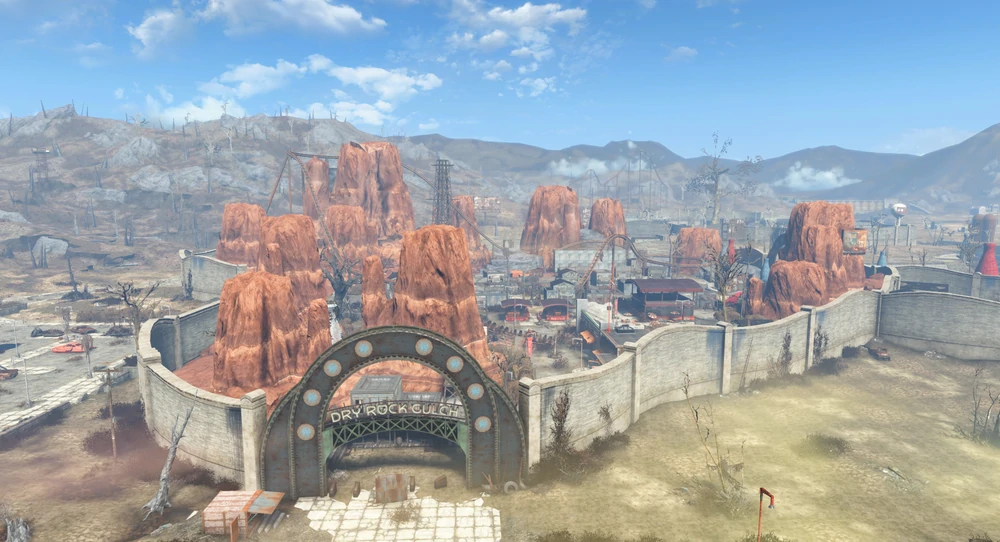 Dry Rock Gulch is one of the five Nuka-World parks currently not under Raider occupation. It was partially built to try and promote Nuka-Cola's own root beer variant, potentially attempting to compete with Sunset Sasparilla. In line with that, Dry Rock Gulch follows a wild West theme, complete with a sheriff, shootouts, and its very own mine.
The park is infested with subterranean creatures known as Bloodworms, so it's up to you to find the root of the infestation and stamp it out.
Nuka-Cola Bottling Plant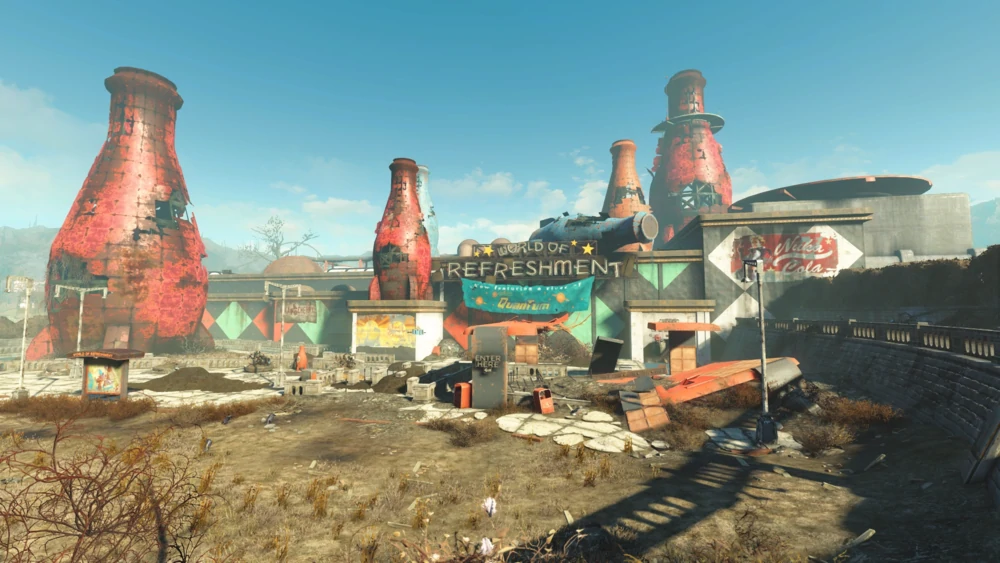 The Nuka-Cola Bottling Plant started out as just that, a bottling plant. Over time, however, Nuka-Cola executives renovated the industrial factory to serve both as a bottling facility and a tourist attraction. This renovation led to the World of Refreshment. This attraction tells the story of Nuka-Cola Quantum via a boat ride down a Quantum river.
The entirety of the Nuka-Cola Bottling Plant is overrun by Nuka-Lurks, strong and mutated variations of regular Mirelurks. They need to be cleared out before the park can be reclaimed by one of the three Raider factions.
Galactic Zone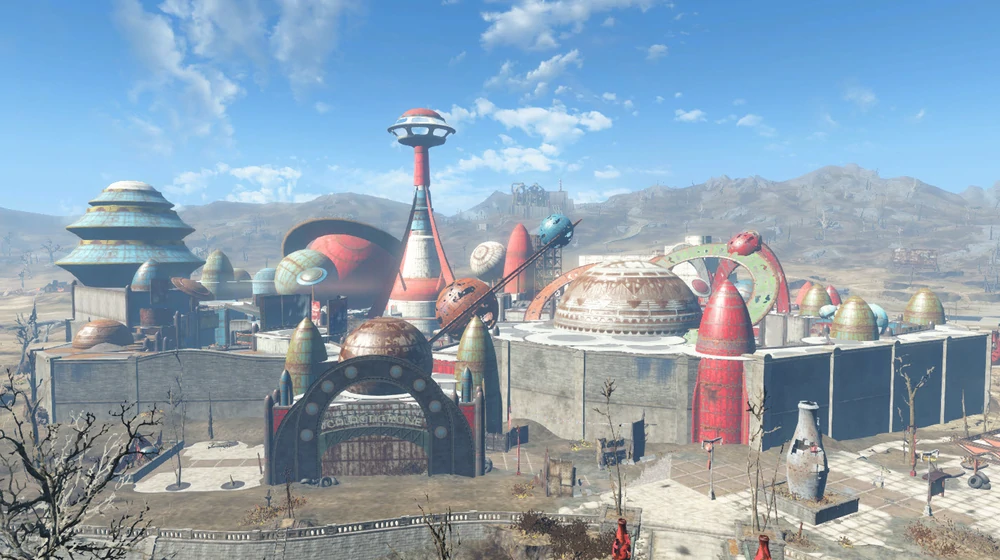 The Galactic Zone was the last park to open in Nuka-World prior to the bombs dropping. The Galactic Zone was particularly noteworthy because of the corporate cooperation that went into it. The entirety of the park was a collaboration between Nuka-Cola, Vault-Tec, RobCo, as well as several other smaller subsidiaries.
Galactic Zone takes a much more traditional approach to theme parks than the others in Nuka-World. It's space-themed, with several attractions and rides based around that. There is an on-rails shooter rollercoaster where park-goers would help Nuka-Girl fight off aliens, a Vault-Tec attraction highlighting the company's efforts to colonize the stars (which also doubled as an experiment), and even a full-fledged RobCo robot wars arena.
The park is also home to Star Control, an exhibit and side-quest that sees you travel around Nuka-World collecting Star Cores to power up a control center, granting you access to some good loot.
Robots infest Galactic Zone in large numbers, including a handful of ceiling-mounted turrets that will ruin your life regardless of your difficulty or level (speaking from experience). You'll need to be careful when you clear this one out.
Kiddie Kingdom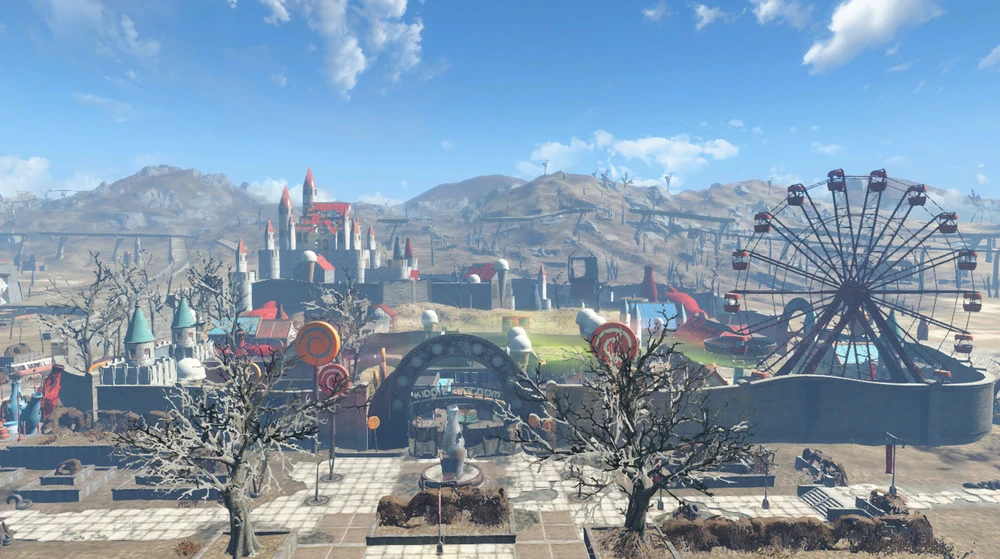 As the name implies, Kiddie Kingdom was a child-focused park, giving parents a location to bring their young children and toddlers who wouldn't be able to partake in the attractions offered by the other Nuka-World locations.
Before the bombs fell, the park was headlined by a magician called Oswald the Outrageous. He, along with two other staff members, effectively fortified the staff tunnels beneath Kiddie Kingdom in preparation for the Chinese nuclear attack. They stocked up on weapons, medicine, food, and water.
This foresight paid off as Oswald, as well as a few park-goers they convinced to join them in the tunnels, survived the initial dropping of the bombs, granted they all ended up becoming ghoulified. Anyone looking to brave Kiddie Kingdom will have to deal with that horde of ghouls.
Safari Adventure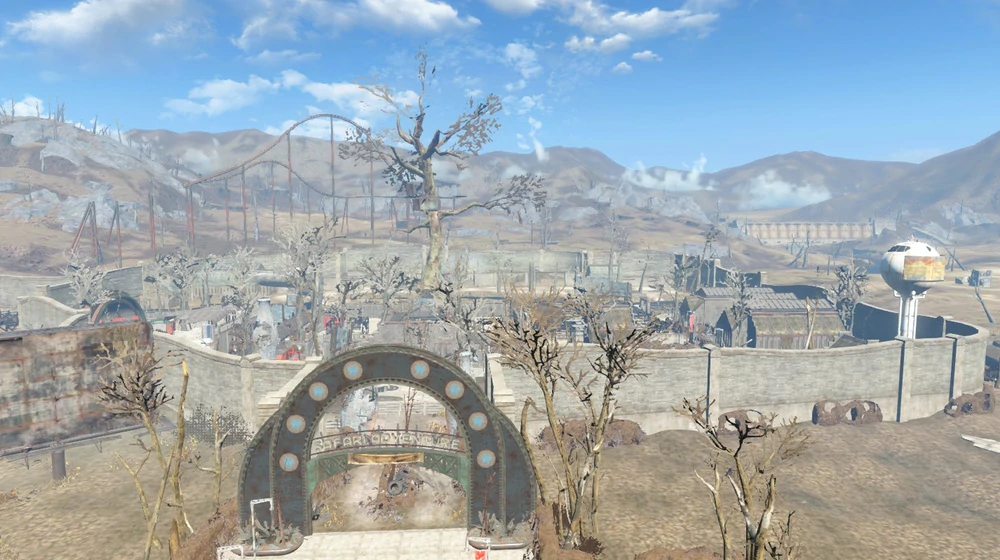 Before the war, Safari Adventure was exactly that – a safari adventure. The park is home to several different exhibits and cages clearly meant for different types of animals and wildlife, making it serve as something of a glorified zoo in Nuka-World.
During the pre-war days, Safari Adventure was actually in a bit of trouble. As well as offering a zoo-like experience, the park was conducting experiments on animals in an attempt to clone them. A pre-war animal activist group actually kidnapped one of the scientists working on cloning the day the bombs fell.
As well as that, Safari Adventure is home to a human named Cito and a group of Ghoulrillas. Cito's parents were killed when he was young. After wandering for a time, he found Safari Adventure, and the Ghoulrillas raised him as one of their own.
Safari Adventure is home to the Gatorclaw, a modified type of Deathclaw that is terrifyingly deadly. You should exercise extreme caution in this area of Nuka-World.
Marquee DLC Items
Thirst Zapper
The Problem Solver
Quantum X-01 Power Armor
Hub's Alien Blaster
Nuka-Girl Rocketsuit
Nuka T-51 Power Armor
Aeternus
Unique Mechanics and Features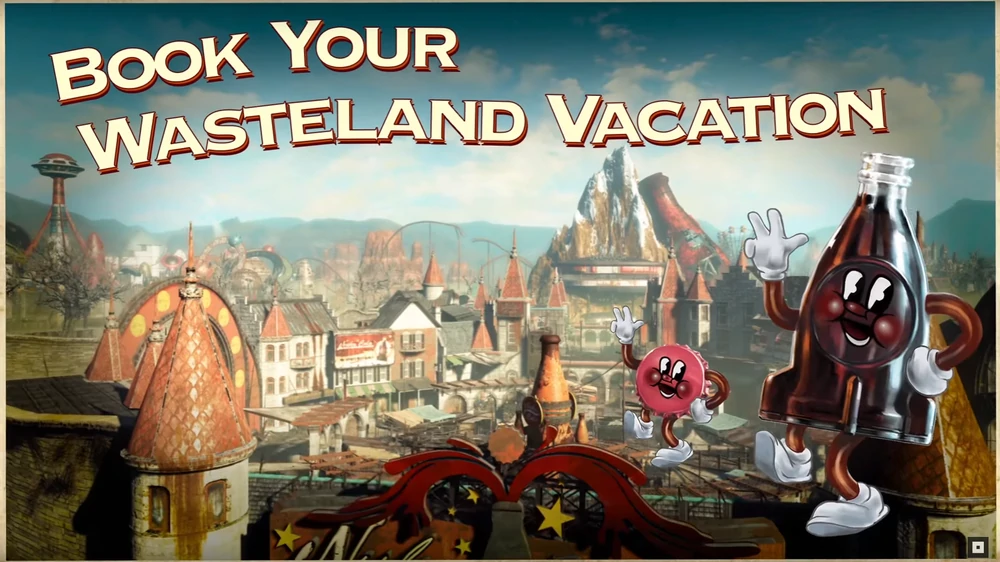 Divide the Territory
Every time you clear one of the five parks in Nuka-World, you will be able to assign said park to one of the three gangs. That gang will then move in and decorate the area, and you'll get periodic tributes based on which gang is now housed there. You only have five parks to divvy up between three groups, so someone is going to lose out. Choose wisely.
Conquer the Commonwealth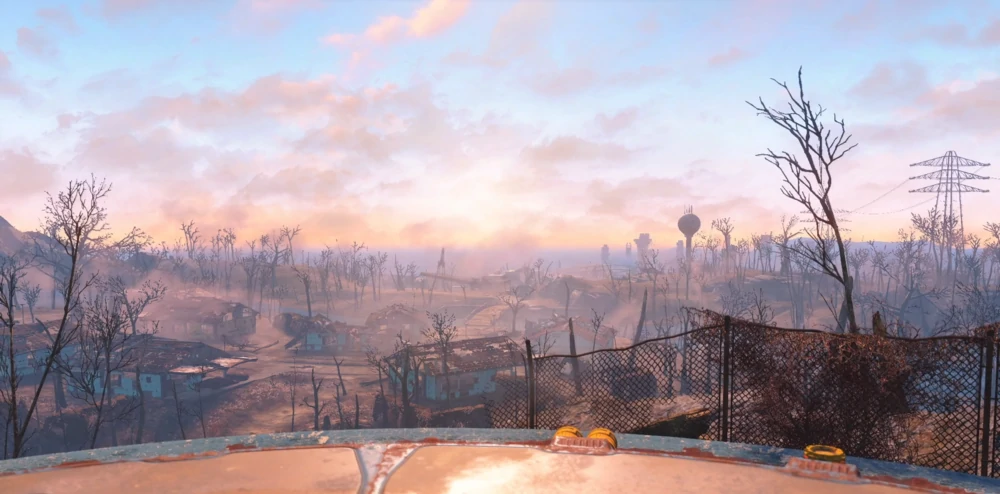 After you reclaim all of Nuka-World, you and your Raider gangs will be able to start an invasion of the Commonwealth. By forcing settlers out of settlements, you'll be able to move your people in and raid your neighbors for supplies. Keep in mind that Preston won't be too big a fan of this, although who cares about Preston?
Time to Complete
The time it will take you to complete Nuka-World varies drastically depending on a few different criteria. However, you can expect it to take you at least 10 hours to clear out each location and restore the park's power. If you want to do everything, meaning collect every Star Core, complete Sierra Petrovita's quest, as well as the other side quests, you're looking at 25+ potential hours of hard work.
Recommended Level
Fallout 4 recommends that you're at least level 30 before you take on Nuka-World. I strongly agree with that, almost to the point I would say wait until you're level 35/40. The main reasons for this are Galactic Zone and Safari Adventure.
I went to Nuka-World at level 50, and the Galactic Zone ceiling turrets still killed me in about 2-shots. I found myself constantly getting destroyed by the enemies in Safari Adventure. This DLC is not easy on any difficulty.
Automatron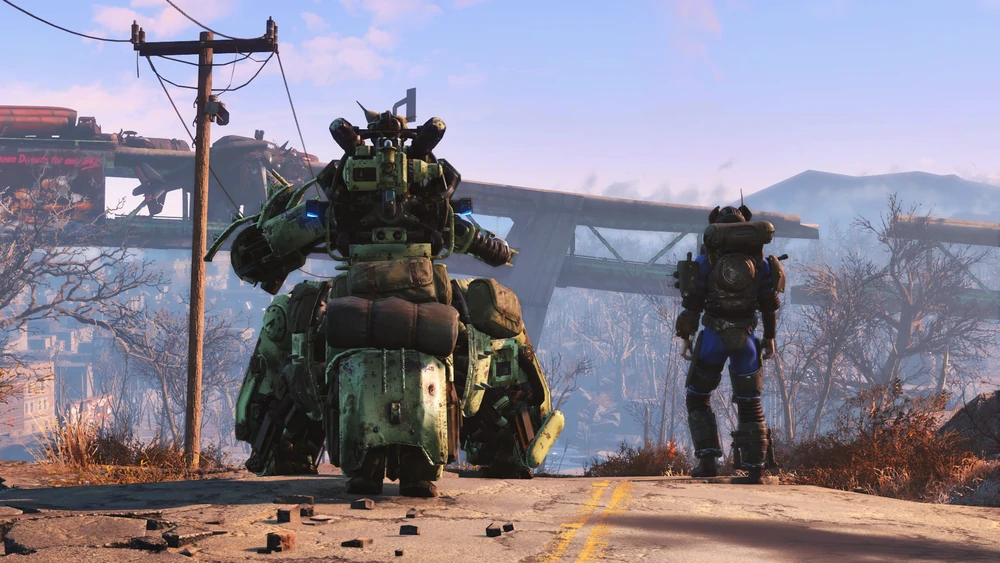 Synopsis
Automatron is more of a feature with a side-quest rather than a full-fledged DLC. There's this strange new figure in the Commonwealth known as the Mechanist. They've created an army of robots that are terrorizing people all over the Wasteland, and it's your job to stop them. You'll be building robots of your own to help you with this mission.
Key Characters
The Mechanist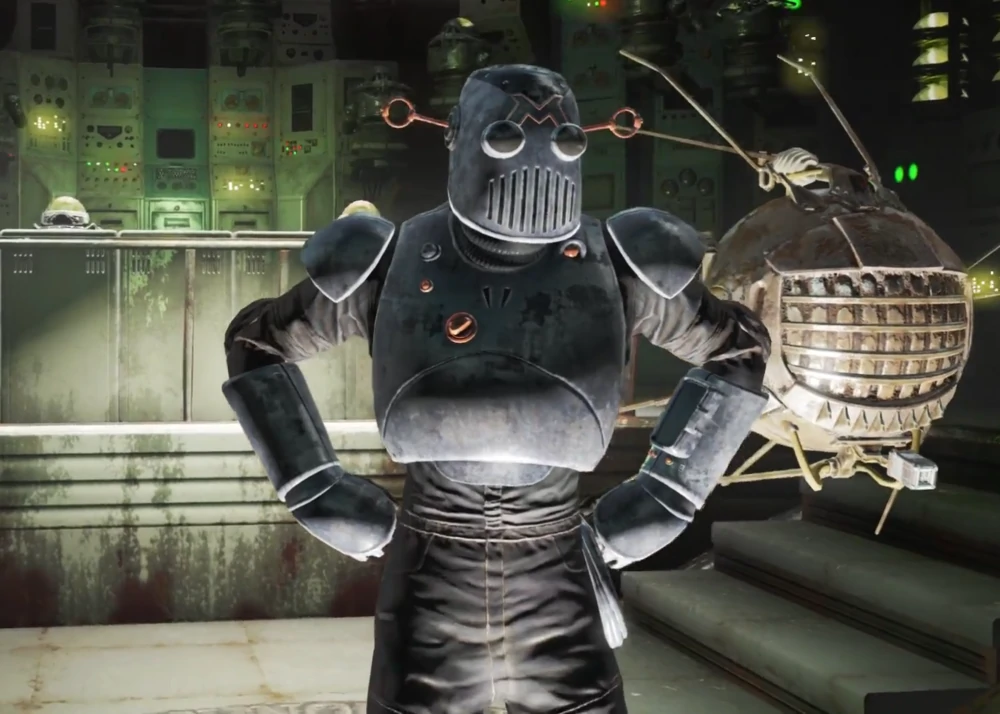 The Mechanist of Fallout 4, Isabel Cruz, shares no relation to the Mechanist of Fallout 3. She was born into a settlement that was plagued by Super Mutants and Raiders and lived much of her life as a helpless victim.
Eventually, she discovered the Mechanist through comic books and radio shows. Inspired, she decided to use her robotics expertise to try and help the people of the Wasteland, setting up shop in an old factory and getting to work on her army of bots. However, due to a bug in her robot's programming, they began killing those they were meant to help.
Ada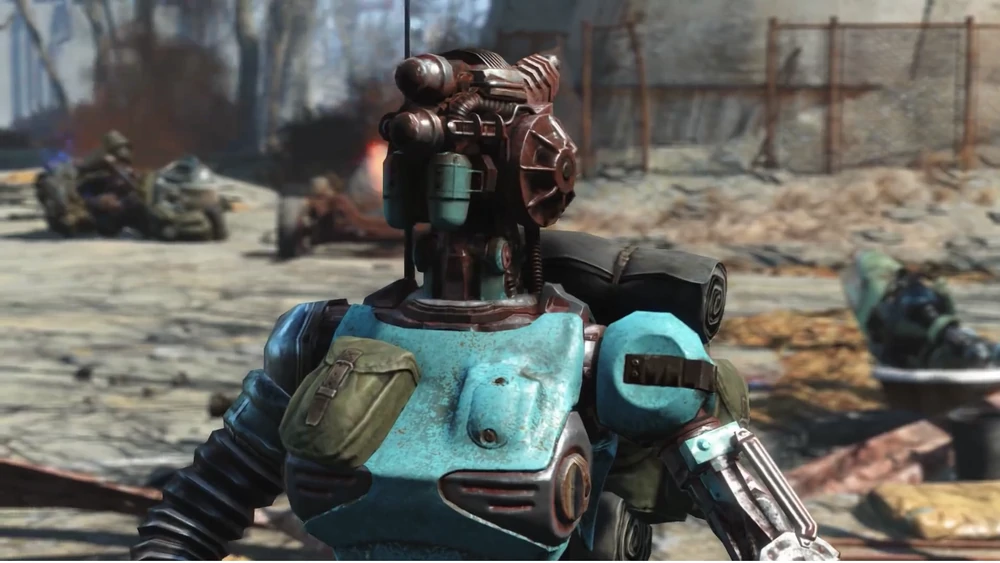 Ada is a modified Assaultron that was created by a man named Jackson, not the Mechanist. Jackson and Ada were a part of a trading caravan that specialized in mechanical repairs. After several attacks on their caravan by the Mechanist's robots, only Ada was left, sending out a distress signal in a last-ditch effort to get help.
Ada will be your companion for much of the Automatron questline. She'll be the one to introduce you to robot creation and modification.
Key Locations
The Mechanist's Lair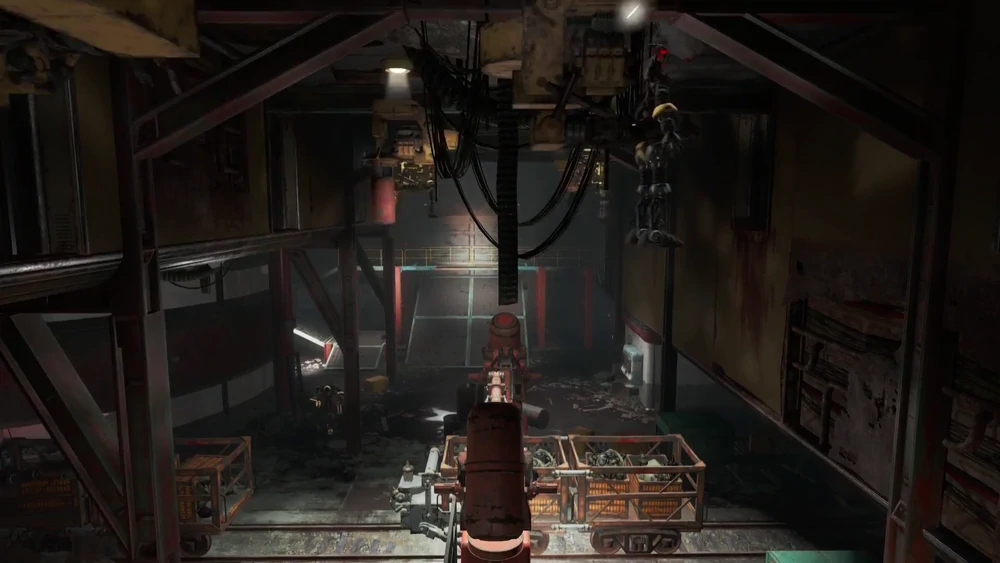 The Mechanist's Lair is hidden beneath an old RobCo Sales and Service Center. Before the bombs fell, the center served as a front for the U.S. Army Robotics Division. Specifically, they were using it to experiment with the creation of Robobrains. Isabel Cruz discovered this facility at some point and turned it into a base.
Marquee DLC Items
The Mechanist's Armor
Tesla T-60 Armor
Unique Mechanics and Features
Make Your Own Bots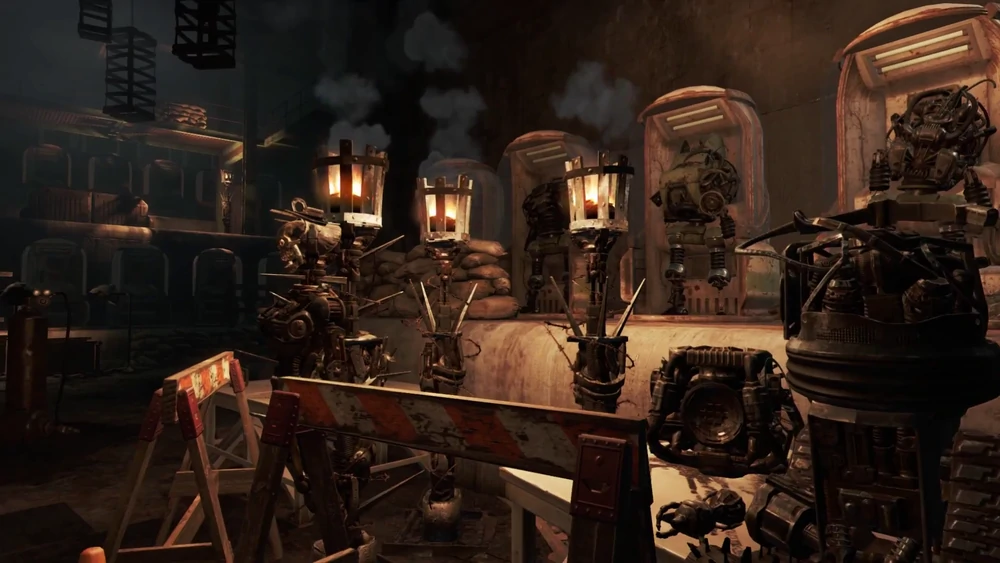 The ability to make and customize your own robots is the big attraction of Automatron. The quest is just window dressing for this feature.
Using a new crafting station in the settlement system, players are able to attach and remove robot parts found around the wasteland, allowing for the creation of some seriously messed-up-looking death machines. You don't just have to create bots from scratch, though. You can turn Codsworth into an Assaultron/Sentry Bot hybrid if you want. Hell, you can even modify Curie provided she's still in her robotic form.
Time to Complete
Automatron is more of a feature than a DLC. As you might expect, then, it only takes around five hours to beat the whole thing. However, you'll get a lot more time than that out of the robot creation system.
Recommended Level
Fallout 4 recommends you to be at least level 15 before trying Automatron. I don't know who decided on that number, but they should be out of the job. The robots you'll be fighting right from the start of this DLC are brutal. I've tried to start it at level 15, and the first enemies you fight still had skulls next to their names for me.
This is arguably the hardest Fallout 4 DLC, full stop. I wouldn't try it unless you're at least level 30, AND you've got some specific anti-robot weapons and armor.
Workshops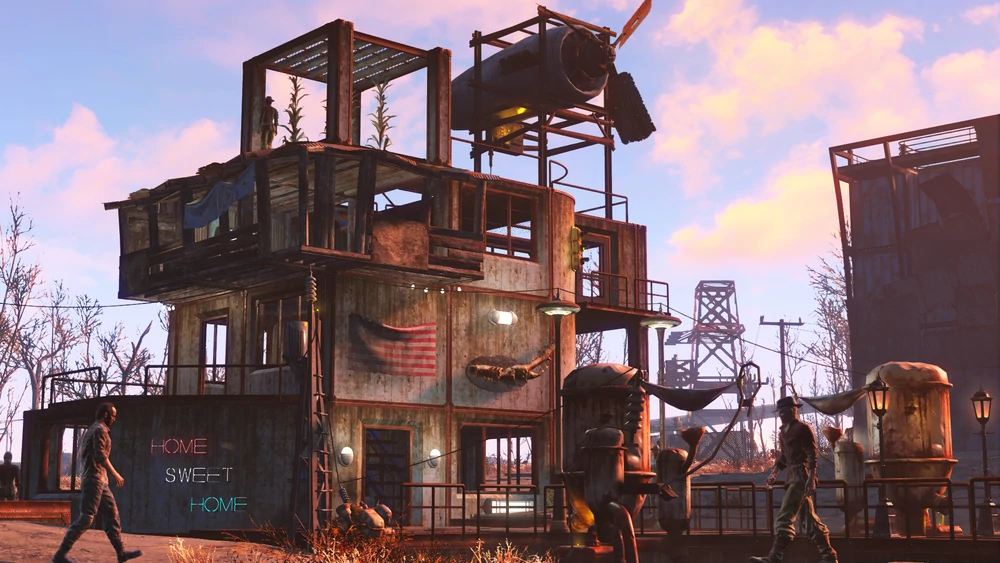 Wasteland Workshop
Wasteland Workshop added in settlement items related to the capturing of animals, as well as the ability to construct fighting arenas in your settlements.
Vault-Tec Workshop
Vault-Tec Workshop was the most fleshed-out of the Workshop DLCs. It introduced an entirely new settlement in the form of an under-constructed vault and tasked the player with taking on the role of Overseer, running and creating the vault themselves.
Contraptions Workshop
The Contraptions Workshop DLC added in a handful of new settlement items related to mechanics. This included elevators and conveyor belts.
FAQ
Question: How many DLCs are there for Fallout 4?
Answer: There are six total DLCs for Fallout 4, but that number is a bit disingenuous. Nuka-World and Far Harbor are the only two traditional, full-sized DLC. Automatron is smaller and features no new locations beyond the Mechanist's Lair. Then the three Workshops arguably should have been free updates rather than DLC. Lastly, Bethesda counts the official High-Res Texture Pack as a DLC, although I don't recommend you use it.
Question: Which Fallout 4 DLC is the best?
Answer: You really only have two choices – Far Harbor or Nuka-World. Each DLC has its strengths. Far Harbor tells a fantastic story, but Nuka-World has some of the best level design ever seen in a Fallout game.
Question: Are the Fallout 4 add-ons worth it?
Answer: If you can get them on sale, yes. Absolutely. I wouldn't advise you to pay full price for them, but they are well worth a couple of bucks.
Conclusion
That wraps up this Fallout 4 DLC guide. There's a lot of information here, and the last thing you should be doing is trying to digest it all at once. Bookmark this page so you can refer back to it as you make your way through the Fallout 4 DLCs. If bookmarking isn't your thing, no worries! I hope you managed to get something of value out of this guide, either way.