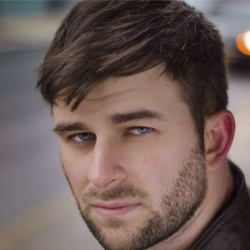 Latest posts by Adam Braunstein
(see all)
Fallout is one hell of an expansive universe. In that universe, we've got tons of merchandise, including toys, memorabilia, and, yes, the best Fallout-themed hoodies. There are so many awesome options for hoodies in the Fallout universe, and the choices range from games that have taken place over the course of 20-plus years.
I've been a Fallout fan since 2008 with the arrival of Fallout 3, and since, I've gone on to play every game available in the series as I just can't seem to get enough of this fantastic universe that seems to have endless amounts of content to give us. I'm far from done with the series as I regularly jump in Fallout 4 VR and Fallout 76, which is enjoying a resurgence.
There is a lot to wade through when it comes to the world of Fallout hoodies, and there are multiple places to procure them from as well as multiple types to find. I've been looking to up my collection of Fallout merchandise recently and love wearing my favorite series whenever I can.
My hunt lead me across various places online, and I think I've come up with a great list for you to browse through. It can get confusing, and it's always tough to figure out just where is the most reliable place to find things, and it's especially true when it comes to online clothing, so let's figure out where to get the best Fallout themed hoodies. 
Bottom Line Up Front
The Fallout 4 Institute zipped-up hoodie is the best one you can find in the Fallout 4 universe. It gives you an awesome logo from the series displayed on the front of the hoodie, comes in multiple colors, and while it doesn't scream Fallout or have the name anywhere on the hoodie, those that know the series well will quickly recognize The Institute insignia.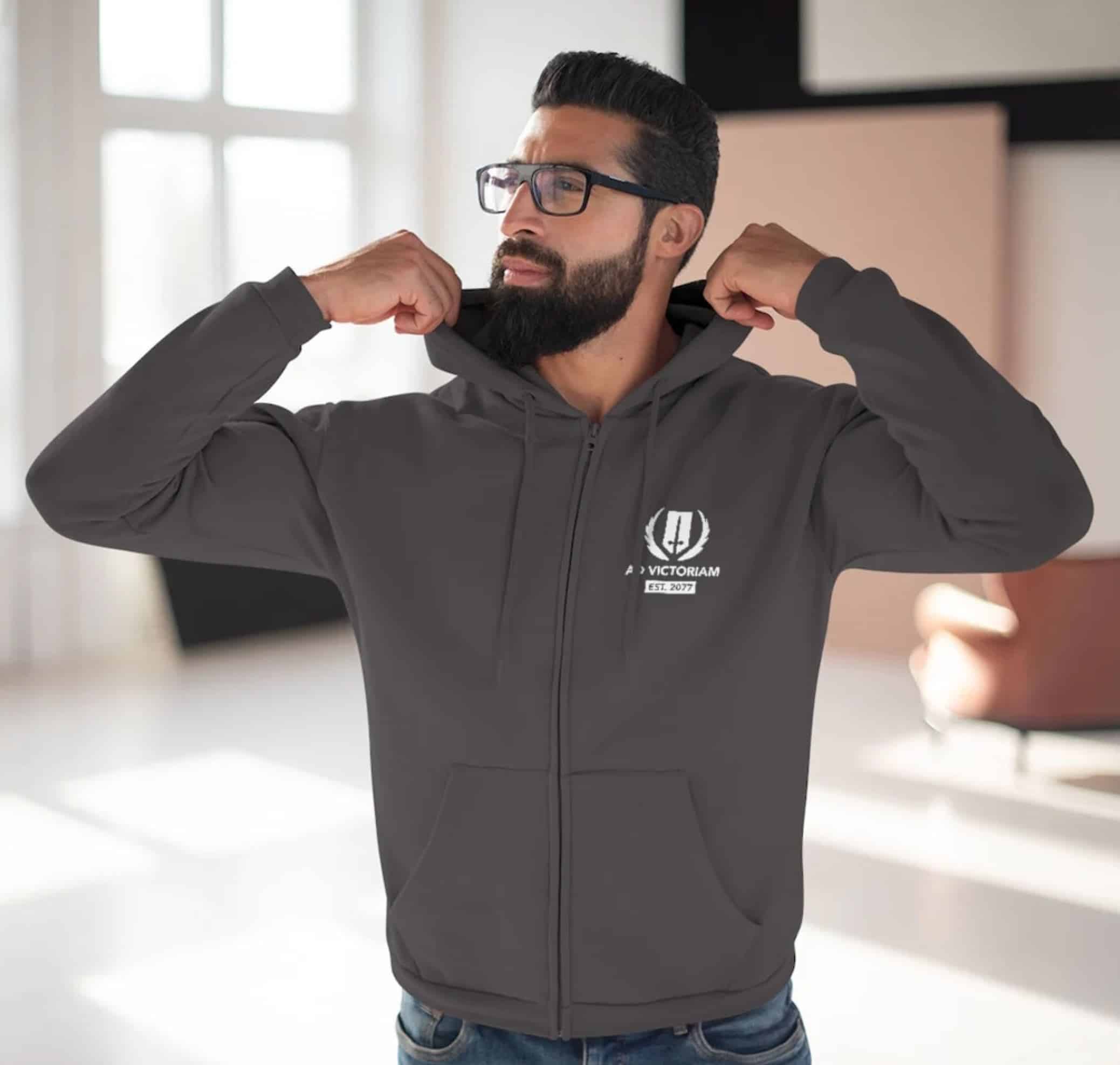 My Top Picks
Selection Criteria
I've made this list based on a set of specific criteria that I have detailed below.
Well Made
What I'm looking for isn't just some spun-together hoodie from anyone; I want well-made material here that can include a variety of different kinds, from cotton to polyester and more. Most importantly, it should look good too.
Creative
The best part of Fallout hoodies is that you get to see people really flex their muscles creatively. Considering that I'm going to be checking out hoodies from different places, there are a variety of different styles here, and I'm going to pick out the best-looking ones.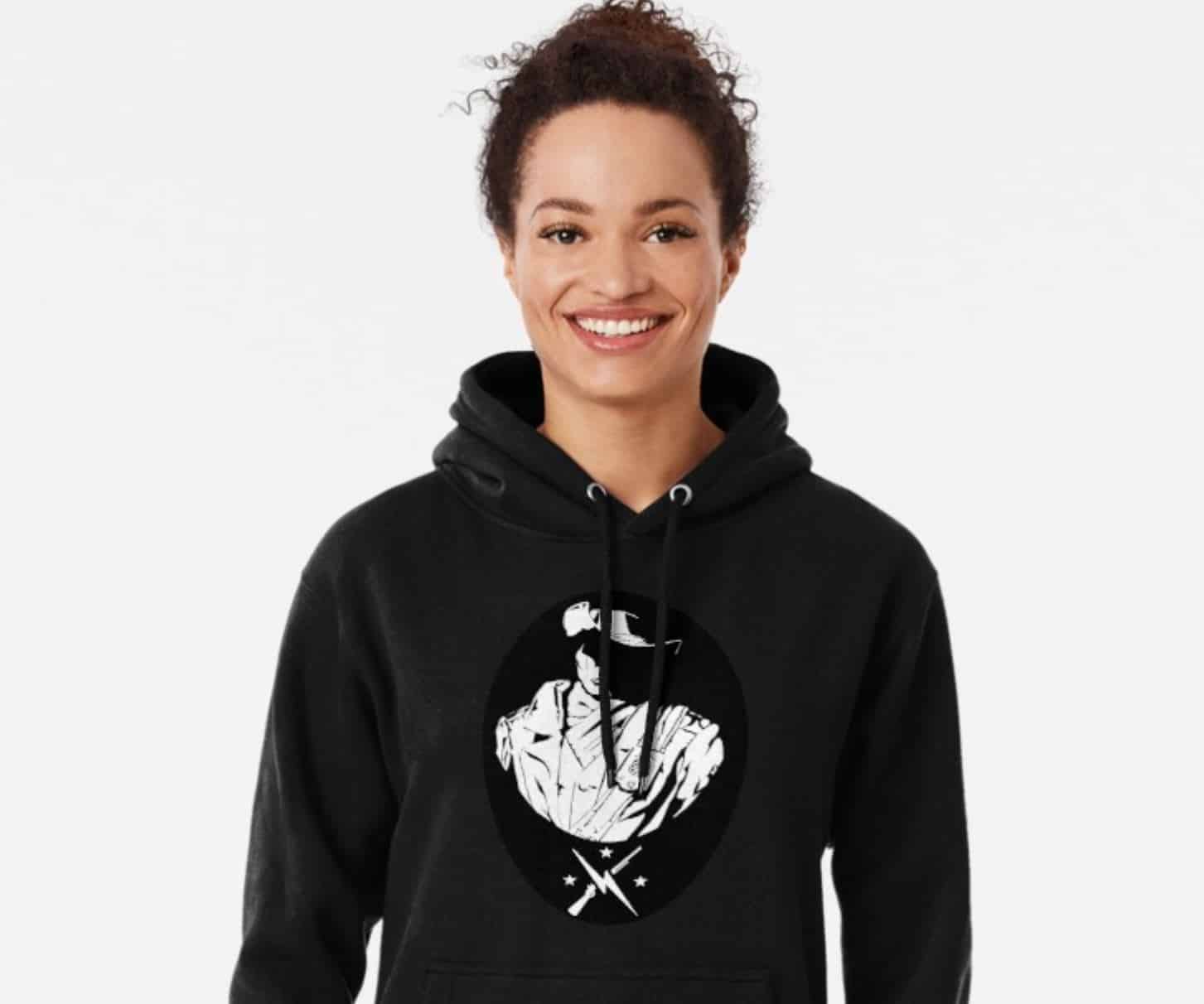 Comfortable
It's great if a Fallout hoodie looks good, but most of all, you want it to be comfortable. I'm looking for cozy hoodies that can be comfortable no matter when and where you're wearing them.
Affordability
Not everyone has wads of cash falling from their wallets, and I don't either, so I'm going to be looking for Fallout hoodies that are both well-made and greatly affordable. You won't be seeing any $200+ designer brand things on this list, but what is here will still be well worth your hard-earned cash.
Sizing
Flexibility is huge when it comes to hoodies, as different places can size things completely differently. I want the sizing to be flexible but also be accurate to the size I'm looking for, which, considering I'm a big dude, can be a tougher task than some might think. Many of the places you can find Fallout hoodies from will have size conversion charts, so be sure to check them before ordering.
Best Fallout Hoodies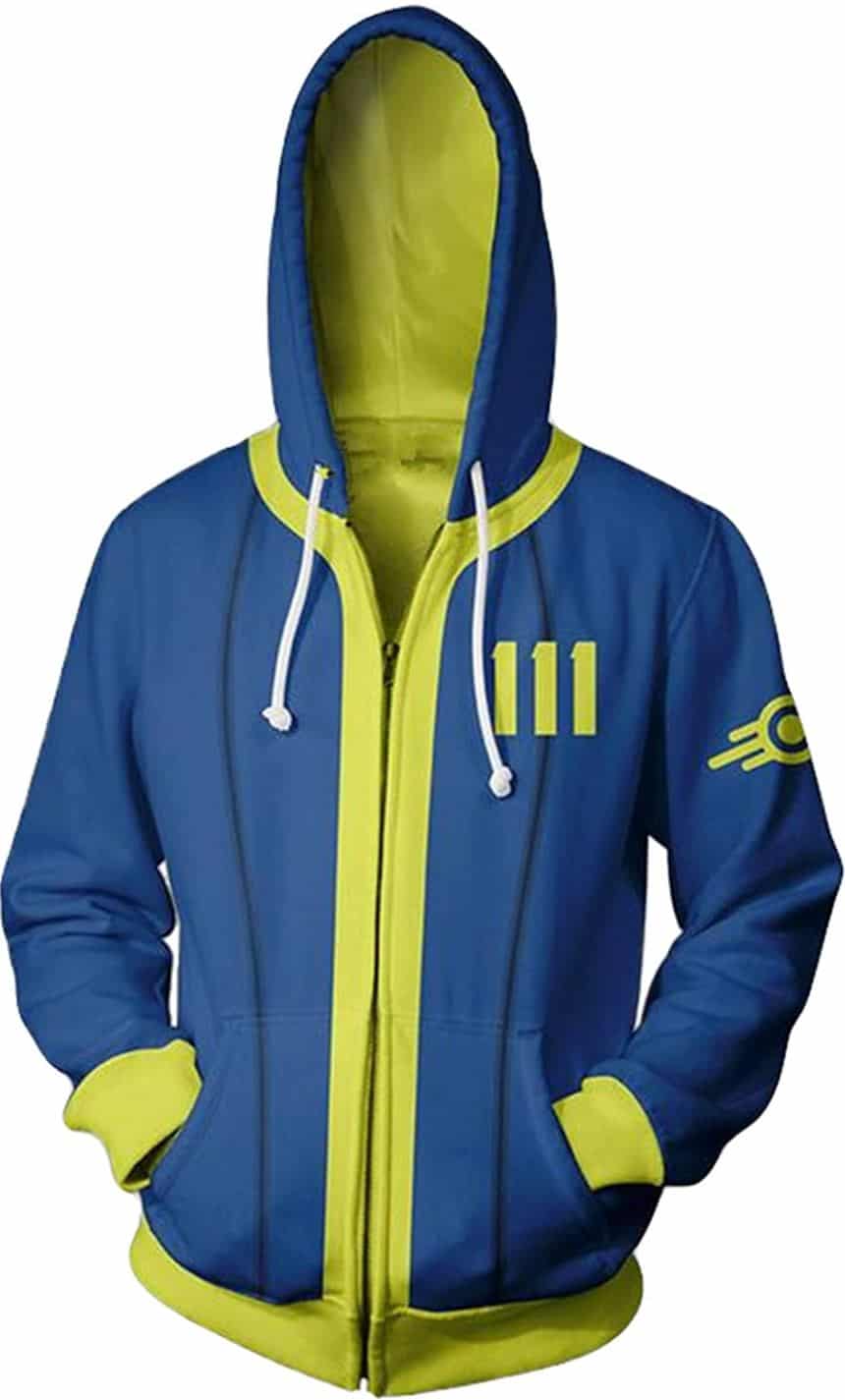 At the beginning of any Fallout game, you're usually in a vault of some kind, and with it comes the iconic and cheerful blue and yellow outfit that you'll start off with as your starting equipment.
This hoodie is pretty much the exact look you have, and it's both stylish and accurate to the game. It's perfect for cosplay, but it can also be worn as normal clothing as well, and the great design will stand out in a big way.
It's also very affordable and should be a must-have for anyone looking to start a hoodie collection from the Fallout universe. I think this is probably the best beginner Fallout hoodie that you can find. I don't think it looks quite as good as some of the other hoodies on the list, but that shouldn't change your mind about buying it, as it certainly does the job from my perspective. 
Pros
Affordable
Looks like gear from the game
Flashy Design
Cons
Probably better for cosplay than everyday wear
More polyester-based than cotton, making it less comfortable than you'd want a hoodie to be.
Lightweight, likely not suitable for cold weather protection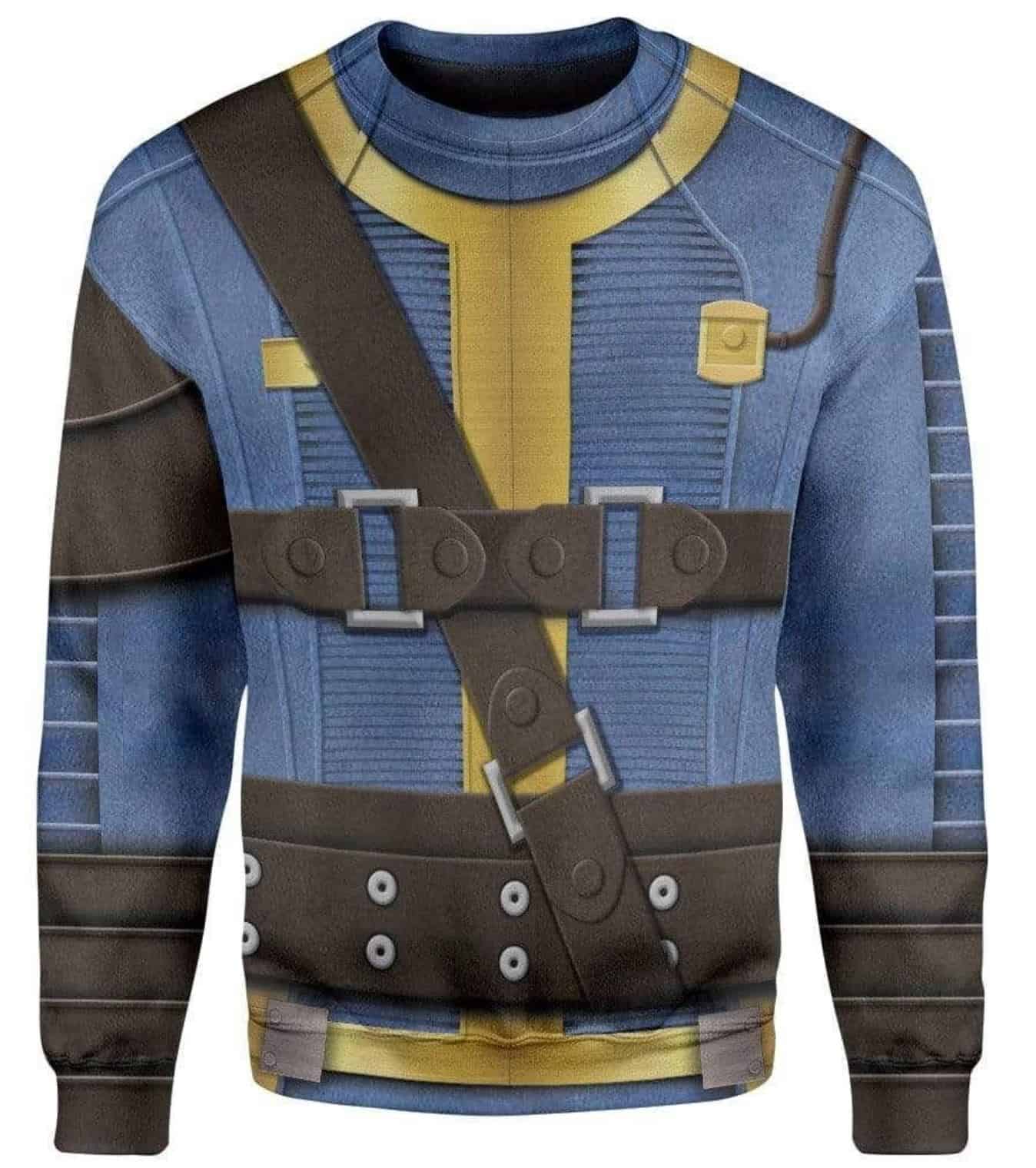 Fallout gear is extensive in how much you can find, but usually, just a solid equipment strap and some protective clothing are going to be seen on your characters in the Fallout universe.
If you want to look like one of the wanderers that have traveled the wastelands of the US over the years, this great-looking hoodie is exactly what you're looking for. It has the classic blue and yellow colors with a more golden twist to it and a comfortable look to it that's both unique and stylish.
It might be made for cosplay, but it's made with polyester and spandex, making it very wearable in all situations; just try not to wear it during a Rad Storm because I'm willing to bet it won't help all that much.
I love the detail here, and in many ways, it's an upgraded version of the hoodie you saw above. It's a bit more expensive, certainly, but you're getting a lot better quality here, and the extra care given to making this hoodie is readily apparent. 
Pros
Great design
Amazing color usage
Looks like something you'd find in the game
Comes with a large Kangaroo pocket
Double layered hood
Cons
A bit over the top for everyday wear
It's a little bit on the expensive side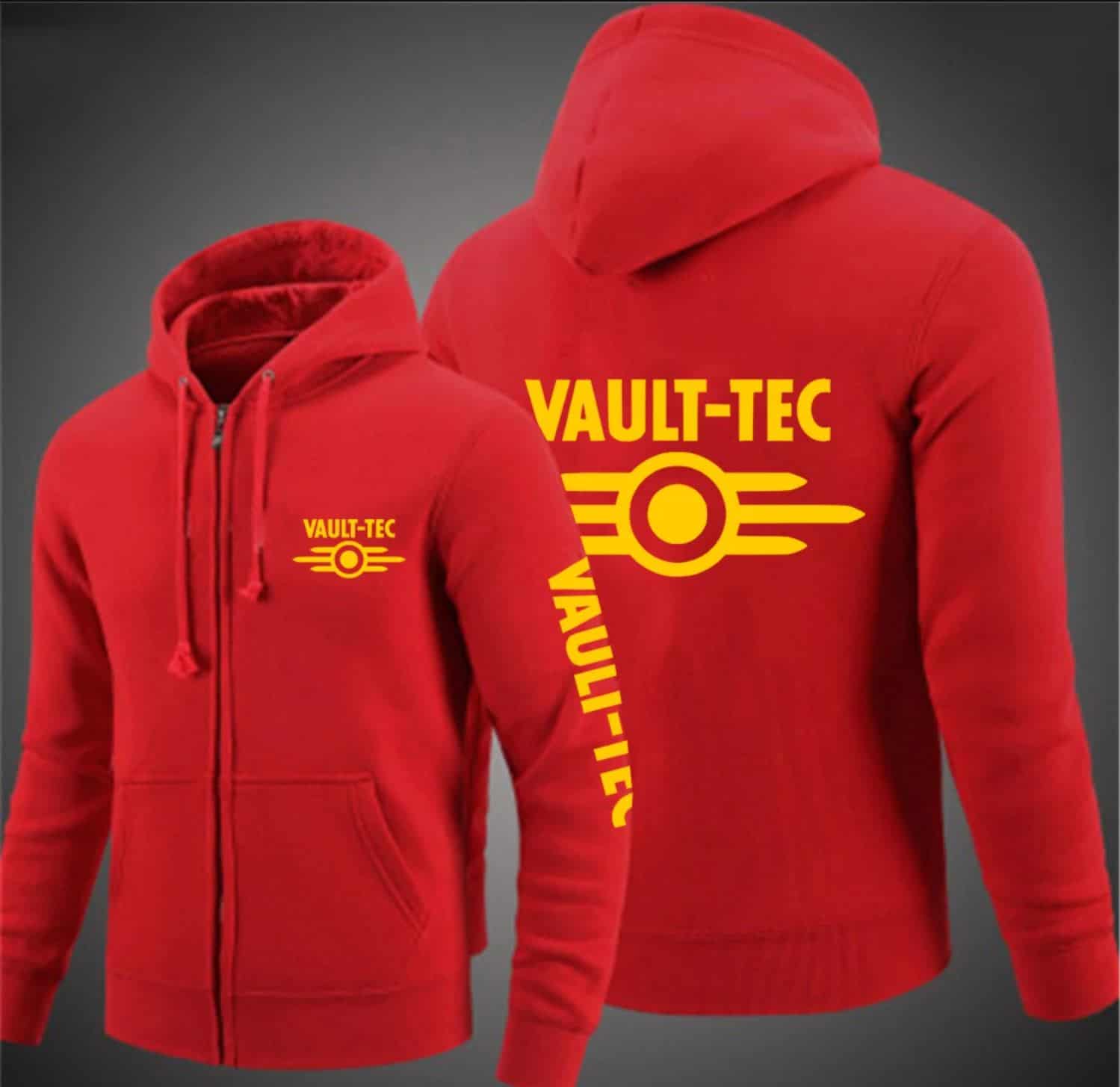 Sometimes you want to rock some cool gear for your favorite games while being super comfortable while doing it. With the Vault-Tec hoodie, you get that exact experience. This great hoodie comes in three different colors and multiple sizes and comes with a cool Vault-Tec logo on the front and back.
It's not the flashiest looking hoodie around, but it's definitely a nice one that's well made and, most of all, very affordable. It's not a hoodie that will blow you away by any means with either its design or wearability, but it's effective in what it's going for and has a very stylish look to it that also reps the Fallout franchise well.
I love that this hoodie isn't too in your face here, and the subtlety and comfortability that it affords you is pretty much as good as it gets when it comes to Fallout hoodies.
Pros
Looks cool
Well made, great material is used here despite it being so cheap to give off a great look
Great logo usage, subtle but effective for anyone that knows the Fallout series
Cons
Complicated sizing chart
Might not be flashy enough for some
The design could be a bit more interesting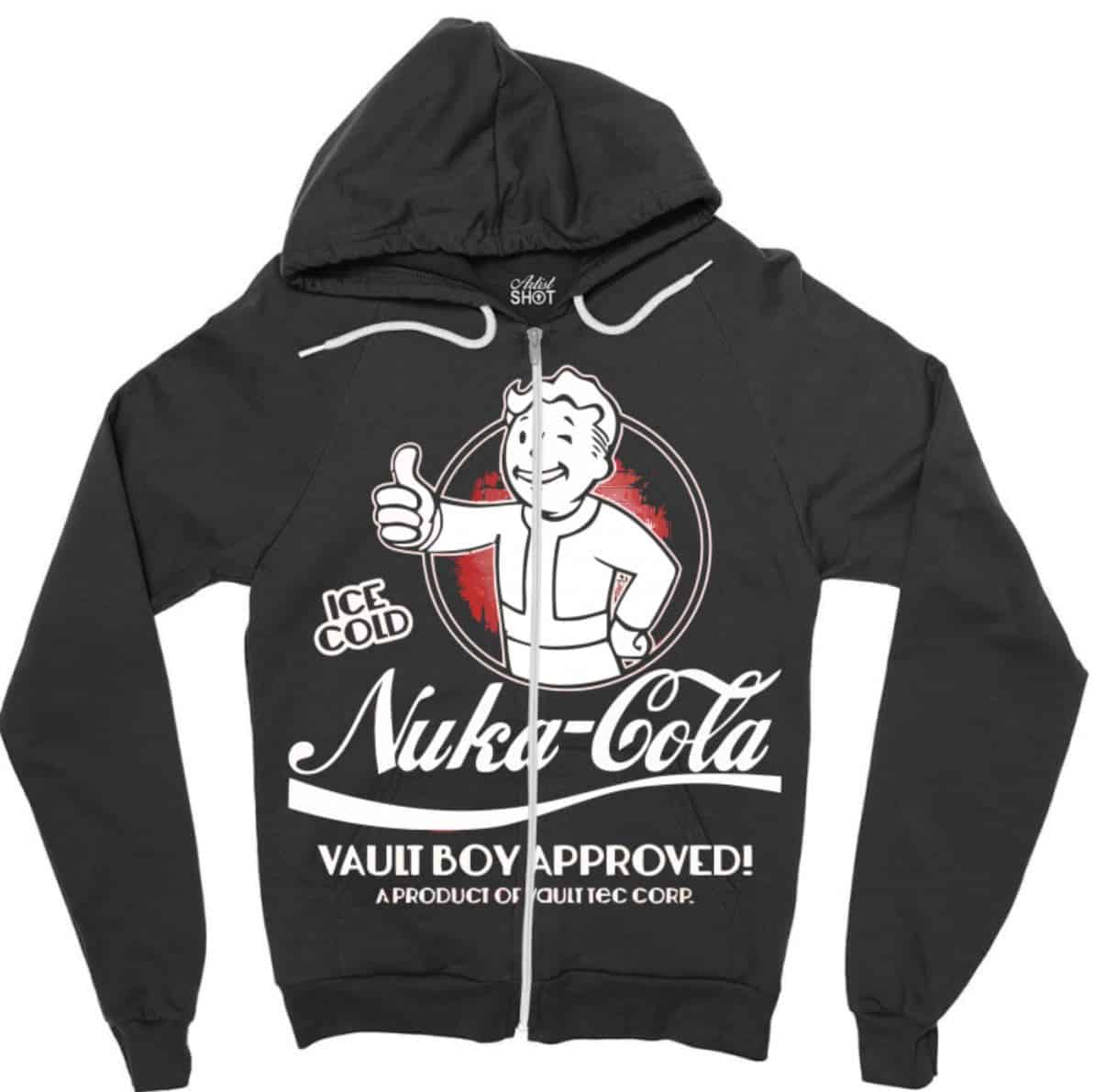 Nuka Cola has long been the drink of choice when the mutant and ghouls of the Fallout universe are closing in around you, and there's something quite satisfying about taking a drink from the world's most poisonous soda. It tends to come to the rescue.
If you're one of the players who guzzle this stuff whenever you get a hold of it, then why not rep it big time across your chest in hoodie form? It's got a huge logo of the vault boy with the classic Nuka-Cola print and the phrase Vault Boy on the front of the sweatshirt, letting everyone know what your go-to drink is.
I've always been a huge fan of Nuka Cola throughout the Fallout games, as it always seems to come in handy when you run out of Stimpaks, although the rads you get on the side are not too fun.
To see it on an awesome-looking hoodie is a big treat for me, and I bet a lot of Fallout fans will definitely feel the same way. It's also a big hoodie too, so it's good to bundle up in during those cold months as well. 
Pros
Accurate design
Incredible detail
Exact Nuka Cola logo from the game
Multiple pockets available in front for extra storage
Cons
Might be too in your face for some; logo is really big and colorful and exceptionally large
Very expensive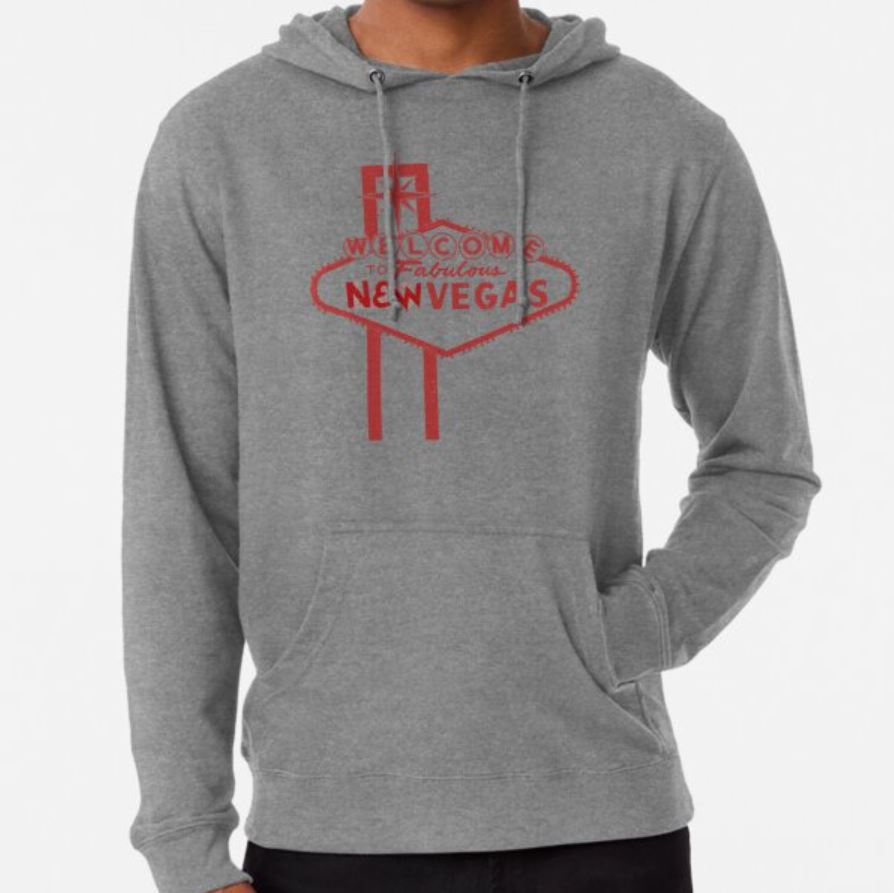 Although it's been a hotly debated topic over the years, there is no doubt that Fallout: New Vegas is looked at as one of the best games in the series. It's got such a unique vibe to it, so it's no surprise that the hoodie that features it would be stylish as well.
I've found there to be a severe lack of specifically New Vegas-style Fallout clothing out there, and that's especially so in the hoodie department. That's what makes this hoodie so awesome. You get the Fallout: New Vegas welcome sign here in a sleek black and white design that's simple, effective, and will serve you well in both cold and warm temperatures.
It's got a front pouch as well to serve for any carrying needs you might have across your travels through the wasteland of the real world.
Pros
New Vegas is awesome
Subtle design
Multiple colors available
Has a great kangaroo pouch for storage
Spandex like fit, so it looks great when wearing it
Able to pay in installments
Cons
People will think your shirt is about Las Vegas
Could be a little bit flashier
On the expensive side for sure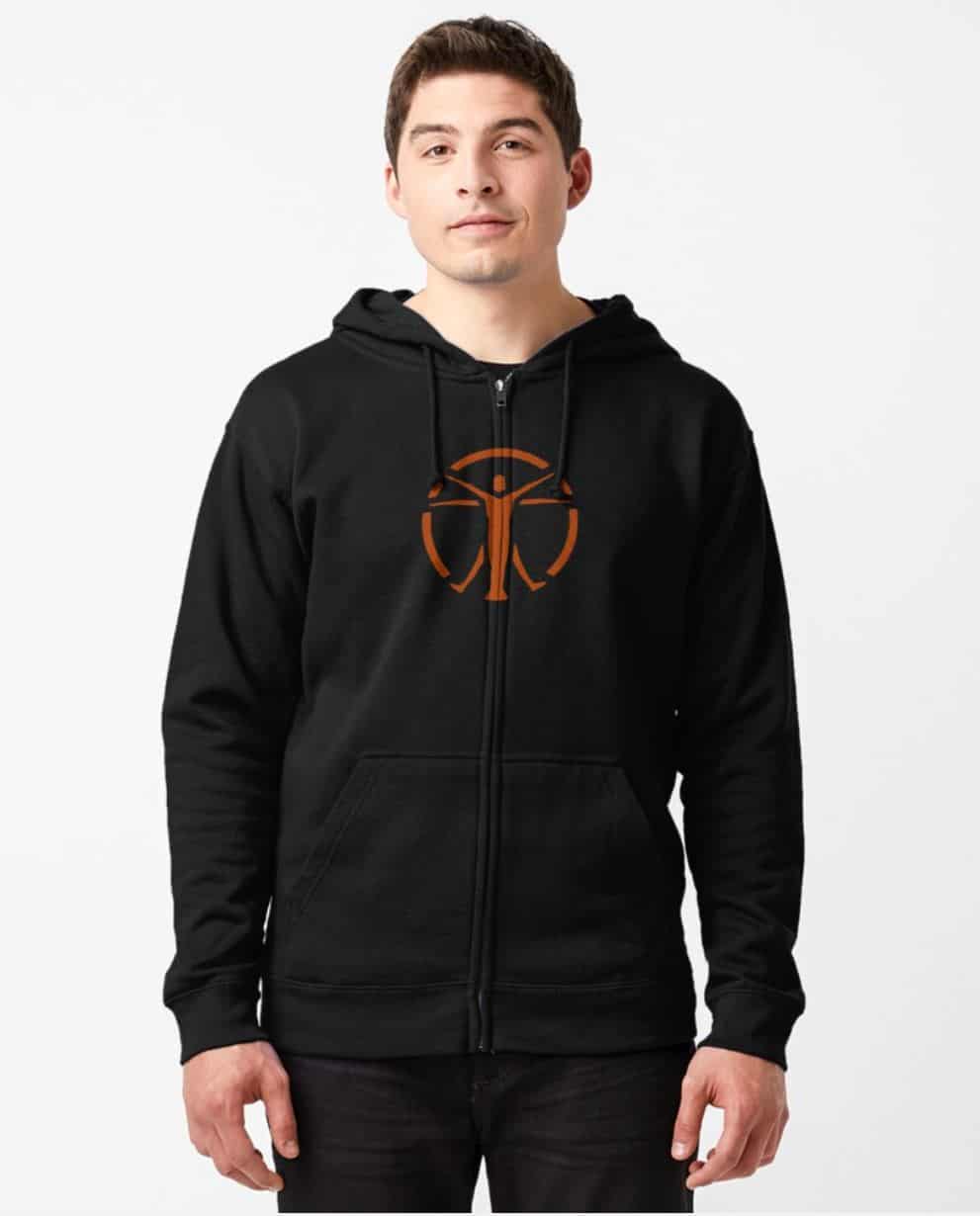 In Fallout 4, you had to make a choice when it came to figuring out who you were going to support in the game. One of the options you had was with The Institute, which was an underground organization with questionable morals at best, but they were led by your character's son, so…yeah, it's a confusing choice, to say the least!
The Institute also has some awesome technology in it and is full of the smartest people left in the world, so there are some pretty great sides to it as well. If you went the way of The Institute, why not show your support for them while rocking the logo as well?
This hoodie is stylish with a cool orange logo on the front, and it zips up as well, giving you the option to wear it when it's cold or hot out. It's a little more expensive than most options, but it's worth it if you want a well-made product that's unique.
It comes in 6 colors too, which gives you plenty of variety no matter what you're looking for. I was always a big fan of The Institute in Fallout 4 as I saw them as something of a necessary evil in this cruel and crazy world, and I actually take that path more times than not, simply because I'm sticking with my kid, even if he's turned into a megalomaniacal monster. 
Pros
Exact design of The Institute
Subtle but great detail
Well made, the material is excellent, with different colors being made of different materials
Size suggestions for different styles, such as the extra baggy hoodie look
Cons
A bit on the expensive side
The Institute is morally bankrupt, so people who know Fallout will ask questions
No design on the back, making it look like a plain sweatshirt unless viewed from the front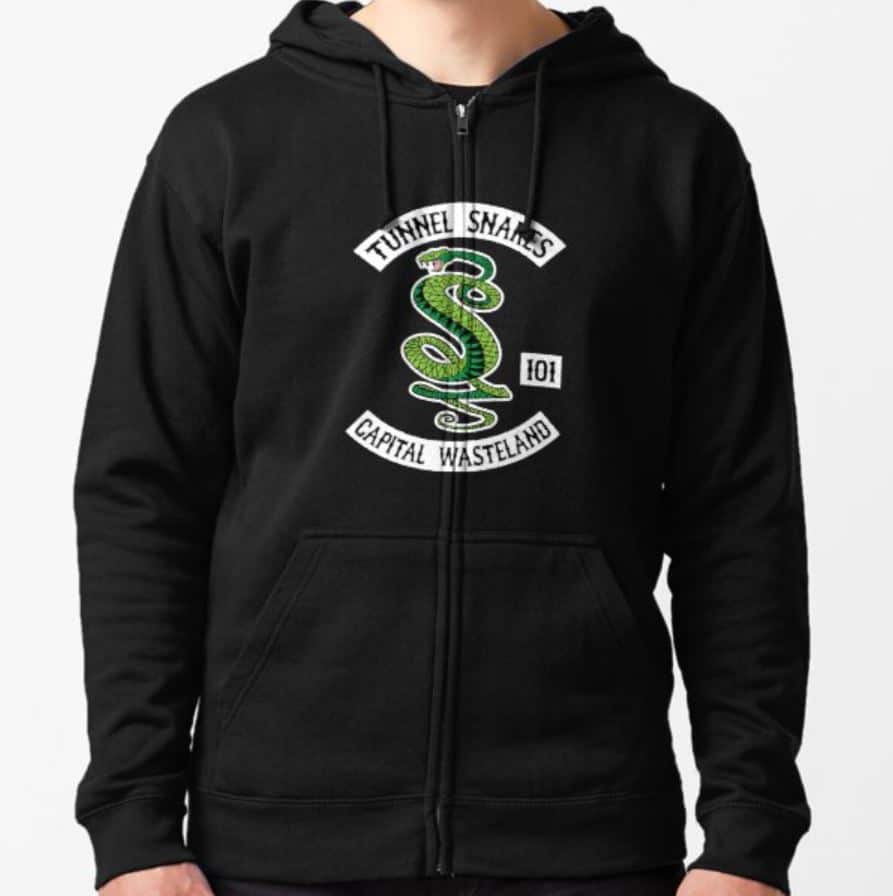 In many ways, Fallout 3 is responsible for bringing Fallout into the mainstream for the first time, and if you're like me, you remember your first encounter with the Tunnel Snakes for sure, as the corner, 1940s style gang really made an impact and introduced us to the quirky and strange nature of the Fallout universe.
I remember coming upon these guys and was completely shocked by their almost parodic way of acting. The jackets especially stood out, feeling like some nightmare version of Grease. If you're a Tunnel Snake of Vault 101, then this hoodie is for you, as you get 6 different color choices, and the logo is plastered on the front of the jersey.
It's a zip-up hoodie as well, giving you flexibility for the weather where you wear it. I always loved the Tunnel Snakes, simply because of how lame they are and how it really feels like they started up a 50s greaser gang in the depths of a bomb shelter. 
Pros
Tunnel Snakes rule
Design looks just like the one from the game
Great use of color
Front pockets, drawstring, and rib cuffs help achieve a great fit while giving you room for storage
Ethically sourced
Size suggestions according to style
Cons
You might hate the Tunnel Snakes
No design on the back makes it look like a boring hoodie
A little bit on the expensive side, but you can pay in installments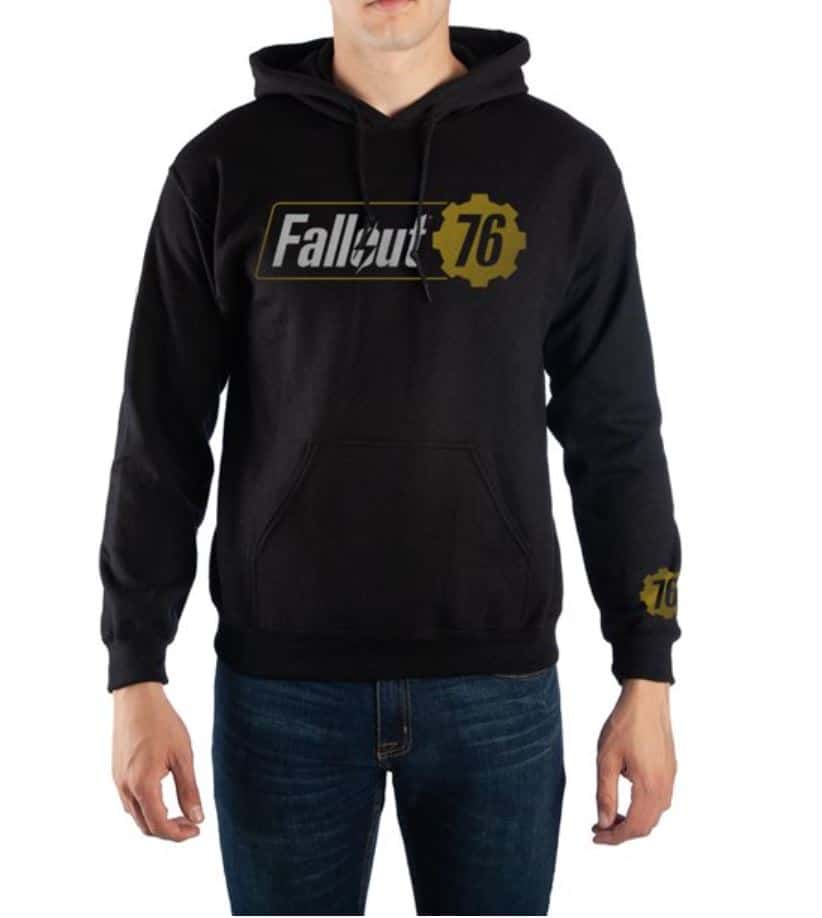 Although it's not one of the favorites in the series, if you stuck with it through the rough initial launch it had, Fallout 76 turned out to be a pretty damn fun game that is more than worth your time. If you're one of the fans of combing the West Virginia wastelands like I am, then you'll love this hoodie.
You get the authentic Fallout 76 design here on a very comfortable sweatshirt that is built to keep you warm during the winter months and comfortable on those extra windy days.
It's well made and looks about as official as it can get to too. Yeah, I know, Fallout 76 gets plenty of hate, but I think it's one of the most fun online games out at the moment, and whether you're taking on the revamped story mode or searching for the terrifying Mothman Cult, there is always something to keep you interested. Because of that, I feel no shame rocking this awesome hoodie on any occasion. 
Pros
Authentic Fallout 76 design
Understated artwork
Comes in multiple sizes
Built-in hood with heat-trapping drawstring
Great material, made of cotton and polyester
Cons
People hate Fallout 76 for some reason
Could have a bit more going on color-wise
Nothing on the back
Only one color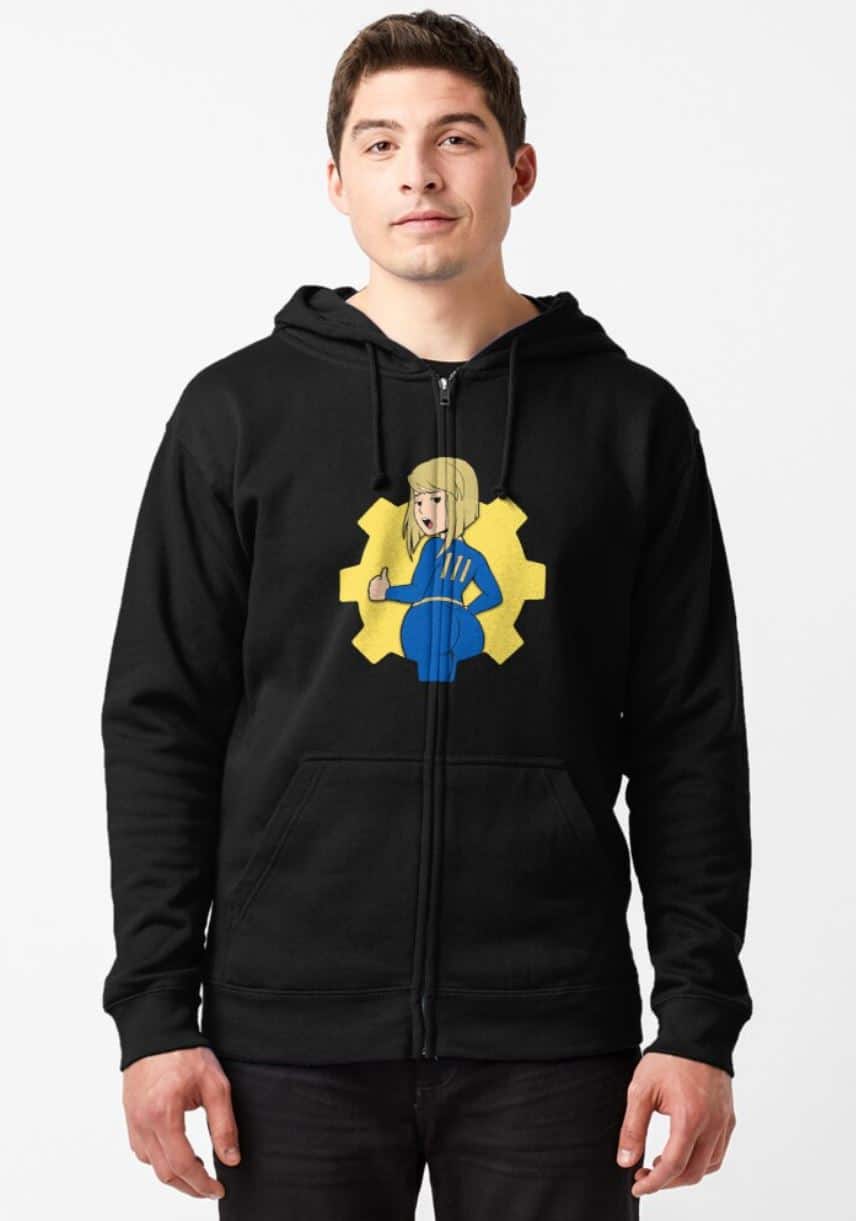 Everyone knows about the iconic Vault Boy icon in the Fallout universe, but very few know about the equally awesome Vault Girl. She's made a bunch of appearances in different games but is often overshadowed by Vault Boy, so if you want to show your support for the lesser-known mascot of the Fallout games, then you should definitely scoop up this hoodie.
It's comfortable, comes in 6 different colors, and zips up in the front. It has a great version of the Vault Girl logo and is extremely well made, so get out there and show some support for the lesser-known but equally awesome mascot.
I don't think Vault Girl gets nearly as much love as Vault, so to see her represented on a hoodie was super cool to me, and it helps that the sweatshirt is pretty comfortable, too, making it a no brainer if you like the character and want something different for your Fallout hoodies.
Pros
Fun design
Doesn't take itself too seriously
Great color usage
Represents a little known character
Front pouch pocket and matching drawstring and rib cuffs
Cons
Vault Girl is somewhat unknown
Might be a crass image to some
No design on the back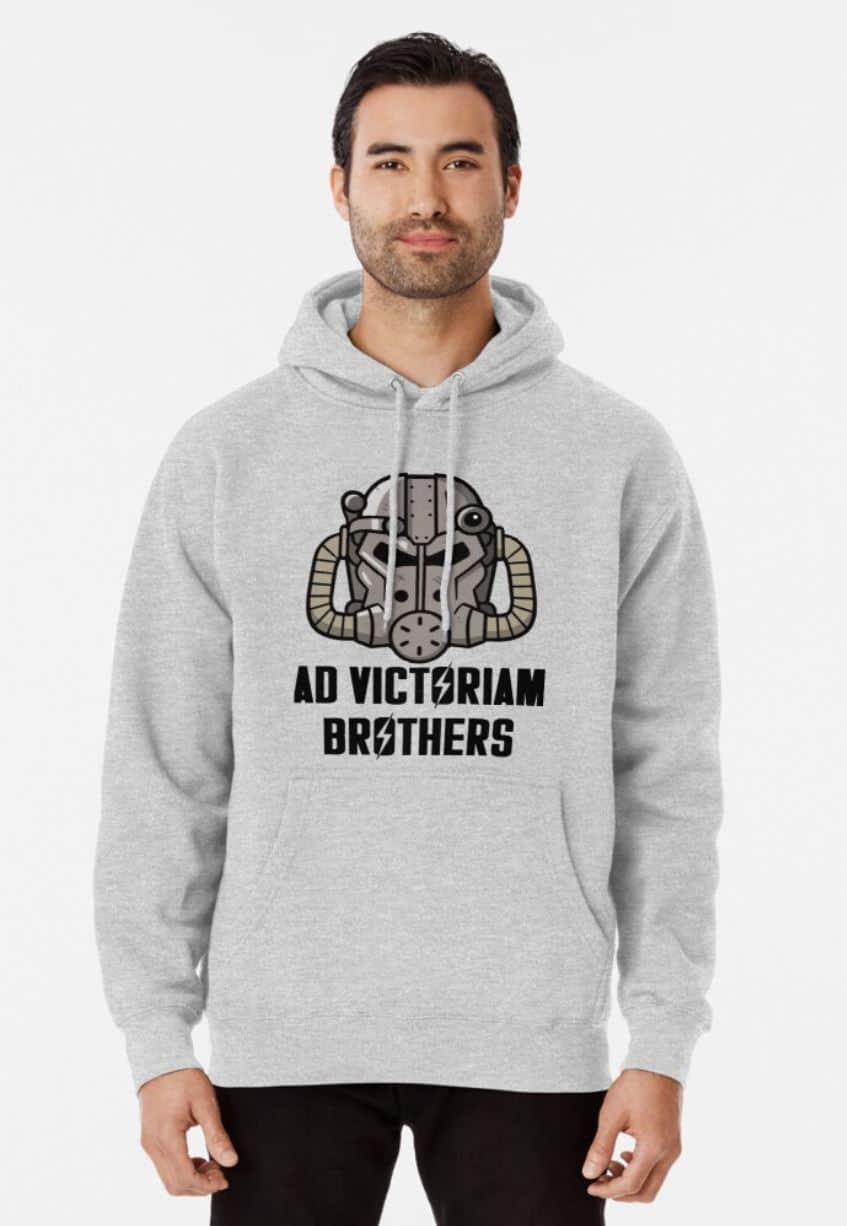 The longest-running mascot in the Fallout games is, without a doubt, the Brotherhood of Steel. If you've taken their side in any of the games, you'll know the phrase Ad Victoriam and be pumped to rep it on this awesome-looking hoodie.
You get a super comfortable hoodie here that comes in 6 different colors and is well made and affordable as well. There's a huge Brotherhood of Steel logo on the front of it with the phrase Ad Victoriam beneath it, giving this Fallout hoodie a unique flavor of all its own.
I think the Brotherhood of Steel is misunderstood for the most part, and although they get a bad wrap in a few games, there is no denying how badass they are. They seem the most trustworthy out of the various sketchy groups, and their logo is amazing, which comes to life in some creative form in this hoodie.
Pros
Great design
Accurate depiction of the Brotherhood of Steel
Font is right out of the Fallout universe
Colors
Ethically sourced
Heavyweight hoodie, letting you wear it in any kind of weather
Cons
Fan-made design, far from official-looking, even if it does look cool
Could look a little bit slicker
Plain on the back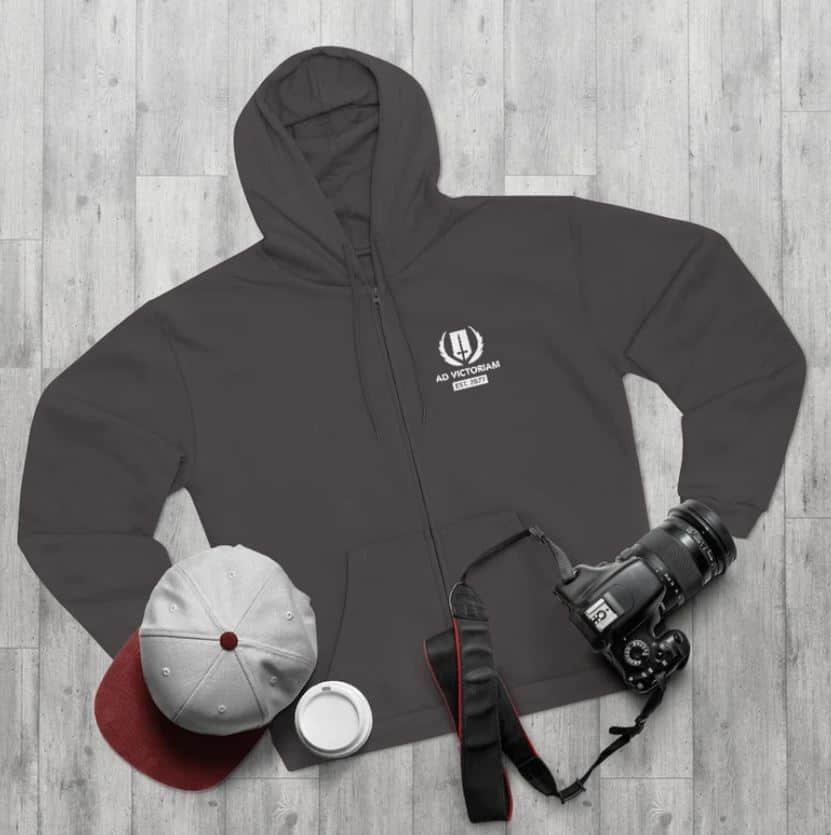 The Brotherhood of Steel is on the cover of every Fallout game for a good reason. They are the last bastion of the military that the country has left and represent the only thing resembling an organized power in the Fallout universe.
This hoodie is straightforward, but it looks fantastic, complete with the Brotherhood of Steel logo on the front and an awesome image of power armor on the back. You can wear this wherever, and it's incredibly well made, making for a great cosplay item or a hoodie to throw on when it's chilly out.
It's a bit pricey, but it's officially made, so it's got the Bethesda seal of approval. While the last Bethesda-made Brotherhood of Steel shirt was cool-looking, it wasn't an official shirt. I love the official design here, and the comfortability of the material here takes center stage as well. 
Pros
Looks awesome
Official logos on the front and back
Great material
Additional kangaroo pocket
Medium heaviness, giving you flexibility for wearing it in the cold and warm
Brushed fleece on the inside for those super cold days
Cons
Expensive
One color
Long shipping time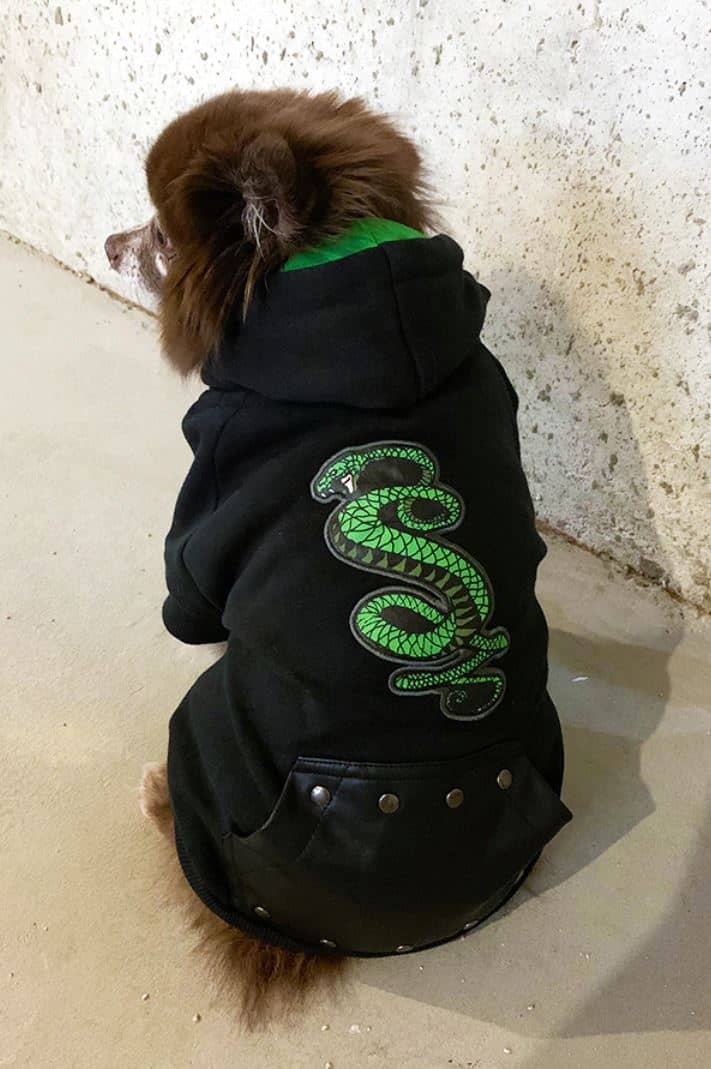 This one is for your furry friends out there. The Tunnel Snake dog hoodie gives you an awesome-looking tiny sweatshirt for your puppy companion. Anyone that's played a Fallout game knows your dog companions can sometimes be the only friend you've got in the big and scary world of Fallout, so why not outfit them with a cool look of their own?
This Tunnel Snake hoodie will fit on most small to medium-sized dogs and will keep them warm when the weather gets cold. You can rock your Tunnel Snakes hoodie from above alongside your dog, making for one intimidating vision. I don't usually find a lot of Fallout gear for dogs, so I felt this had to be added to the list. 
Pros
Well made
Will keep your dog warm
Hilarious looking
Has pouch in back
Cons
Will not fit humans
Hoodie probably shouldn't go over dogs head unless you want it ripped to pieces in short order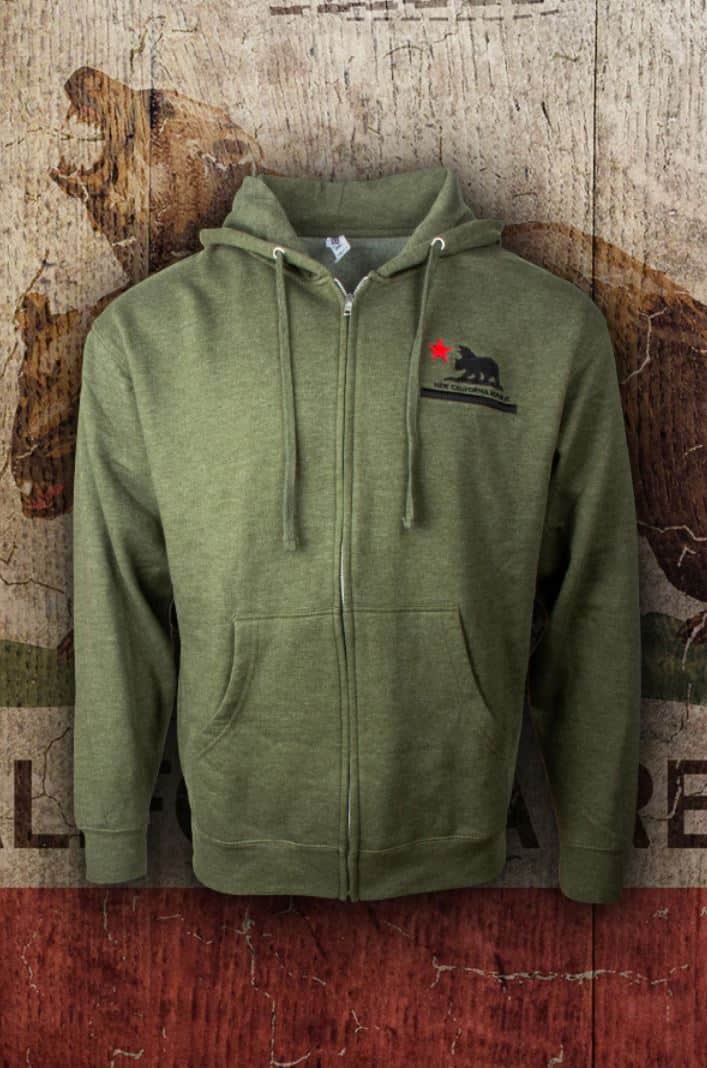 We're going old school here to the land that started us off in the series over 2 decades ago, the New California Republic. This was the first place I took to the wasteland as a wanderer searching for a purpose, and this hoodie pays tribute to that long-forgotten land by plastering the logo right across the front of an awesome-looking hoodie.
On the back of the hoodie, you get an absolutely massive version of the New California Republic flag, and the whole hoodie has this great, army green color to it that really just completes the feeling of nostalgia that it looks to bring. I love the color of this one, and the thick material makes it so you can wear it in any weather and be comfortable. 
Pros
Awesome designs on the front and back
Officially made from the Bethesda store
Great color
Warm
Extra pockets
Light to medium thickness, making it great for layering or wearing during a windy, cool day
Cons
Not obviously a Fallout hoodie
Logo on the front could be more prominent.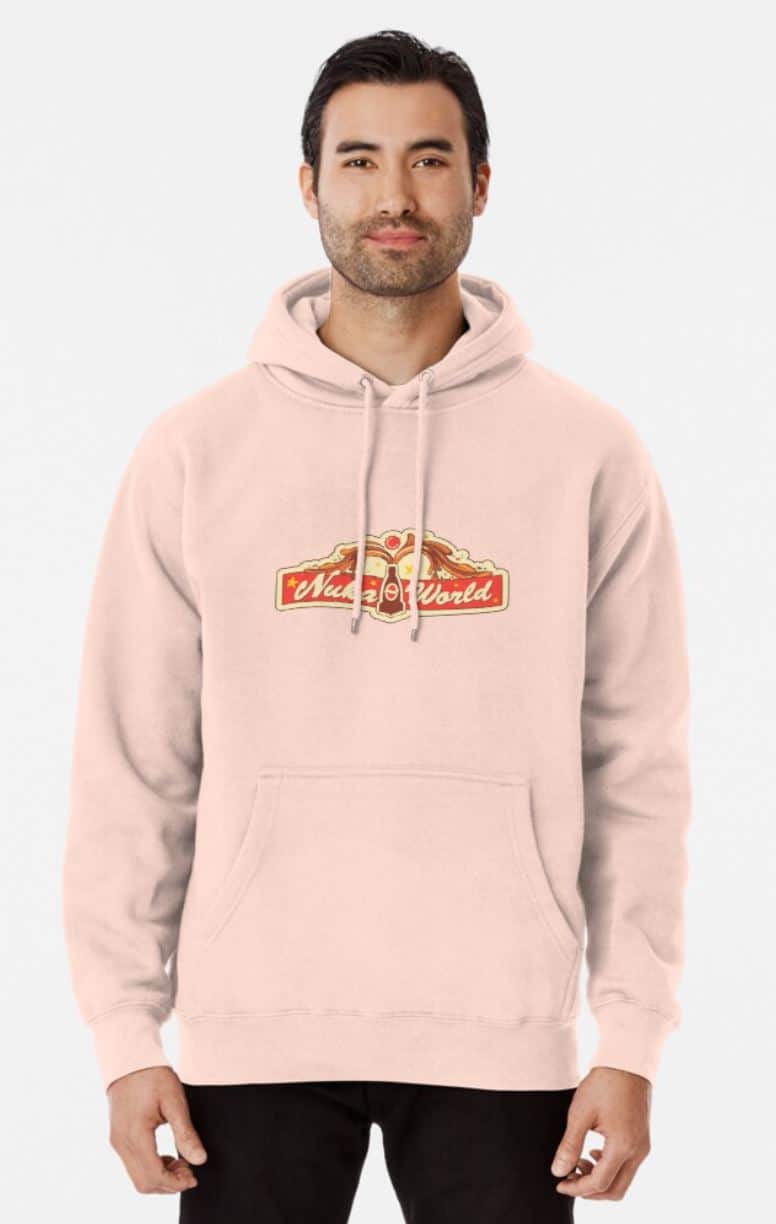 Nuka World is one of the coolest things the Fallout universe has ever done. The Fallout 4 DLC introduced an insane amusement park filled with secrets, new enemies, and some crazy combat scenarios that were both completely nuts and totally in line with what the Fallout universe has always been about.
If you managed to make it through the Nuka World DLC, then maybe you want to rep the logo across your chest with this awesome hoodie that comes in 6 different colors. It's got a bright-colored Nuka World logo on the front and is pretty quiet in its design, but it's great to rock at any Comic-Con convention as well as just wearing out for a walk in the fall as well.
I thought Nuka World fit perfectly into the Fallout world as a completely insane version of an amusement park, and that's why this hoodie is on the list because it feels like something they would sell if Nuka World was a normal place and not a ravenous bandit hideout. 
Pros
Nuka World Logo
Great design
Pulled right out of the game
Multiple Colors
Great material, made mostly from cotton
Multiple sizes available
Heavyweight, good for the cold
Front pouch pocket
Ethically sourced
Cons
Plain on the back
Design is a little small
Not obviously a Fallout hoodie
On the expensive side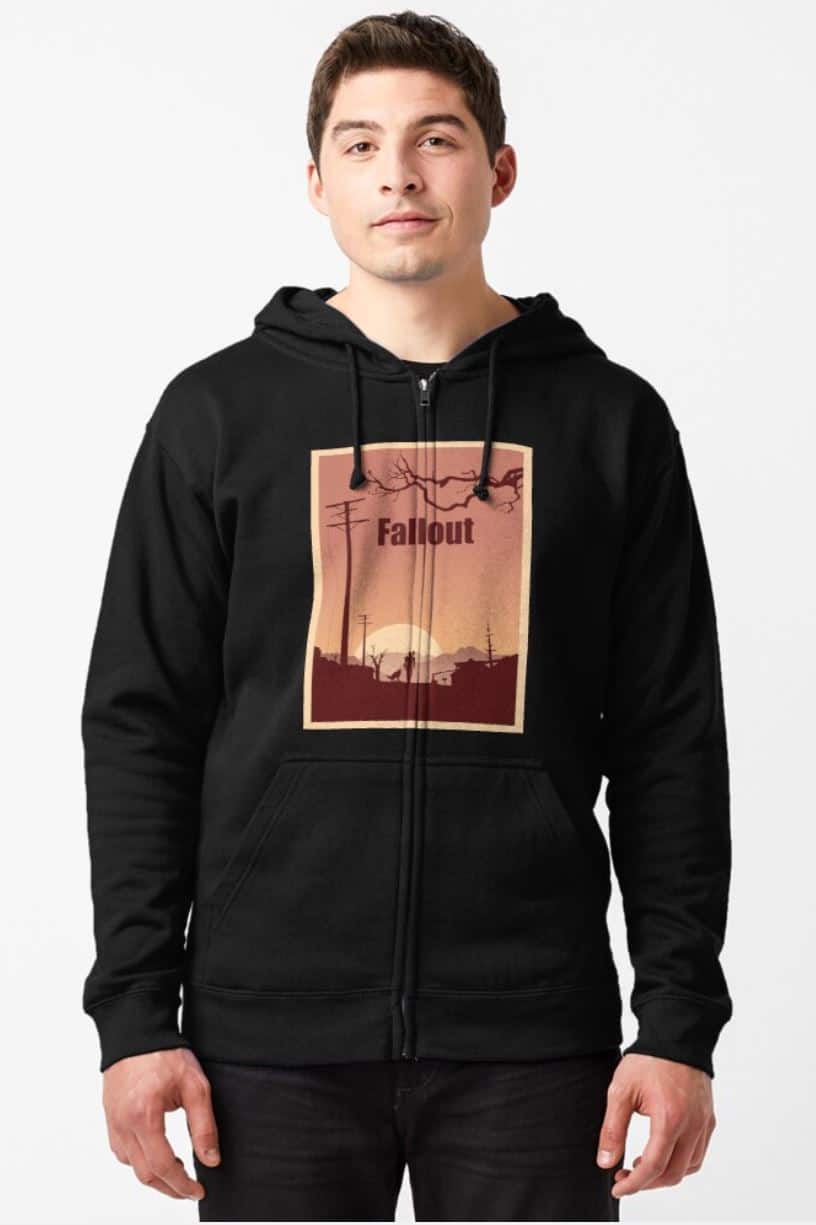 Fallout has always been one of the more subtle games out there, relying on the quiet emptiness of the game while emphasizing some of the crazier moments. I think this hoodie is awesome because it's a simple picture of the wasteland with a low sunrise and the wanderer and their companion dog walking down a path.
For me, the journey of the Fallout games means so much, and the world-building that you witness through the environment is both tragic and incredible to witness. It's colored with a rustic yellow that seems to fit the Fallout universe perfectly, and it's a beautiful piece of art that's displayed right across the front of the hoodie.
IT's a zip-up, too, and the picture comes together when it gets zipped up, creating a pretty cool effect to go along with an already great sweatshirt. I love the quiet aesthetic they are going for here, and it reminds me of the quiet walks I've had throughout the wastelands over the years.
Pros
Awesome Design
Image is huge
Zips up to connect the image
Multiple colors
Can pay in multiple installments
Heavyweight, good for the cold
Fits either tight or baggy, depending on your size order
Cons
Giant Fallout words are unneeded
Image might be too big for some
Plain back
More expensive than most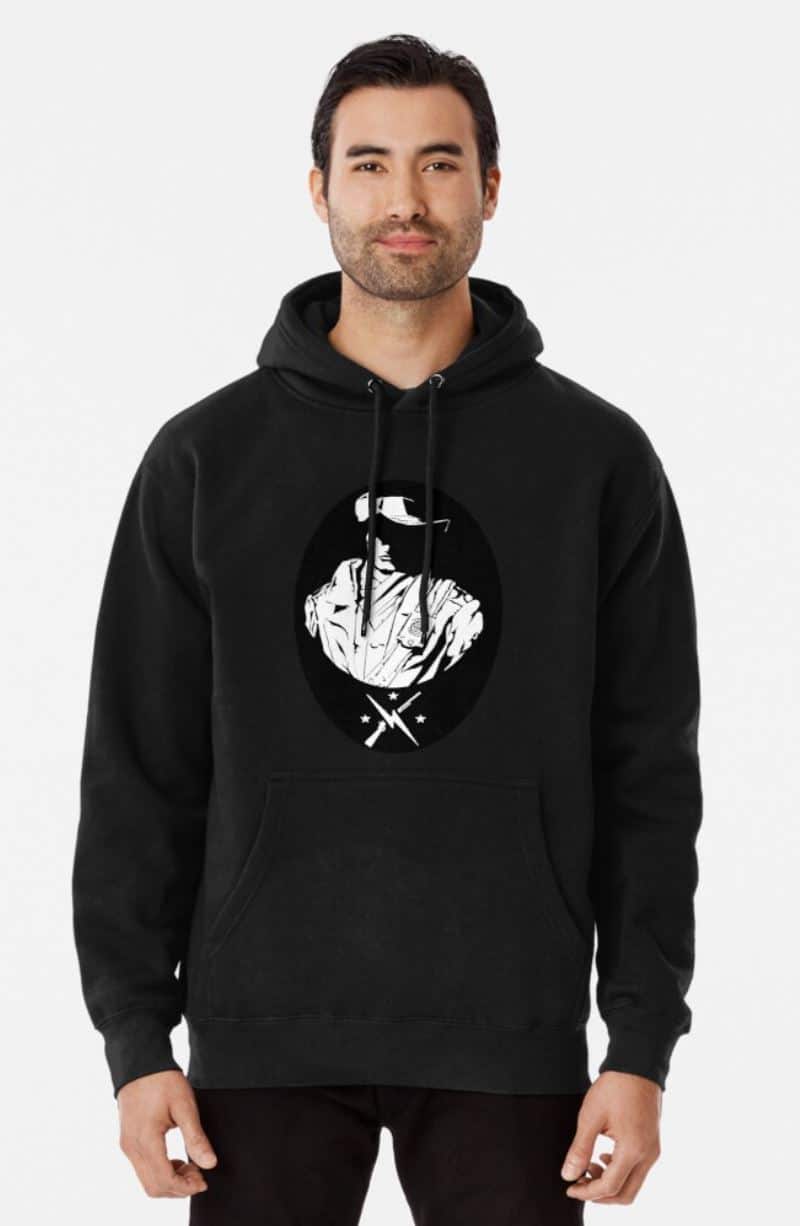 Fallout 4 introduced us to the Minutemen for the first time and depending on who you are, you either went on endless missions for them or quickly looked up a mod that let you obliterate them completely. I'll remain silent on my choice here, but let's just say I was not a fan of Preston Garvey complaining on an hourly basis while playing.
If you, by some miracle, actually liked the Minutemen, though, then you'll love this hoodie as it features the one and only Preston Garvey in a cool, silhouette style logo that dominates the front of the shirt.
It comes in 8 different colors, so you can match it to whatever style you're looking for. I'm not a huge Minutemen fan, but I bet there are a few of you out there, and this is for those people. 
Pros
Original Minutemen Design
Subtle looking
Multiple colors, with different material for each
Front pouch pocket
Ethically sourced
Cotton rich
Heavyweight, good for the cold
Cons
Doesn't scream Fallout
Design uses its own style, not bad, but not signature Fallout
Preston Garvey is annoying
On the expensive side of hoodies
FAQ
Question:
Which is the best Fallout game?
Answer: The best Fallout game is Fallout 3. It is responsible for bringing Fallout 3 to the open-world formula and gave us one of the darkest and most interesting game worlds we've ever seen. Countless games have tried to copy this formula since, but very few have succeeded.
Question:
Is a new Fallout game on the way?
Answer: Bethesda has seemingly put its full effort behind Fallout 76, the new Elder Scrolls game, and Starfield for now, but if you're dying for new content, you can find that in the form of Fallout: London, a mod that is releasing for Fallout 4 any day now that is the size of an official DLC, so PC players can grab that one up.
Question:
Are Fallout games scary?
Answer: While it's definitely not the typical horror game, Fallout games can be really scary, especially when exploring some of the abandoned vaults and dark warehouses. You will find a lot of zombie-like foes in these games, so yeah, it's definitely going to put a fright or two into you.
Conclusion
There are tons of Fallout-themed clothes to seek out, and I hope that this guide showed you some great hoodies to add to your collection, whether you are looking to cosplay or just wear them in your everyday life. For me, I would have to recommend Fallout Video Game Art Hoodie.
It's got such a cool design to it, and it just encapsulates the lonely wonder that you feel when playing Fallout games better than any of the other hoodies on the list.
Continue reading related Fallout merchandise guides: